FRSC warns motorists against use of mobile phones while driving
Motorists have been warned of the dangers associated with the use of mobile phones, while driving.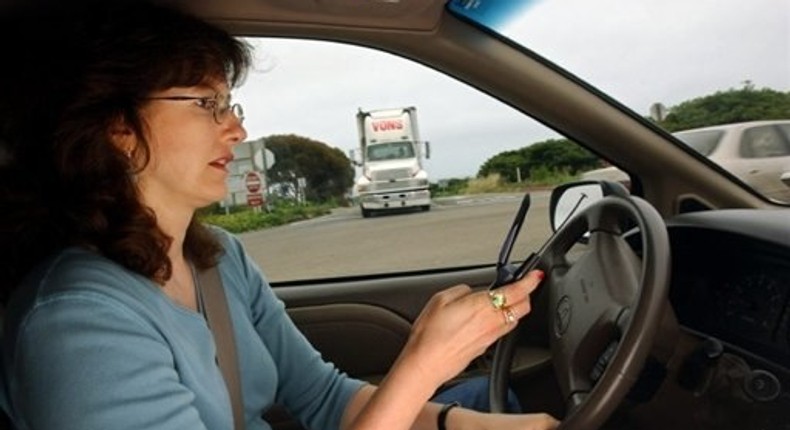 The Federal Road Safety Commission (FRSC) has advised against the use of phones, while driving.
According to the FRSC Marshal, Boboye Oyeyemi, this is a dangerous traffic violation, that needs to be stopped, immediately.
Represented by Commander Sunday Oghenekaro, the CEO said this act is against regulation 166 of the National Road Traffic regulation 2012.
"No message is as important as your life and what that means is that all messages can wait to the extent that your life is not compromised.
If you receive a call while you are driving, the best thing to do is to pull over safely and answer the call if you feel it is very important.
Passengers in vehicles must also ensure that their lives are not compromised because of a careless driver who insists on answering call while the vehicle is in motion,'' he added.
Oghenekaro also advised road users to be extra careful, during the rainy season.
"This is a season where extra caution must be ensured by road users.
Other areas of safety that drivers must ensure during this period is the lighting system; the head lamp; the trafficator; the hazard light all must be in perfect condition.
They should avoid overloading, speeding and ensure the use of seat belt. Also, it is important for pedestrians to ensure the use of foot bridges,'' he added.
This advice was given at a sensitisation campaign, the result of a collaboration between the FRSC and the Rotary Club of Asokoro, FCT.
Speaking at the event, the President of Rotary Club, Mrs Frances Bekey, spoke on the dangers of this traffic violation and the importance of the campaign.
"We are here to launch the campaign to discourage people from using phones while driving, as this leads to lots of accident and loss of life.
We want to use this opportunity to assist the FRSC to sensitise the public not to use their phones while driving to reduce the rate of accidents on our roads.
We intend to do this campaign once in three months to make public be aware that there are sanctions for going against this rule so that they can stay safe", she said.
Bekey was commended by Commander Angus Ibezim, Head of Section, Partnership, FRSC, who called on other bodies to focus on road safety, too.
"We want to invite other NGOs to take a cue from this and give back to society through interventions like this because this act by Rotarians is proactive, protective and preventive,'' Ibezim said.
Motorists, found guilty of using their phones, while driving, will get a fine of N4,000 or six months imprisonment or both.
JOIN OUR PULSE COMMUNITY!
Recommended articles
Buhari's assets remain the same after 8 years as president
Attend tribunal to show loyalty to Atiku, PDP - Dino challenges Makinde
Bala Mohammed emerges Chairman PDP Governors' Forum
Ondo Assembly elects Oladiji as new Speaker
Bauchi Gov Mohammed calls for unity among PDP members
FG increases trips on Abuja-Kaduna train route
FG moves to ban children below 11 years from writing Common Entrance exams
Akeredolu is alive - Ondo govt reacts to death rumour
Tinubu sends condolence message to India over deadly train crash