Top 5 most common thoughts on people's minds during sex
What most people think about during sex might surprise you.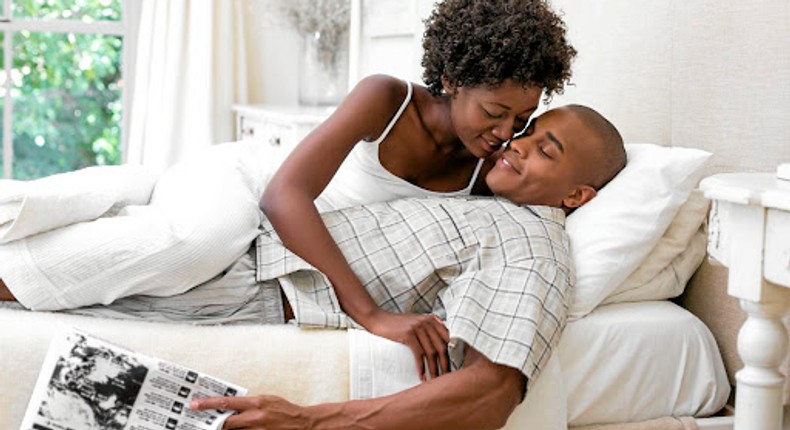 It's common for our minds to wander during sex, but what are we mostly thinking about?
Sexual wellness brand Lovehoney conducted research to find out what people are really thinking about when they have sex. They surveyed over 2,000 adults to find out their most common sexual thoughts. Here's what they discovered about dominant sexual thoughts:
1. "This is so good... or this is so bad."
The survey has revealed that the most common thought to have during sex is about whether the sex is good or not, with 80% of people admitting to being distracted by this in the bedroom.
2. He or she isn't doing it right
Almost two-thirds of those surveyed (61%) admitted to thinking about all the things they wish their partner would do that they don't currently. This is the second most common thought: if this happens a lot, there's work to be done when it comes to communication, and the sex isn't that good.
It's not unusual to entertain thoughts of enhancing your sexual life. In fact, a considerable 52% of individuals have also contemplated the idea of incorporating sex toys into their intimate experiences with a partner.
3. How much longer will this last?
It's not so surprising that 53% of men also think about how to not finish too quickly, while 57% of women are focused on when they might get to orgasm.
Whether they desire a longer-lasting experience or are eager to reach the climax swiftly, it is not uncommon for individuals to fantasize about the duration of their sexual encounters. In fact, a resounding 53% of respondents confessed to being preoccupied with thoughts of how much longer the sex will be.
4. Household chores, work, and food
It's also not uncommon to be distracted by our daily lives while having sex. 29% of people have admitted they often think about what household chores need doing, 27% are planning their next meal, and 24% of adults are even thinking about work.
5. Other people
While having sex with their partners, 36% of people fantasize about having sex with someone else.
If you've ever felt bad about thinking about someone else while having sex, you're not alone, according to new research.
During sex, nearly two-in-five (38%) of respondents have thought about having sex with someone other than their partner, and 36% have actually fantasized about having sex with someone else during sex with their partners. This varies somewhat between men and women, with 27% of women confessing to considering having sex with someone else, compared to 36% of men.
Another interesting fact is that 27% of men think about their favourite sports team during sex with their partner.
How to be less distracted during sex
Ness Cooper, a Clinical sexologist, shared ways to improve sexual satisfaction among couples. Cooper suggests exploring new things and learning new ways as a way to enjoy stimulation. "Newness during sex can also help individuals express their individual differences. Also, sex toys can offer variations in sensations and stimulation, inspiring new forms of sexual play."
Engaging in some sort of dialogue or conversation is a good way to ensure you are not distracted and you are both clearly communicating.
JOIN OUR PULSE COMMUNITY!
Recommended articles
Nigerian excellence through the lens of Anny Robert in collaboration with Johnnie Walker
Here's why guinea fowls make great security guards
5 cute animals that are actually dangerous
This week's best celebrity pictures on Instagram
Sarah Jakes Roberts stuns in Nigerian fashion brands for ministration in Lagos
Burna Boy and 4 other Nigerians shaping the global fashion industry - BOF
3 food items legal in Nigeria but banned abroad
What Nigeria needs to fix in the tourism sector, according to an expert
If you attended a Nigerian university, these 8 things likely happened
10 simple nighttime beauty habits to practise before bed
3 interesting things you need to know about the world's most expensive house
Wondering whether to ask your girl for nudes? Read this
I still love guys - Super Falcons' Michelle Alozie reacts to lesbian rumour
Heartbreak for Nigeria as AFCON 2027 bid slips away to East African rivals
Victor Boniface or Harry Kane: Who has had the better Bundesliga start?
Steph Curry: NBA star lists Nigeria's Burna Boy and WizKid among favorite music artists
Controversy as Super Falcons' Michelle Alozie unveils her 'female lover'
AFCON 2027: Algeria hands Nigeria a major boost
TikTok wahala: Osimhen deletes Napoli pictures from Instagram
Wilfred Ndidi: Style Essentials inspired by the Leicester City's Nigerian midfield maestro
TikTok trolling: Osimhen set to sue Napoli for serious damage