Actress shares relationship advice, says "no one is out of your league"
The actress says there is no point going after people who do not want you in their lives.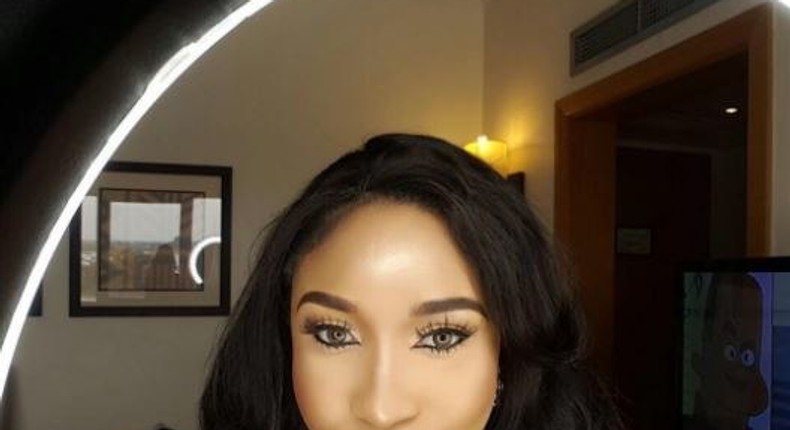 Nollywood actress, Tonto Dikeh-Churchill has shared a bit of her wisdom on relationship matters - and she is spot on.
The actress advices, among other things, that people need to stop wasting their time chasing the wrong people, and that once a mistake is made [in a relationship], repeating that same mistake makes it a matter of choice and more error.
In the post published on her Instagram feed, the wife and mother gives her opinion on some relationship issues when she said,
"I'm not sure why but we all do it. Many beings waste years of their lives, chasing after people they can't have, or lifestyles that aren't sustainable, for reasons we don't know.
"You can't have a person, either they will f*ck with you, or they won't. Nobody is out of your league, they just don't want you in their life.
"We are all human so we all make mistakes, but a mistake made twice is a choice. Try not to seek the best looking, or those with the most money, for these are superficial ideas and money doesn't make you happy.
"You make you happy, so if you are in a situation with a person and you have the freedom to choose, but you are unhappy, this is your fault not theirs.
"Stop wasting your time. Leave the situation. You should be looking for someone who shares sympathetic vibrations. Someone who is on your wavelength, someone who can share the same frequency as you.
"Everything is a vibration, positive or negative. All elements are made up of atoms. And these are made up of a nucleus, protons (positive), neutrons (no charge) and electrons (negative).
"Opposites attract but if someone is in a negative space, you being in a positive space, isn't necessarily going to help them and vice versa.
"You choose your own happiness, as you can choose the people you are around. (Obviously free from war, famine, poverty, drought, oppressive systems of government/religious opinions, disease etc) If you aren't happy within yourself, you can't be truly happy around others.
"Health is not just physical. I think this is why people Who know me love me, because I am happy and I love people.
"Don't chase waterfalls, on the surface they appear beautiful, but they are usually hiding rocks that will kill you"
JOIN OUR PULSE COMMUNITY!
Recommended articles
What kind of parents are millennials? 5 ways they differ from their own parents
This week's best celebrity pictures on Instagram
Orijin launches 'Deeply Rooted' campaign championing transformative power of Naija roots
5 things adults miss about Children's Day
5 African countries where snow falls
Amstel Malta shines spotlight on digital content creators at AMVCA 9
How to find love when you leave Nigeria
Indomie adds flavour to the AMVCAs 2023: Lights, Camera.. Flavors!
SupaKomando electrifies 9th edition of AMVCAs!
Nigerian student breaks Guinness World Record for most skips on one foot in 30 seconds
Join the Meisters Expression Concert live in Ibadan for epic music, epic vibes
Why do people orgasm and feel horny in the gym?