This is why you shouldn't make your partner jealous
A lot of people believe that once in a while, you have to make your partner just a little jealous so s/he knows not to lose you. They say it helps them know how much their partner loves them.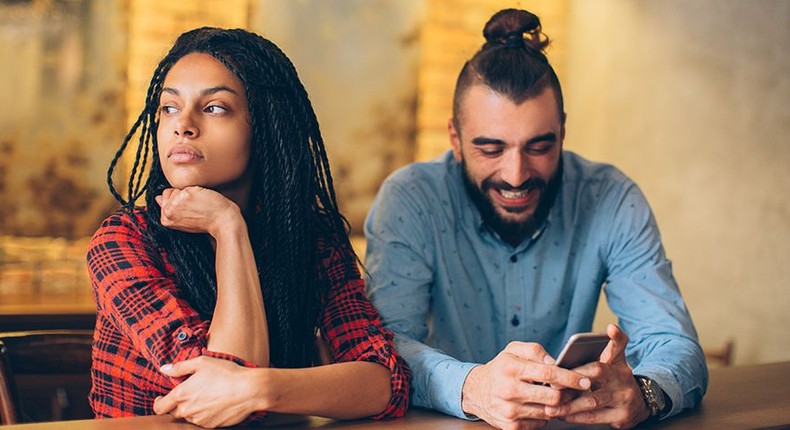 This is wrong. Absolutely wrong!
Every time you make your boyfriend or girlfriend jealous, you reduce their trust in you. Your credibility drops and you add unnecessary stress to the relationship.
To add to that, no one wants to come off as insecure. Hence, people would act unbothered when you try to make them Jealous. This in turn makes you intensify your efforts with whomever you're flirting with, leading to a chain of reactions that could ultimately end your relationship.
You see, when you love someone, it comes with a price, you have to make sacrifices. If you were used to flirting with several women before, that's okay. However, now that you're in a serious relationship, you really can't go about flirting with other women. It's unfair to your partner and it's a sign of disrespect; it shows she's not a priority and you don't really care about her feelings.
And if that's the case, then maybe she shouldn't be dating you.
Some women also do this, every time you have a fight with your boyfriend, you put up another man's picture with the caption "Runaway boo, I miss you ❤️💜xoxo". Come on sis! That's a bit harsh don't you think? You'll make your man resentful.
The point isn't that we can't be friends with the opposite sex, no. The point is we need to stop teetering. Anyone who makes advances at you isn't your friend, they want a romantic relationship and if you're not granting their request, then it's best to keep them at bay.
Your partner already has a lot to worry about: work, their boss, exams, salary, siblings, haters, traffic, village people, etc. Don't add to it. They can't worry about all these and then worry if you're with your 'runaway boo' or your 'bestie'. The last thing they need is stress from you.
In conclusion, making your partner jealous doesn't make them love you more, it makes them Trust You Less. You should Build up Trust not Tear it down.
Funmi is a Writer, Thinker and Marketing buff. Like Mark Manson, he hopes to give life advice that doesn't suck.
Pulse Contributors is an initiative to highlight diverse journalistic voices. Pulse Contributors do not represent the company Pulse and contribute on their own behalf.
JOIN OUR PULSE COMMUNITY!
Recommended articles
Denrele and Tiwa Savage rock the stage at Phantom V Flip 5G grand launch
5 ways Ghanaian jollof is different from Nigerian jollof
3 easy ways to shape your bofrot (Puff puff)
8 bedroom essentials that will enhance your restful retreat
8 reasons you should switch from pads and tampons to a menstrual cup
Discover 5 must-try beauty and skincare ingredients from around the world
5 reasons your ex left and why you should not consider taking them back
Toyin Abraham's corset gown looks uncomfortable, here's why the trend needs to die
Debunking 3 breastfeeding myths
From sheep penis to chicken testicles, here are 7 weird foods eaten in China
Medlin Couture: Elevating Nigerian fashion on the global stage
7 signs your child could be experiencing a mental illness
I still love guys - Super Falcons' Michelle Alozie reacts to lesbian rumour
Heartbreak for Nigeria as AFCON 2027 bid slips away to East African rivals
Victor Boniface or Harry Kane: Who has had the better Bundesliga start?
Steph Curry: NBA star lists Nigeria's Burna Boy and WizKid among favorite music artists
Controversy as Super Falcons' Michelle Alozie unveils her 'female lover'
AFCON 2027: Algeria hands Nigeria a major boost
TikTok wahala: Osimhen deletes Napoli pictures from Instagram
Wilfred Ndidi: Style Essentials inspired by the Leicester City's Nigerian midfield maestro
TikTok trolling: Osimhen set to sue Napoli for serious damage