Ladies! Here are top signs that you satisfy your man sexually
To know that he is sexually satisfied with you and by you, here are the signs you will see him manifest.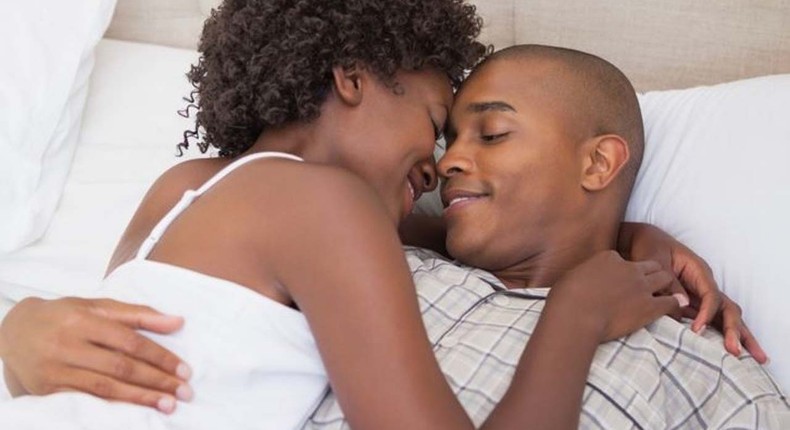 It is better to stay off sex than to never get it right with your partner.
There is nothing better than knowing that your efforts at pleasing your man sexually are not in vain. While openly communicating about it is an obvious way to know if your man is sexually satisfied, there are also some signs to watch out for.
You know, because sometimes, he could be saying he's satisfied so as not to hurt your feelings or make you feel some type of way.
To know that he really means it when he says he is sexually satisfied with you and by you, here are the signs to look out for:
1. Cuddles afterwards
A study published in the Archives of Sexual Behavior indicated that couples who are sexually satisfied with each other like to cuddle, caress, and share moments of intimacy after sex.
Is he cuddling with you after sex as opposed to getting up or rolling over and sleeping off? It's a sign that he enjoys sex with you so much.
2. The romance is alive
Guys who are unsatisfied in bed won't stay romantic for too long. That's because sexual dissatisfaction has a way of affecting a relationship generally.
So if he is continuously, consistently being romantic with you, then you are doing something right.
3. He brags about your skills
If you're rocking his world so well, it's likely he won't be able to shut up about it – to you, at least.
4. Regular spontaneous sex
When he's spontaneously initiating sex even when you only have few minutes to spare, it is a sign that he likes doing it with you so much. If it doesn't bang with you, he won't be initiating sex when it is 'inconvenient.'
JOIN OUR PULSE COMMUNITY!
Recommended articles
3 reasons relationships that start in December may not last
A Night of Queens, an all-female lineup concert celebrating Nigeria's musical powerhouses
DIY Recipe: How to make African drop doughnuts
One Wellness Centre hosts exclusive brunch and tour event
5 things every young man in a relationship should know about women
Here's why you jerk when sleeping
5 tips to stop drinking alcohol
The truth about feminine wash and perfumes
Chivas Palace: Celebrating the blend of success
7 things your belly button says about your health
Some common causes of coarse palms and how to soften them
Christmas traditions from our childhood that should come back