Woman marries Instagram lover seconds after meeting him for the first time
36-yr-old Erica Harris of Murrieta, and Arte Vann, of Earlton, New York had met on Instagram in March 2015.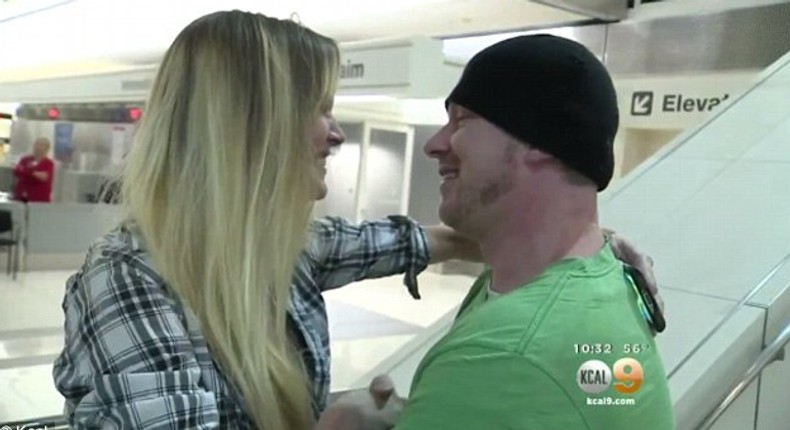 A woman married her Instagram lover just seconds after meeting him for the first time in person.
36-yr-old Erica Harris of Murrieta, and Arte Vann, of Earlton, New York had met on Instagram in March 2015. They started communicating with each other using pages they have both since deleted.
Vann got a one-way ticket  to Ontario International Airport, the couple saw each other for the first time as soon as he landed.
A few seconds later, they wedded.
"I didn't realize how much I love this man, Now that we've spend three days together, I can't believe how much I love him," the mother-of-three told Daily Mail.
Harris invited CBS news to film their ceremony which she tagged an 'insta-wedding' and 'Insta-engagement'. She wanted to send the video to her new mother-in-law who couldn't show up for the wedding.
Erica randomly came across Arte's Instagram and though he was cute. After a little bit of stalking, she was drawn to how he interacted with people in his comments section.
"What drew me to him is a lot of men, you can tell how they are to women through their comments.
"I saw that Arte was very personal, and he was very attentive, and thought "Wow this guy seems like a nice guy", she told Daily Mail.
Erica didn't go straight for the follow button. Instead she liked a few of Arte's photos. Vann took notice to the likes, and he checked out her page, and soon tagged her in a full-body mirror selfie that he posted on his page.
They began commenting on each other's photos then moved to direct messaging, after a period of time they moved to speaking on the phone.
Harris said they spoke up for about 'five or seven hours for the first night', and it went on for several months.
They lost contact in May which was partly Harris' fault and both deleted their Instagram accounts. The newlyweds later opened new accounts but did not interact for months.
She finally reached out to Arte after sometime with the hope of reconnecting their friendship.
"I messaged him 'Arte i need you' and nothing. and a week later, nothing. unbeknownst to me he got into a car accident and wrapped himself around a tree," she said.
During Arte's recovery he reopened his Instagram, and the couple reconnected. Erica says they picked up right where they left off, chatting on the phone for hours at a time.
With time, people started to notice Arte and Erica's Instagram relationship, and someone commented that the couple 'need to get hitched.' Erica replied: "Yeah, well, okay, why don't we get hitched?"
She followed this up by sending Arte direct messages of lyrics from Beyoncé's 'Single Ladies'.
Arte was down with the idea and started planning a trip to meet Erica in person for the first time. It was then that he realised that if he went to visit her, he wasn't going to return home afterwards.
The groom quit his job and booked a one-way ticket to California. When he arrived at the airport, he and Erica read their vows to each other and got married.
The  couple 'God be their pastor' and called CBS News so they could document the moment.
Erica's Instagram bio now says she's married to the man of her dreams, while Arte's reads: 'married to the love of my life.'
JOIN OUR PULSE COMMUNITY!
Recommended articles
7 incredible health benefits of bitter kola
5 most fashionable plus-size celebs in Nigeria
See the forest in Ondo where masquerades are forbidden
Blow by blow of how Hypo made an all - white impression at the AMVCA 2023
3 foods believed to have spiritual significance
You should visit 5 of Africa's most popular and historic markets
The scary and toxic side of applying sunscreen every day
YAPPI: Opportunity for youth empowerment through animation, post-production industry
How music can transform a bland s*xual experience into an enjoyable one
Original name of Africa and how it got its current name
3 mistakes to avoid when cooking fried rice
How unmarried people in Nigeria will be affected by fuel subsidy removal