What are their relationships and differences?
In economics, the benefit of saving is interest; while in investment, return is that which is benefited.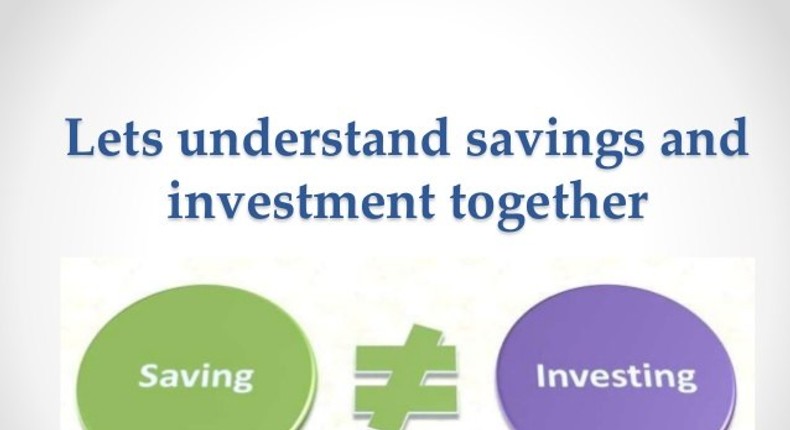 However hard one may try, complexity is what he finds when seeking for the precise relationship between saving and investment.
And, this obviously is the reason why there are differences of judgment as to what is a satisfactory national saving rate.
Therefore, in other to unravel the elements of the puzzle, and to bring clarification to the subject at hand, we shall begin with delving separately into each of them.
With this in mind, we begin first with saving.
Saving can simply be defined as an income not spent. Also, it can be referred to as a deferred consumption. And correspondingly, saving also involves reducing expenditures, such as recurring costs.
When talking about saving, it is important to realize that here are various examples of savings, and they include: putting money into a deposit account, a pension account, an investment fund, or as cash.
For the purpose of bringing correction to a misunderstood concept, it should be made known that  'saving differs from savings.' The former refers to the act of increasing one's assets, and the latter refers to one part of one's assets, usual deposits in savings accounts. Furthermore, it could be explained that saving refers to an activity occurring over time, a flow variable, whereas savings refers to something that exists at any one time, a stock variable. To make it more simple, savings is the end result of saving.
Investment is basically the allocation of money or other resources, such as time, with regards to the expectation of some benefit in the future.
Also, Investment generally results in acquiring an asset, also called an investment. If the asset is available at a price worth investing, it is normally expected either to generate income or to appreciate in value, so that it can be sold at a higher price (or both).
In finance, the benefit from an investment is called a return. The return may consist of capital gain or investment income, including dividends, interest, rental income etc., or a combination of the two.
What are the differences between saving and investment?
Basically, saving is typically for smaller and shorter-term goals in the near future. This is usually three years or less. Examples of such goals are going on vacation, having money for an emergency, buy a car, e.t.c
The act of investing can help you reach bigger long-term goals. And sometimes, this usually takes at least four to five years away.
The account which is created for the purpose of saving gives you access to ready cash whenever you need it.
Logically, the power over your money or resources is denied you the moment you take side with investment.
It is correct to affirm that your money is at minimal or no risk when it is in a savings account. And this is because there is enough capital to effectively run the savings activities that go on in the bank.
There is every possibility that you may lose some or all of the money you invest.
When you save, you earn interest. But it should be highlighted here that savings accounts generally earn a lower return than investments.
Investments have the potential for higher return than a regular savings account. Your investments may appreciate (go up in value) over time. This increases your net worth, which is the value of your assets (what you own) minus your liabilities (what you owe). If you sell for a higher price than you invested initially, you make a profit.
What are the relationships between saving and investment?
One relationship between saving and investment is that the sole purpose of them is for the benefit of the future.
Also, another relationship between saving and investment is that the income meant for them are outside the league of expenditure.
In conclusion, it becomes acceptable to affirm that upon definition, analysis and comparison, the discrepancies between saving and investment are much more that their relatedness.
JOIN OUR PULSE COMMUNITY!
Recommended articles
Burna Boy and 4 other Nigerians shaping the global fashion industry - BOF
3 food items legal in Nigeria but banned abroad
What Nigeria needs to fix in the tourism sector, according to an expert
If you attended a Nigerian university, these 8 things likely happened
10 simple nighttime beauty habits to practise before bed
3 interesting things you need to know about the world's most expensive house
Wondering whether to ask your girl for nudes? Read this
Who wore it better? Vee Iye and Toke Makinwa twinning in green blazer
World class laser hair removal solution in Nigeria
Why you keep attracting emotionally unavailable men
The wild sex and sexual practices of ancient Rome
Break free from bad hair habits and transform your natural hair
I still love guys - Super Falcons' Michelle Alozie reacts to lesbian rumour
Heartbreak for Nigeria as AFCON 2027 bid slips away to East African rivals
Victor Boniface or Harry Kane: Who has had the better Bundesliga start?
Steph Curry: NBA star lists Nigeria's Burna Boy and WizKid among favorite music artists
Controversy as Super Falcons' Michelle Alozie unveils her 'female lover'
AFCON 2027: Algeria hands Nigeria a major boost
TikTok wahala: Osimhen deletes Napoli pictures from Instagram
Wilfred Ndidi: Style Essentials inspired by the Leicester City's Nigerian midfield maestro
TikTok trolling: Osimhen set to sue Napoli for serious damage