The history of the Ojuelegba area in Lagos
This is the backstory of Ojuelegba.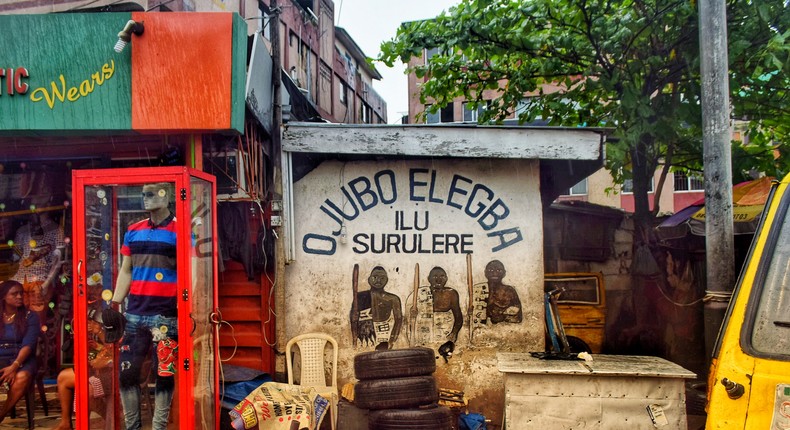 In the 1970s, Fela's Shrine, a party hub, made the Ojuelegba famous, but it has even deeper historic roots.
"Ni Ojuelegba o, they know my story," Wizkid famously sang but what is it about Ojuelegba and what makes it special?
Ojuelegba is at a special location in Lagos State, Nigeria. It connects Surulere, Yaba and Mushin and also links Apapa Wharf to Ikorodu and Agege.
The area currently known as Ojuelegba was formerly a forest and shrine used to worship Eshu Elegbua or Legba. This deity is also worshipped by the Fon people of the Benin Republic, the Cubans and Haitians.
The Haitians call the Legba deity, Papa Legba. He is a fatherly figure that opens the human world for the spirit to enter. The Fon people call it Legba and Cubans call it Echu-Elegua.
Under the Ojuelegba bridge, the Aworis worshipped the Esu diety known as Láàlu ogiri òkò - a deity in charge of orderliness and an enforcer of laws.
Its shrine was made of red earth and stones and covered with cowries. These cowries were used to mark the god's eyes and mouth, and daily sacrifices were offered to it.
The shrine still exists today, right there at the south of the Ojuelegba roundabout with the inscription, 'Oju-Ibo Elegba' which has now been shortened to Ojuelegba - presumably how the area got its name.
Fela singing about Ojuelegba said,
"For Ojuelegba, for Ojuelagba
And policeman no dey for centre."
JOIN OUR PULSE COMMUNITY!
Recommended articles
3 reasons relationships that start in December may not last
A Night of Queens, an all-female lineup concert celebrating Nigeria's musical powerhouses
DIY Recipe: How to make African drop doughnuts
One Wellness Centre hosts exclusive brunch and tour event
5 things every young man in a relationship should know about women
Here's why you jerk when sleeping
5 tips to stop drinking alcohol
The truth about feminine wash and perfumes
Chivas Palace: Celebrating the blend of success
7 things your belly button says about your health
Some common causes of coarse palms and how to soften them
Christmas traditions from our childhood that should come back