3 not-so random things that could get you kicked off a flight
Airlines and air hostesses generally reserve the right to kick a passenger off a plane under the contract of carriage, which is a lengthy agreement between passengers and airlines.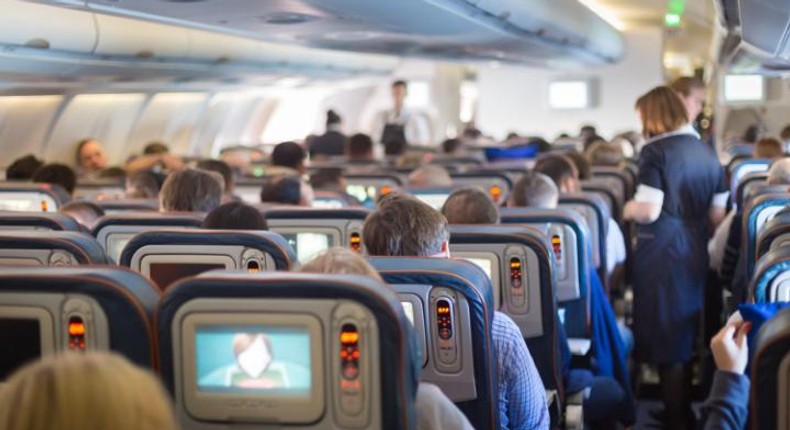 There's more to getting booted off a flight than being a drunken, loud passenger.
In today's world where terrorist attacks have gone on the rise, there are more than a few seemingly random things that could get one grounded.
Contract usually includes a section about banned behavior which are described in vague terms like "disorderly," "offensive," "abusive" and "intimidating," ultimately giving flight crew members the decision on what specific acts are out of bounds.
Thus, flight attendants are saddled with the responsibility of spotting who/what could become a potential problem mid-air.
So, what are some of the things that could lead an air hostess boot someone off a flight? Check them out below.
1. Rudeness to cabin crew: If a passenger is not being cooperative or acting rude to members of the cabin crew, this is a potential cause to be booted off.
2. Aggressive behaviour: Strange or aggressive behaviour, according to  James Allen, spokesman for the Association of Flight Attendants, is more than just bad manners. It could be a sign of drug use, mental illness or a stroke.
3. Filming safety procedures: In March, two Muslim women were escorted off a JetBlue flight and the airline released a statement saying they had been caught filming  in-flight safety procedures. "Our crew members' first priority is the safe and secure operation of our flights, and as a security precaution, are asked to be aware of anyone who may be filming or taking photographs of in-flight procedures or the flight deck area,"  the airline said in a statement.
JOIN OUR PULSE COMMUNITY!
Recommended articles
Chaotic life of an HR: The unfolding drama (Ep.12)
If he does not do these 5 things for you, let him go
Here's why standing during s*x could lead to stroke - Experts explain
How to visit Rwanda on a budget
5 amazing things to do in Osogbo, Osun state
Problems of education in Nigeria and how to solve them
What you need to know about Type 2 diabetes
5 benefits of using moisturizers
7 deadliest water bodies on Earth