See the forest in Ondo where masquerades are forbidden
Ondo state located in southwestern Nigeria, is renowned for its rich cultural heritage and fascinating traditions.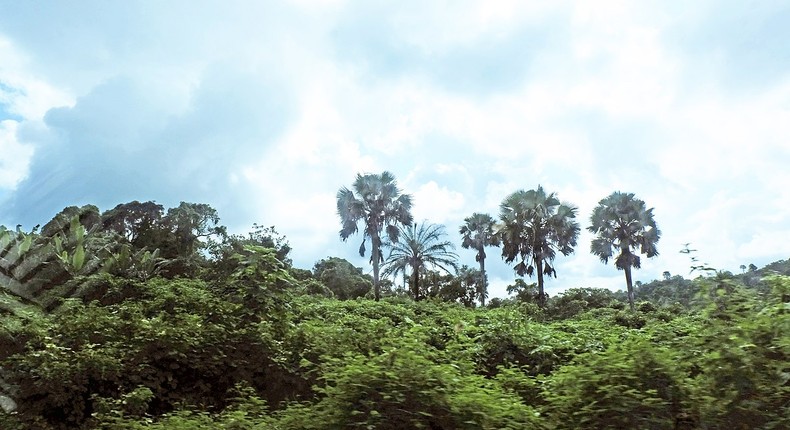 In this Sunshine State, there is a unique forest that holds deep significance for the local communities.
It is known locally as "Igboyegun" this forest serves as a hallowed ground as the residents consider it a sacred space for spiritual practices, ancestral veneration, and communal gatherings. Apart from its high spiritual significance, in this forest, masquerades are banned from entering.
This practice is traced back to early days when a blacksmith who specialised in carving women's hair comb called Yegun, (this is how the forest got its name) complained that a masquerade called "eegun gogo" known to be very noisy was disturbing his children with his nose.
Yegun's complaint soon caused a quarrel between them and then, Yegun declared that no masquerade should be allowed into Gboyegun. His decree stood over the years and since then masquerades cannot enter Igboyegun.
It is important to note that legend says Yegun was just not an ordinary man. He is considered a deity who was not known or seen by anybody because he did his business in the dead of the night.
The Sasere of Akure land once described Yegun as someone who would go to the shop in the dead of the night, carved hair combs for ladies, display them with price tags and leave before the break of the day.
Any interested buyer was expected to pick her choice and drop the money according to the price tag. Anyone who took a comb without payment was met with unfortunate circumstances.
This was why when Yegun gave a decree on masquerades, everyone had to comply. It is even believed that any masquerade that mistakenly enters Igboyegun will die mysteriously.
Apart from masquerades, the Sasare and even the Kabiyesi also have strict laws on entering Igboyegun.
Despite its strict laws, Igboyegun is an important traditional site in Akure where lots of traditional rites are performed. It is the focal point for various rituals and ceremonies conducted by the Yoruba community.
JOIN OUR PULSE COMMUNITY!
Recommended articles
Here's all you need to know about Kegel exercises
Irish Board launches €1m Spirits campaign in Nigeria
itel's Love Always on CSR initiative enriches education in Nigeria
Ralph Lauren fragrances unveils CKay as face of the world of Polo Franchise
Nigerian brand Gia Bridals dazzles with collections at New York Fashion Week
5 toxic habits you need to let go of to have a healthy relationship
Over 25% of the men who requested DNA tests weren't biological fathers - Report
How to make 'Chanko Nabe' soup Japanese sports personalities use for weight gain
5 reasons you shouldn't move in with your partner before marriage
Here's what happens when you drink red wine during your period
The world's most impossible dance believed to have inspired Michael Jackson
We asked 7 Nigerian men if they would ever consider getting a vasectomy
Manchester United senior players beg Sancho to apologise to Ten Hag
Ukrainian club copy Nigeria's Super Eagles jersey
Victor Osimhen dodges fine for substitution bust up
Mikel Obi: Super Eagles legend branded 'fine boy no pimple' in Dubai
Give us Mourinho! Chelsea fans beg for 'Special One' after latest defeat
Check out Cristiano Ronaldo's amazing car collection reportedly worth over a staggering N20 BILLION
Anthony Joshua and Burna Boy: Nigerian-born boxer and African giant team up for Boss at Milan Fashion Week
How Nigerians can vote for Osimhen to win FIFA Best Player Award ahead of Messi
I want to 'teach' after football - Lionel Messi opens up on retirement plan