What happened to Enugu's coal mines?
The Ogbete Mines is where Coal was first discovered in Enugu. Mining probably began here in the 1900s.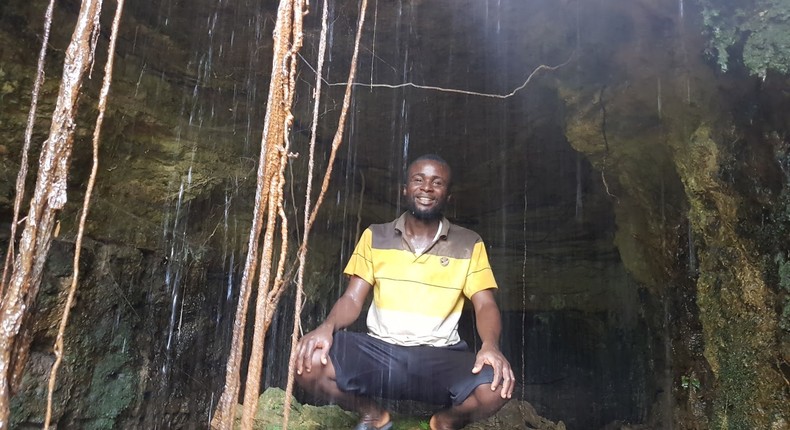 You'll never know the value of an ATM at your last bus stop till you're almost stranded.
We entered Enugu with empty wallets and empty stomachs.
Banks have never looked as beautiful as they did to us.
In next to time, we started our search for the old coal mines that powered Nigeria in times now long gone.
So we headed for coal camp, after eating of course.
The part of Coal Camp we came in through was a car parts market. If you looked at the roofs alone, you'd easily think you're in Ibadan.
We walked through the people and vehicle traffic, asking every now and then till we could see the mines in view.
Travel Lesson: Keep your paranoia in check. If you're going somewhere and don't know how to get there, ask.
So I walked up to this guy I saw. I introduced myself and asked for his name.
"Good morning Odinaka, please how can we get to the old mines?"
He looked at me. Head to toe. I told him we were passing through Enugu and thought it'd be nice see the old mines we all read about in school.
"It's too dangerous, he said "there might be dangerous animals there."
We insisted. So he just pointed us in the direction of the old coal company.
"Wait," he said as we walked a reasonable distance.
"So what I didn't mention earlier is that I'm the Chief Security Officer of this community," he said.
"And I'm worried that with the way you're swinging all these gadgets, some boys might decide to escort you into the bush. If you know what I mean."
We understood him. Loud and clear.
"Let me look for somebody to escort you up the hills," he said as he led the way. We followed.
As we walked, everyone we passed by, young and old, greeted him. Clearly, he had a lot of respect in the community.
He kept telling every young guy we passed by to go look for someone.
Ten minutes later, the person was still had to find.
"The person I want to follow you up," he hushed, "is a cultist. If anything bad will happen, it will most likely be him that will make it happen."
I knew this formula. When you give a thief something to keep for you, it never gets stolen. Politicians don't apply to this theory.
"So I know once he's with you people, he won't want to enter my trouble, and so everything will be fine."
"Why do you call him Stone," I asked Odinaka. "When we were kids, he was so stubborn and used to fight a lot. Now everyone has forgotten his name and just calls him Stone."
"You know what," Odinaka said a short while later, "I'm going to cancel what I wanted to do and follow you people up there."
That was good news, but there was a but.
"I need beer for energy to climb."
Chris knew the drill, and a few minutes later, Odinaka, Stone and now a third person, Godwin, were drinking beer.
In no time, we got moving again.
"When I was a boy, this place was beautiful and busy," Odinaka said.
"We used to watch as trains will come here," he continued, showing me old rail tracks, "and the trains will carry the coal away."
The old rail tracks looked like people were paying late night visits to them, cutting of entire bars for reselling as scrap.
"Where do the rails lead to," I asked.
The further we went, the thicker the bushes.
"Some people in the community ran pipes up the hill," he said when we saw pipes along the path. "So they sell it to us."
"You know, I haven't been here since I was a child," Odinaka told us. "They used to tell us then that there were pythons and spirits in the caves, so the moment we sighted a cave, we ran away."
Today, there would be no running.
Just as he finished saying this story, we heard the sound of running water. And a few steps later, before us, the starting of the pipe, water pouring down the rock, and right there, a cave.
The Odinaka we met down there was a cautious 35-year-old man. This one, sitting in the cave is 10 years old, finally seeing the cave, and not running away. Finally climbing in and seeing there aren't any spirits.
He led us here, but somehow, it feels like we led him here. Perhaps, he might never have returned here if we didn't.
"These caves," Odinaka the teacher was back again, "was made by the miners. So when they see coal, they keep digging. And they dig till they no longer see coal. Then they abandon it and find another place."
This was how most of the coal here was mined.
Then we proceeded to look for another one.
On the way, high up there in the hills, we heard noise.
Boys. Lots of boys. Closer and closer we went till the noise was in full sight.
In no time, Odinaka's clothes were off too, and he was diving in.
10 minutes later, we continued our search with Odinaka wearing only a singlet and boxers' shorts.
And he climbed and fell, and climbed some more, till we reached a waterfall, sorta.
People came looking for coal here too probably.
By the time we were heading back down, two hours had passed.
We passed through the old coal factory.
Much of the old factory was purchased by some businessman who transformed it into a pure water factory.
Work here declined in the 90s and probabmy stopped completely in 2002. But the real decline of this place began in the 50s, when oil was discovered.
The Federal Government had plans to revive the Coal industry, but most of the work now, remains on paper.
When we descended, we found an Abatcha woman. It was like she was waiting for us. So we just did the right thing.
We set out again and this time, we headed for another powerhouse in Enugu State, Nsukka.
The University of Nigeria, Nsukka, Or UNN, as you'll most likely hear it being called, is a powerhouse and historic Nigerian University.
Not only was it founded by Nnamdi Azikiwe in 1955, it has has some of the brightest minds in Nigeria's history tied to it.
One of them, is Chinua Achebe, the author of Things Fall Apart.
He lived in the staff quarters of this school.
305, Marguerite Cartwright Avenue precisely.
But guess who also lived here? The Adichies. The family of one of the most iconic writers of contemporary Nigerian literature; Chimamanda Adichie.
So it had me wondering, did Oga Achebe plant one juju in this house that was churning at literary brilliance? So I paid a visit.
A friend of mine already introduced me to one of the people currently living there, Kosi.
I probably looked like a geeky idiot when we showed up at their door like a kid in Disneyland.
Kosi introduced us to her mum, who spent a few minutes making us feel more relaxed before heading out.
Half the time, I was blushing. The other half, I was asking Kosi ridiculous questions like what the house looked like at the time and if they probably found any secrets that one of the previous people who lived here, left behind.
The answer was no, of course.
"Are there any literary juices left in this house" I asked.
Kosi laughed. "I write nice captions on Instagram Stories."
But what I also learned was that, they were all heavy readers. And it only seemed reasonable. Her father and mother are Academics. Even Kosi herself, who knits and models, also lectures at the department of Electrical Engineering.
If you're wondering how far away that course is from the literary arts, wait till you find out that her brother is studying Physics and Astronomy.
She showed us upstairs to the old study. It's now a room, because no time.
"You know, this house should be a National Monument," I said later.
We had plans to head for Makurdi, but the sum already went to sleep and the road before us would have to stretch all the way to midnight.
So we settled into the University's Guest House.
Kosi's mum had us covered. That, for me, was all the creativity I needed to come from that house on this day.
*All photos were shot on the Samsung Galaxy S8+.
JOIN OUR PULSE COMMUNITY!
Recommended articles
FACT CHECK: Does breaking fast with fizzy drinks cause kidney failure?
Signs that say you're a lady in the streets, freak in the sheets
For men: 5 places you shouldn't touch a woman during s*x
5 side effects of drinking hot water too frequently
Men, here's how to give your woman an extended orgasm
5 foods that increase your chances of conceiving twins
Should restaurants have dress codes?
9 wardrobe essentials for Nigerian women
How Akara became a sacrifice to Brazilian gods
How tiger nuts improve men's s*xual performance
5 perfect alternative questions to ask during a date in place of "tell me about yourself."
5 outfits for 5 days of work inspired by Liquorose
Victor Osimhen: Where should the Super Eagles striker go this summer?
Peseiro chasing Rohr's feat as the Super Eagles resume campaign
Nigerian sensation Gift Orban wanted by AC Milan and Napoli
"Present crop of quartermilers are not challenging me enough to retire" - Patience George
Serie A: Udinese renew 'cornerstone' Isaac Success contract
Nigeria to play New Zealand and Haiti in April
PSV fan bags 40-year stadium ban after attack on Sevilla's goalkeeper
Saudi GP: Max Verstappen unhappy after finishing second to teammate Sergio Perez for the first time in 7 years
Super Eagles News: NFF denies sacking coaches, explains Finidi, Shorunmu absence