Ekpankukwo is the food of the gods
Before I set out, my colleague at the office, Inemesit, had strict instructions.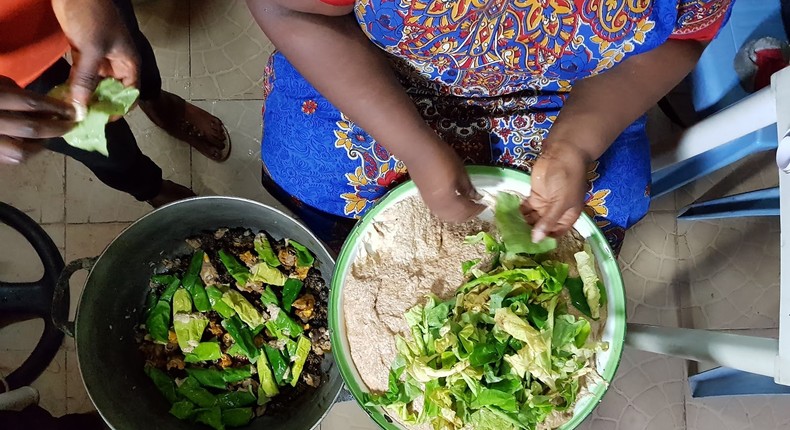 Before I set out, my colleague at the office, Inemesit, had strict instructions;
Make sure you eat Ekpankukwo.
See, Inem is not the person you want to disappoint, so yes, Ekpan was our first point of call in Calabar.
Ekpan takes time. But it is always worth it in the end, the CEO of QK restaurant told us.
Ekpankukwo is a porridge, and at its soul is cocoyam.
The first step is to grate it. Our teacher, QK, grate hers with some wateryam to help with thickness.
She made it with the kind of care you'd give homemade food.
When you've grated the the yams together, what follows is an intricate process of wrapping small moulds of the yam in the leaves.
You know how you take a paper note and wrap it round a wad of cash, that's how you wrap it in the leaves. The leaf of choice? Cocoyam leaves.
Now, while you wrap and transfer to a cooking pot, you're going to be doing some layering.
Periwinkles on one layer, Ekpan on another.
Now, she took it to the kitchen, and some magic happened.
Next thing you know, food is ready, and when we, about five guys, dive into it, it's a giant plate of wonders.
When we dive in, we meet meat, goat meat, at every turn.
The oil and sauces will throw your taste buds off balance, not in a bad way. But in the way you lose your senses when a beautiful person walks by.
With this Ekpankukwo, it was hard to tell if the main ingredient was the cocoyam or the gost meat. Because good God it was everywhere.
Can we talk about the periwinkles too? The cutest thing about periwinkles is that they are clingy lovers, the meeting doesn't truly end except with a kiss to the shelly lips. And a light suck that blesses you with succulent, small meat hiding in the shell.
Come and see Calabar wonder.
At this point, I arrived at a conclusion; Calabar people must be great kissers. You can't suck this much periwinkles in one lifetime and not be a great kisser. Period.
When I tell the guys, they suggest maybe I test out my kissing theory on a Calabar woman.
But you see, this kind of experiment is dangerous for an itinerary like mine. I might just decide to give it a try, and next thing you know, one week later, I'm still in Calabar sucking periwinkles when I should be on my way to Taraba.
By the time we finished, everyone was too full to be useful to the society.
Our host in Calabar, Maurice thought it'd be nice to drive around Calabar.
The first thing you learn about Calabar is that everyone knows everyone. It's such a small town with a knack for enjoyment.
"We Calabar people are very proud people," someone we met said. "We don't travel anout going to work as house helps and all that. We just like to enjoy ourselves."
That enjoyment part, he was right.
"And our women are the best. Chai."
Calabar women have a reputation, but that, I wasn't here to find out. Maybe next time. Maybe never.
I'm a gentle baby boy who doesn't like trouble. Let's talk about Maurice, our host.
Do you ever wonder what direction your life would have taken if you didn't meet some people at some point in your life? Our host isn't just giving us a pillow to lay our head. He was Chris' first teacher.
"This guy put the first camera in my hand and taught me how to edit," Chris said.
We meet some people in our lives, and what, at the time might seem really minor, will go on to play major roles in our future.
"What would you have been doing if you weren't doing video," I asked Chris.
Probably working at a bank, he said.
And it's not a bad thing. Bankers earn a decent living, but would he be on the road telling stories? Probably not.
So when next you see a video Chris made, as you say a "Nice job Chris," say a silent "Thank you Maurice."
Wouldn't it be amazing if we all added this much value into each other's lives?
*All photos were shot on the Samsung Galaxy S8+.
JOIN OUR PULSE COMMUNITY!
Recommended articles
A brief history of how the Hausas were conquered by the Fulanis
Probiotics: The key to a healthy gut and improved male well-being
Unlock your brain's potential with the right supplements
7 reasons women don't get wet even when aroused
6 important medical tests all women need and the right time for them
Ayra Starr is the Sub-Saharan spokesperson for international makeup brand, Maybelline
Limited Time Offer: Save 20% on every 500SQM at the Meadows by PropertyMart in Ibeju-Lekki
4 African countries are responsible for 70% of the chocolate in the world
2023 World Oral Health Day: Colgate partners NYSC for nationwide community outreach
Fashion and Style Trends in Nigeria: A cultural melting pot
How to stop 'catching feelings' and get over a crush
How to cope with the loneliness that comes with adulthood
Manchester United identify Portuguese goal-machine Goncalo Ramosas Osimhen alternative
Giannis Antetokounmpo outshines Jordan Nwora as Bucks set record against Pacers
NPFL Review: Rangers continue to flirt with relegation, 3SC vs Plateau produce another classic
Arsenal reach first Champions League semi-final in 9 years with victory over Bayern