Maybe the future of Nigeria will be Made in Aba
Just one hour from Port Harcourt, along the PH-Aba expressway, one of the busiest markets in West Africa.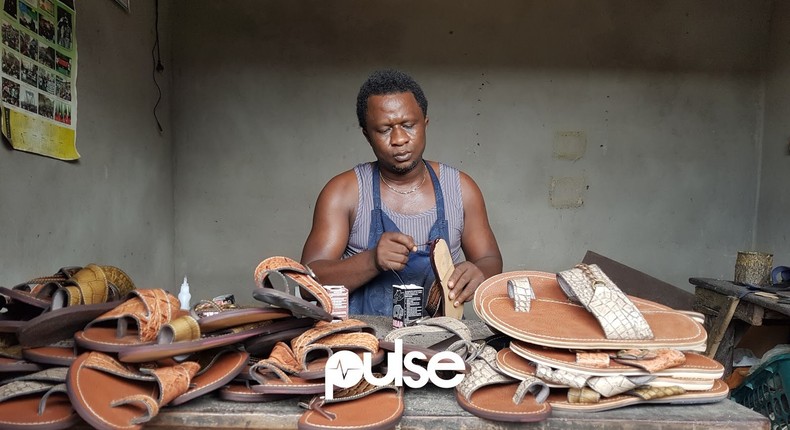 The famous Ariara Market, our first stop in Abia State.
This market is probably where you'll find the materials to make just about anything. From clothes, to even shoes.
And talking about shoes, we headed straight for Shoe Plaza.
Everywhere you turn at Shoe Plaza, there's someone building a shoe or part of it.
We went off to meet the President.
Here's we learned from Honourable Christian, the President of Shoe Plaza;
75% of the shoes worn in Nigeria is made in Aba.
There are over 1,000 shops in Shoe Plaza alone with an average of 4 people per shop.
Up to 40,000 footwears are manufactured every week in Aba. "My company alone makes up to 1,000 shoes per week," he said.
Now, we had no way to verify these numbers, but they couldn't be far off from the truth even if his numbers aren't accurate.
As far as we've seen, a lot seemed to be going on in Aba, but sometimes, this market is its biggest problem.
"People have a problem with Made In Aba products," I started to ask. "Mostly because it appears that most of the products seem to be counterfeited. Take for example, we know neither Prada or Zara have factories in Aba. But a few minutes walk in this market, and we'll run into shoes with this brands."
"You see," he sighed, "we've been trying to educate people that they need to change. But it's a gradual process. We want every shoe that leaves this market to have Made In Aba on it eventually."
What about the China factor though?
"We still have to get raw materials from China," Christian said. "And another problem we have is equipment. There are some finishings that will be best achieved with equipment. In the absence of that, we have to use hand."
I have no idea how expensive this machine is, but I imagine the opportunity this is. Imagine a company, or billionaire financing it. He automatically gets a share of Aba's 40,000 per week operation.
But moving on, we took a walk round the market, and ran into this guy, Paul Andras.
At first sight, he was just another hustler in Aba, stitching together pieces of leather to form the head of moccasins.
"I actually started working here during an ASUU strike in 2013," he began.
"So I just came here to learn shoemaking instead of just staying idle."
The first conflict came 6 months after, when ASUU called off the strike and he had to return to school at the Federal University of Technology, Owerri.
"The money was too good to just leave like that. So I started to balance it. At first, it was hard but I got used to it later."
He's currently working on his final year project and has huge plans when he's done with school in November.
"I want to get better at programming language by the end of the year. In fact, I paid about 250k to learn Java at NIIT."
He plans to focus on academic stuff. "This shoemaking hustle is temporary."
But how much does he even make?
Paul specialises in building the upper part of moccasins and he averages 100 of these daily.
On some days, he pushes for 150. And this earns him up to 40,000 naira per week.
That's so impressive, when you think of the fact that this single move made him completely independent of his parents financially.
It kind of put things into perspective. This is a guy who was, to me, or any passerby, just another semi-literate hustler in Aba. But not only is he educated, he probably has more skills than I do.
I wonder how many people in the super large market are like him, hustling hard. Striking the balance of paper, between money and a degree.
I also wonder what Aba would become with the right influence. Imagine how much this city would fetch for Nigeria if fuelled with the right kind of support.
If Nigeria will ever have an industrial revolution, it will most likely start off in Aba.
Remember what you heard at the end of all your favourite old Nollywood movies?
"51, Iweka Road Onitsha, and 1/3, Pound Road, Aba. GRAB YOUR COPY NOW"
Well, we made a quick stop at Pound Road, and what did we find?
Nothing. Just like 51 Iweka, this place was a shadow of its old self.
The only positive to this is that Nollywood's demands outgrew this little addresses.
When we'd seen enough of Aba, we headed for Umuahia.
Tomorrow, we're going to seek the iconic days of Biafra yesterday, and the future.
*All photos were shot on the Samsung Galaxy S8+.
JOIN OUR PULSE COMMUNITY!
Recommended articles
Aquafina inspires and empowers Wisdom Nsima as a true 'Padi of Life'
5 major highlights from AAAN @50 AGM/Anniversary celebrations
11 things to do when travelling to another country
JOKA.NG takes attendees on an out-of-space journey with 'Games and Genres'
3 easy ways you can increase your daily protein intake
Top 5 Ebuka Obi-Uchendu's outfits during the BBNaija All Stars season
Unleashing the Maverick Spirit: Glenfiddich celebrates bold futures & Nigerian dream
How Nigerians dressed during the 1960 independence, according to Chat GPT
Nigerian excellence through the lens of Anny Robert in collaboration with Johnnie Walker
Here's why guinea fowls make great security guards
5 cute animals that are actually dangerous
This week's best celebrity pictures on Instagram
Ronaldo did not chase me out of Al Nassr — Vincent Aboubakar
Bukayo Saka: Arsenal star celebrates Nigerian Independence Day
Osimhen can succeed Messi, Ronaldo — Jose Peseiro
Super Falcons: Alozie, Plumptre lead Nigeria's 63rd Independence Day celebrations
Napoli social media executive resigns amidst Osimhen TikTok saga
I still love guys - Super Falcons' Michelle Alozie reacts to lesbian rumour
Heartbreak for Nigeria as AFCON 2027 bid slips away to East African rivals
Victor Boniface or Harry Kane: Who has had the better Bundesliga start?
Steph Curry: NBA star lists Nigeria's Burna Boy and WizKid among favorite music artists