You can now cook rice in way that reduces the calorie content
Eating rice just got better and healthier. Follow this easy tips on how to cook rice to reduce the calorie content.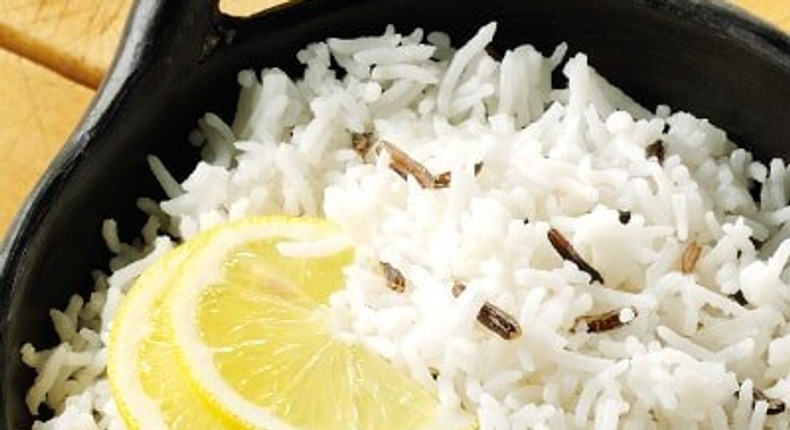 Rice is more like an everyday food for most Nigerians.
Known to contain a whole lot of carbohydrate content, Rice which is a versatile meal is now being replaced by a good number of people with an unrefined whole meal just so they consume less of the carbs.
However, when cooked properly, you can reduce the calorie content by half. Here's how you can achieve that.
1. Add coconut oil to the boiling water. Prior to doing so, weigh the amount of rice you are cooking and add 3 percent of that weight in coconut oil.
2. Place the rice in the pot and let it cook as usual.
3. When done, place the rice in the refrigerator and let it cool for about 12 hours before eating.
According to a study done at the College of Chemical Sciences in Sri Lanka this method makes rice more weight loss friendly because the digestible starch is turned into resistant starch which occurs due to the introduction of the lipids in coconut oil and the immediate cooling of the rice. The lipids interact with the rice, turning the digestible starch into resistant starch. What's more, the immediate cooling fortifies the production of the resistant starch, making each serving healthier.
Eating rice just got better. Who's ready to try this out?
JOIN OUR PULSE COMMUNITY!
Recommended articles
This week's best celebrity pictures on Instagram
20 ways people experience unexpected orgasms
Everything you missed at the #TheMeistersExpression Concert in Ibadan
In this Ugandan tribe, the bride's aunt has s*x with the groom to test his sexual prowess
Skinny shaming: 5 things you should never say to a slim person
The importance of boundaries in relationships: Nurturing love and respect
Trace to set the African music scene ablaze with first Trace Awards & Festival in Kigali
Study shows men have been peeing wrong; they ought to sit and not stand
Denola Grey is one of the new faces of Fenty Beauty
How to survive the rising cost of petrol and transport in Nigeria
7 incredible health benefits of bitter kola
5 most fashionable plus-size celebs in Nigeria