5 Nigerian meals you should avoid eating before going to bed
As much as you want to swallow that big handful of pounded yam at the end of the day, here are certain things you should know about eating the right kind of food at night.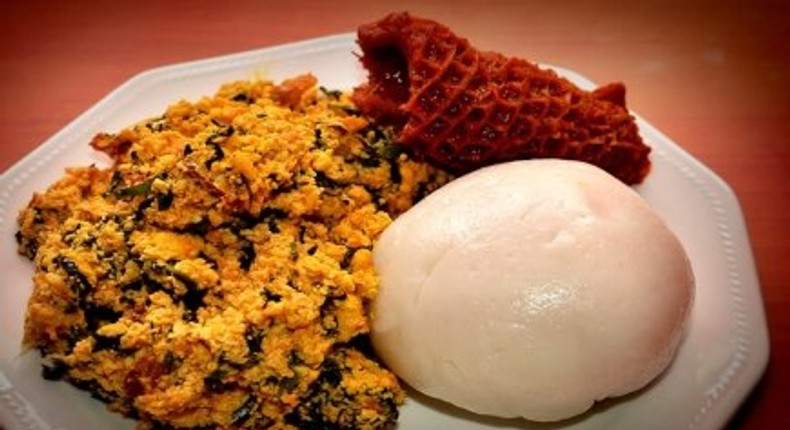 Food is so good and are enjoyed better at night when you can savour every taste.
As good and essential as food is, I think it's a little unfair to not be allowed to take what we want at the time we want it, right? But then it's only wise to take what's healthy, beneficial and useful for us, isn't it? Of course, it is.
Having said all of that, it's important for us to know the right kind of food to feed on at every single time of the day. Hence, the need for this list.
Although these foods are not bad in themselves and contrary to people's belief, eating late at night doesn't necessarily make you gain some more weight just because it's late, but because the calorie content in these meals is actually what leads to the extra kilos. So, you want to avoid taking them at an inappropriate time.
1. Pounded yam
It only makes sense to crown your efforts after a long day's work with a befitting, hefty and honourable pounded yam, the king of all meals.
Pounded yam, like any other energy-giving food, is best taken in the afternoon when you need all the energy required for your daily running around and activities. Taking this meal late at night isn't such a good idea because, not only does it makes you feel heavy, it converts all the energy the food is supposed to release into the body to fats and stores them in the adipose tissue for use later, adding some more weight. When you keep adding up this weight, you put yourself at a risk of becoming overweight or obese which isn't too good for you.
2. Chocolate and other sugary foods
Chocolate isn't a filling snack, so if you're craving it, you may not necessarily be hungry. Rather, your sweet tooth just beckoning on you. Sugary foods have the same effect as the energy-giving foods. So, just because you want to eat light and decide to snack doesn't mean you should opt for those extremely sugary snacks.
3. Fries
Because of the oil content present in fried food, it isn't advisable to consume the at night because they are high in calories and fat, and they also weigh on your stomach and take a while to digest, leaving you feeling tired and sluggish in the morning. Besides they also cause heartburn.
4. Pasta
The issue with eating pasta late at night is that it's such a fatty food that it will almost certainly lead to weight gain while you sleep. The carbohydrates in pasta turn to fat pretty quickly, so if you're trying to eat healthy at night.
5. Bread
Bread contains a lot of carbohydrate and sugar that spikes up your blood sugar levels, causing your energy levels to rise disrupting your sleep in the process. There is also a chance that you will likely wake up starving a few hours later or in the morning due to the overproduction of insulin the sugar triggers.
Well, the simple rule is that, don't eat more calories than you can burn.
JOIN OUR PULSE COMMUNITY!
Recommended articles
ICYMI: What went down at Ori Bloom's 'Black Hair Joy' event
A brief history of how the Hausas were conquered by the Fulanis
Probiotics: The key to a healthy gut and improved male well-being
Unlock your brain's potential with the right supplements
7 reasons women don't get wet even when aroused
6 important medical tests all women need and the right time for them
Ayra Starr is the Sub-Saharan spokesperson for international makeup brand, Maybelline
Limited Time Offer: Save 20% on every 500SQM at the Meadows by PropertyMart in Ibeju-Lekki
4 African countries are responsible for 70% of the chocolate in the world
2023 World Oral Health Day: Colgate partners NYSC for nationwide community outreach
Fashion and Style Trends in Nigeria: A cultural melting pot
How to stop 'catching feelings' and get over a crush
Manchester United identify Portuguese goal-machine Goncalo Ramosas Osimhen alternative
Giannis Antetokounmpo outshines Jordan Nwora as Bucks set record against Pacers
NPFL Review: Rangers continue to flirt with relegation, 3SC vs Plateau produce another classic
Arsenal reach first Champions League semi-final in 9 years with victory over Bayern