It was a December to remember with Jameson Irish Whiskey!
#FeatureByJamesonIrishWhiskey: As we settle into the New Year, we look back and smile as we reminisce on the great times Jameson Irish Whiskey made possible in the last month of 2022.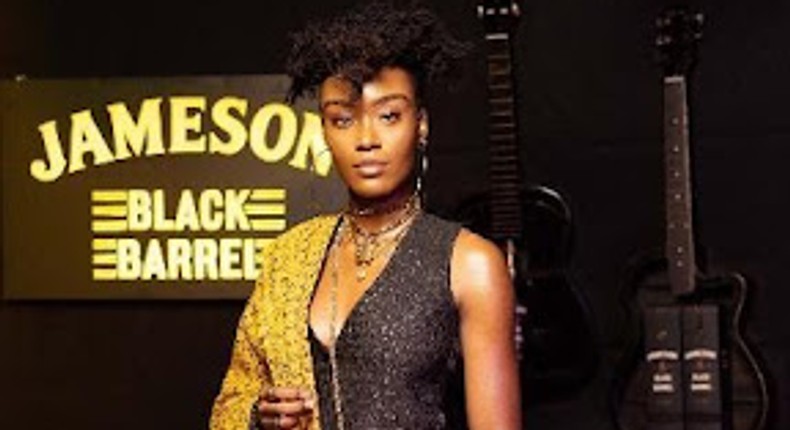 The lineup of events delivered in true Jameson form.
Jameson Black Barrel Ignites was the perfect way to usher in the December activities. The premium alternative soiree expressed what "touched by fire" meant, especially for the special double charred oak barrels that give Jameson its name and superior smoothness.
The night featured alternative music performances, a mind blowing gastronomical experience highlighting the taste notes of the whiskey and a "double charred" food menu.
Following JBB, on the 14th December, Tems endorsed and championed Jameson's 'Widen The Circle' campaign which celebrates the spirit of openness, challenging people to look beyond superficial barriers for the shared values that unite them.
The newest brand ambassador for Jameson was also unveiled in December. She is Jess Chibueze; a Nigerian-American content creator, podcaster, and visual artist who owns an entertaining podcast "Jess Finesse Presents" that focuses on the relevance of pop culture.
Apart from being a fan of music, Jess is also passionate about food, photography and alternative fashion.
Pulse Nigeria
Pulse Nigeria
Subsequently, Jameson sponsored the Palm Wine Music Fest., hosted by Show Dem Camp which featured artists such as Tems, Teni, Ladipoe, Boj, etc and they all delivered the afrobeats energy which left the concertgoers in roaring thunder.
There was Somadina's listening party which was intimate and had all round good vibes. The Pulse Fiesta, Afrovibes with Yemi Alade, Livespot Events, Dunsin Wright's fashion exhibition, Insights by Muyiwa Awoniyi which took place in Lagos & Ghana and Abuja 'Capital Block Party' & Lagos 'Mainland Block Party' were also major highlights in December. It kept the city and people alive whilst creating amazing memories that will linger for a long time.
Pulse Nigeria
The fashionistas weren't left out as Jameson teamed up with Street Souk to support fashion brands and creatives at Nigeria's biggest streetwear convention for its 5th edition which took place on the 18th, which featured a fashion show from young designers who showcased their dynamic and unique pieces.
Let's not forget the pop up of the month - The Leading Vibe by Tems, which showcased her putting her closet filled with iconic pieces from over the years, up for sale for a good cause.
Pulse Nigeria
Pulse Nigeria
Jameson Irish Whiskey showed up at the Eat Drink Festival 2022, a 2-day food & drink event which featured an array of vendors with mouthwatering bites, music, games and cocktails. Continuously known for its reputation for hosting groundbreaking experiences, Jameson had its 12 days of Christmas which equally delivered some of the best highlights of December.
From December 18th through December 31st 2022, Jameson mounted a giant Jameson Christmas Tree at the center of the Ikeja City Mall and hosted everyone to good music, food, smooth Jameson cocktails and loads of excitable activities. The #DecemberWithJameson calendar was packed with a ton of unforgettable events worth experiencing.
Pulse Nigeria
Pulse Nigeria
Pulse Nigeria
Pulse Nigeria
The it-crowd came to merry, enjoy on-site games and cocktails.The series of activities which included non-stop music from the best DJs, a Christmas eve choral and a Christmas Day party, was aimed at celebrating the holiday season, fostering togetherness and promoting inclusivity in line with the Jameson's ambition to #WidenTheCircle through its campaigns.
The campaign will continue as Jameson Irish Whiskey aims to take over cities around Nigeria.
Be sure to keep up with our smooth Irish Whiskey and many more on social media at @jamesonngr on Instagram and Twitter using #WidenTheCircle.
Pulse Nigeria
About Jameson ® Irish Whiskey
Jameson is the world's most awarded* and bestselling Irish whiskey, ranked in the top 4 global whiskey brands and number 9 in spirits. Leading the Irish whiskey category with a 67% market share and having experienced 30 years of consecutive growth up until 2019, Jameson reached unprecedented sales of 10.4 million cases in the year to June 2022.
The Jameson portfolio is led by its core expression of Jameson Irish Whiskey, with dynamic growth being experienced with its super premium offering, Jameson Black Barrel. The range also includes ultra-premium offerings such as Jameson 18 Years, as well as some recently added flavoured whiskeys, Jameson Orange and Jameson Cold Brew.
Triple distilled and twice as smooth, every bottle of Jameson is distilled and matured at the world renowned Midleton Distillery in County Cork, Ireland.
*Based on the tasting results of the six most influential tasting competitions over the past 10 years (2011-2021), including The Irish Whiskey Masters, IWSC, ISC, Beverage Testing Institute, San Francisco World Spirits Competition and Ultimate Spirits Challenge.
#FeatureByJamesonIrishWhiskey
JOIN OUR PULSE COMMUNITY!
Recommended articles
4 African countries are responsible for 70% of the chocolate in the world
2023 World Oral Health Day: Colgate partners NYSC for nationwide community outreach
Fashion and Style Trends in Nigeria: A cultural melting pot
How to stop 'catching feelings' and get over a crush
How to cope with the loneliness that comes with adulthood
Wiz kids: 5 Nigerian child geniuses and their amazing feats
Who wore it better? Erica Nlewedim, Ini Dima-Okojie in a corset two-piece
Xiaomi launches Redmi Note 12 series in Nigeria inspiring users to "Live Vivid"
The style evolution of Davido: From teenage star to Timeless fashion icon
5 reasons you'd be lucky to date a woman with a higher s*x drive than you
For women: Here are 4 kinky ways to arouse your man
Top 5 Nigerian queens of luxury and the soft life