You can actually swim in wine at this spa
If you ever feel so stressed that you want to bury your head in booze, this spa is where to go.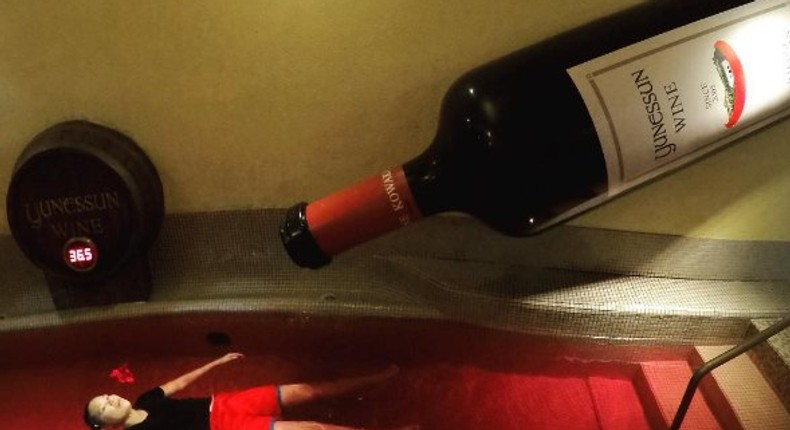 This spa allows you swim in alcohol- literally.
Located 60 miles to the west of Tokyo, the Yunessun Spa Resort is where you can go to immerse yourself in a pool of wine.
The spa calls itself a 'spa theme park' which simply means it is Disneyland for adults who like wine just as much as kids do cartoons.
At the spa, instead of soaking in hot water, people soak and swim in hot tubs of Merlot or Bordeaux.
If the thought of immersing yourself in wine doesn't just appeal to you, you might want to reconsider because bathing in booze has some health benefits.
These wines contain resveratrol, an antioxidant believed to possess anti-aging properties. These properties are known to improve circulation, strengthen the skin and even prevent it from losing elasticity.
Egyptians were said to have used wine baths to soften their skins.
No, you don't have to drink the same wine that people have been swimming in. You simply drink straight from the source - a 12 foot bottle located by the pool.
JOIN OUR PULSE COMMUNITY!
Recommended articles
The importance of boundaries in relationships: Nurturing love and respect
Trace to set the African music scene ablaze with first Trace Awards & Festival in Kigali
Study shows men have been peeing wrong; they ought to sit and not stand
Denola Grey is one of the new faces of Fenty Beauty
How to survive the rising cost of petrol and transport in Nigeria
7 incredible health benefits of bitter kola
5 most fashionable plus-size celebs in Nigeria
See the forest in Ondo where masquerades are forbidden
Blow by blow of how Hypo made an all - white impression at the AMVCA 2023
3 foods believed to have spiritual significance
You should visit 5 of Africa's most popular and historic markets
The scary and toxic side of applying sunscreen every day