How to make this amazing movie snack at home
Popcorn plus caramel is one sweet, creamy, crunchy snack that shouldn't be left for anyone to enjoy only at the movie. So, here's how pop some corn at home.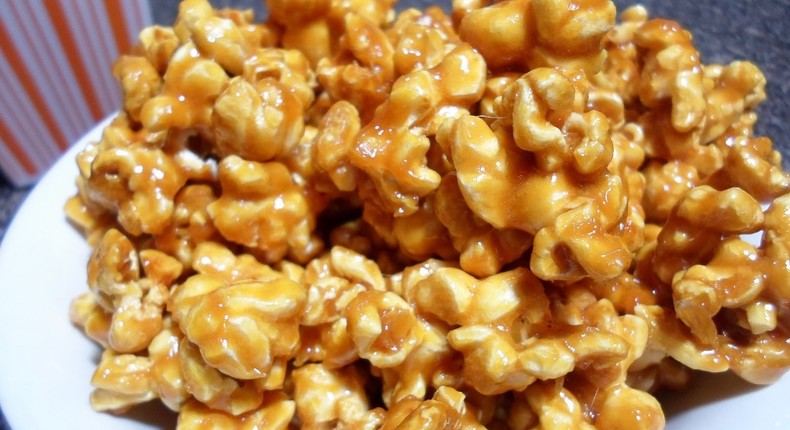 Popcorn plus caramel! What a heaven on earth treat.
Caramel popcorn is one super duper sweet, tasty, creamy, crunchy, flavoured snack anyone and everyone should totally munch every other night.
Caramel popcorn is best made at home just so you have control over the sugar and cream level.
2. 1/3 cup of high-quality popcorn kernels
3. 1 Tbsp (to taste) of butter (optional)
1. 1 Cup Butter (sweet cream butter)
1. Heat the oil in a thick-bottomed saucepan over medium high heat.
2. Put a few corn kernel into the hot oil. Add small salt and butter (if you're using it). The corn is expected to pop (just the same way prawn crackers rises when frying it).
Take it off from the pot and repeat the process till you're done popping all the corn kernels.
1. Melt the butter in a medium saucepan over medium heat.
2. Add the brown sugar. Stir continuously till the mixture begins to boil.
3. Add the vanilla flavour. Stir and leave for about 5 minutes.
1. Drizzle the caramel on the popcorn
2. Spread it on a baking tray covered with aluminium foil.
3. Bake for about 30 minutes or less, depending on how dry you want it.
There you go! Serve and enjoy.
JOIN OUR PULSE COMMUNITY!
Recommended articles
For women: 4 foreplay tips to drive men wild
5 people share awful and sometimes funny things their bosses have said to them
Ramadan: Six facts about the holy month for non-muslims
These are 5 top signs of fake love in a relationship
5 interesting health benefits of Agbalumo (African star apple)
The best 5 cities in Nigeria
The oldest woman ever to be on a Vogue magazine cover is a Filipino tattoo artist
Why your body suffers when you don't have regular s*x
6 reasons your nipples hurt
5 celebs with face cards that never declines and their makeup techniques
Chicken vs Turkey: Here are 3 nutritional differences
Is less actually more? Five benefits of a more minimalist life
Manchester United identify Portuguese goal-machine Goncalo Ramosas Osimhen alternative
Giannis Antetokounmpo outshines Jordan Nwora as Bucks set record against Pacers
NPFL Review: Rangers continue to flirt with relegation, 3SC vs Plateau produce another classic
Arsenal reach first Champions League semi-final in 9 years with victory over Bayern