About the Hausa custom which stops mothers from showing love to their first-borns
Names are one medium by which love is expressed, so what happens when a mother isn't allowed to call the name of her child?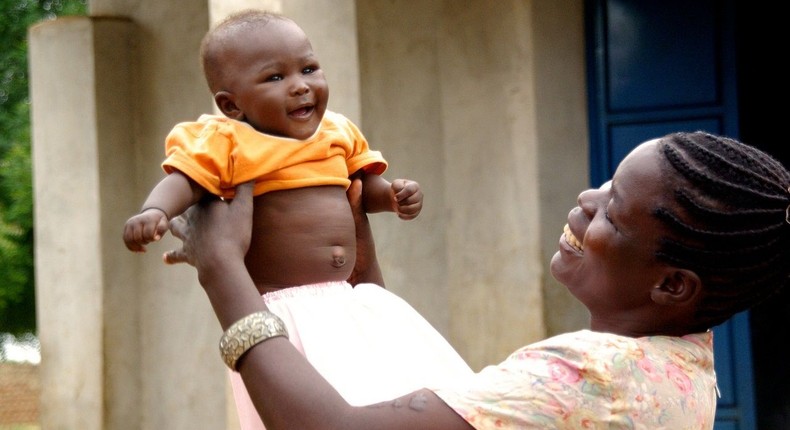 Nigeria has peculiar naming cultures and many of them, like this one, aren't even as popular as the others.
In many Nigerian cultures, a name is more than just a tag or a convenient badge of identity. The cultural naming conventions in different tribes are usually deeper than the surface that one sees, with parents giving their children names with an interesting story behind them. For many Nigerian families, and in many parts of Africa, names have been used to drive home different messages — from emotional to generational to circumstantial — and have been used by generations before now.
The Hausa/Fulani people are one of the major tribes in Nigeria, predominantly in the Northern part of the country. Naming ceremonies are done on the seventh day after the child is born, just like in other cultures. Generally, Hausa names are primarily derived from the Muslim religion and so are very similar to Arabic names. Sometimes, they can be derived from situations surrounding the birth of a child.
For instance, a name can be derived from the day of the week the child was born, e.g. Dantala is given to a boy who is born on a Tuesday.
Sometimes though, it can go deeper than that — names might have some strong significance to an older or well-respected family member as a way to immortalise them.
Pulse Nigeria
Usually, the onus falls on the first born child.
It is common to see a mother withhold expressions of love to her first son or daughter by not calling him/her by name and/or showing him/her tough love.
According to sources, this custom is more common for first-born sons, but can also apply for females.
In such cases, the son is given the name of his grandfather (dead or alive) or a very respected elder in the family or community.
When we queried this custom, a Hausa multimedia consultant corroborates it on Twitter: "It's a cultural taboo for mothers (sometimes, fathers too) to call the name of their first child, perhaps due to the popular tradition of naming the first child of a couple after his grandfather (mostly paternal, which makes the baby a namesake of the father-in-law)... Or her grandmother (which makes the baby a namesake of the mother-in-law)."
A mother, or in some cases, father, will refer to the son with a more respectable moniker like "Abba" or "Baba", meaning father, which shows respect for the person he was named after.
Pulse Nigeria
When a first-born daughter is named after a mother-in-law or grandmother, etc, she is referred to as "Ummi" or "Mama". Sometimes, the rules extend to the younger siblings, who also can't call their elder ones by their first name.
In Abubakar Adam Ibrahim's award-winning debut novel, 'Season of Crimson Blossoms', the author was able to appropriately highlight this tradition which restricts Hajiya Binta, from calling the name of her first-born child, Yaro, or showing him adequate love till the day of his death. She regretted never being able to call or comfort him like she wanted to, and this caused a yearning that was never satisfied... hence the plot of the novel.
However, this custom is not as prominent as it used to be, with its phasing out coming with these modern times.
JOIN OUR PULSE COMMUNITY!
Recommended articles
This week's best celebrity pictures on Instagram
Anticipated Akada children's book festival returns for its 5th edition
Unforgettable Night of Fun & Smirnoff: Lagos soars with epic BBN fans party
5 things women put on that men find instantly attractive
5 bad habits to drop if you don't want to look older than your age
If you feel insecure about your boobs, read this
The Macallan exclusively launches Double Cask 30 Years Old in Abuja
How to turn down sexual advances from your partner
The Macallan Sherry Oak 25 & 30 YO unveiled in Nigeria
Delusion might be the solution: Study reveals negative thoughts are better suppressed
The legend behind why cassava makes us very sleepy
Why guests had to squeeze between 2 naked models to enter an art show
Anthony Joshua and Burna Boy: Nigerian-born boxer and African giant team up for Boss at Milan Fashion Week
How Nigerians can vote for Osimhen to win FIFA Best Player Award ahead of Messi
I want to 'teach' after football - Lionel Messi opens up on retirement plan
It was a money issue — Jay Jay Okocha on why he snubbed Europe's big clubs
North London Derby: Postecoglou threatens to 'scare the life out' of Arsenal
Super Falcons' Michelle Alozie drops football hot take
Kane defends Harry 'One of the best defenders in history' Maguire, calls for end to scapegoating
Provedel: 4 goalkeepers who have scored in the Champions League including Vincent Enyeama
Andre Onana: Critics of the Manchester United goalkeeper are missing the bigger picture