10 of the most impressive statues of Christ from around the world
From Brazil to Nigeria, these elaborate monuments were constructed to pay homage to the central character of the Christian faith.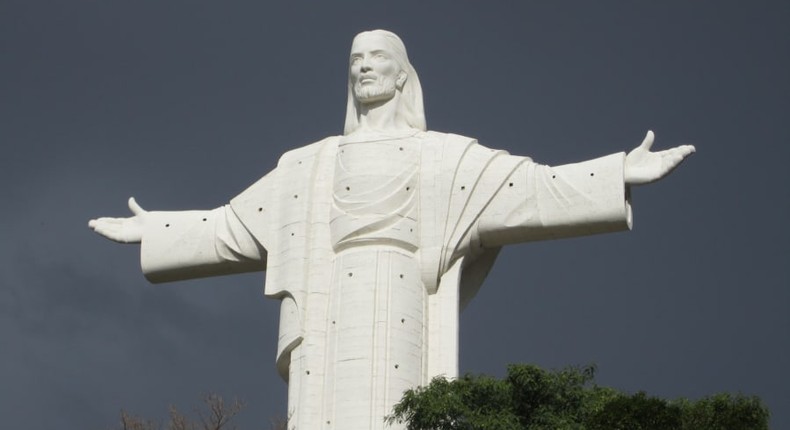 It's Christmas and traditionally, Christ is the reason for the season.
Engineers, laborers, visionaries, and patrons made great effort to see that these statues are recognised for magnificence and faith. So, in no particular order, these are the great monuments of Jesus Christ from around the world.
1. Christ the King, Poland
Christ the King statue in Świebodzin, Poland is 52.5 meters (172 feet) and is considered the tallest statue of Jesus in the world, including the mound and crown. It was completed in 2010, built by a Polish priest Sylwester Zawadski, with a cost of over USD 1.4 million of donations from the locals.
2. Christ the King, Portugal
Pulse Nigeria
Inspired by Rio's Christ the Redeemer statue, Christ the King was built between the years 1959 - 1969 in Lisbon, Portugal. It was a symbol of gratitude by the Portuguese, for being largely untroubled during the Second World War. The statue itself is just about 25 meters tall, but stands on a 269-feet tall pedestal on a cliff over the Tagus river, and this makes it the tallest monument of Jesus in the world.
3. Christ the Redeemer, Rio de Janeiro
Pulse Nigeria
Everyone knows this iconic statue of Jesus towering over Rio in Brazil. The 30-meter was constructed between 1922 and 1931 and is now one of the seven wonders of the world and probably the most famous monument of Jesus in the world. However, it is just the 5th biggest statue of Jesus Christ in the world, with a height of 30 meters (98 feet - not including its 8-meter or 26-feet pedestal). The arms of the statue are spread wide, spanning a distance of 28 meters (92 feet). It has lightning rods on the arms, head and hands because it is hit by lightning 12 times every summer on the average.
4 . Cristo de la Concordia, Cochabamba, Bolivia
Pulse Nigeria
The second largest statue of Jesus in the world, Cristo de la Concordia (Christ of Peace) stands at a height of 33 meters — one for every year of Christ's life — and is just a few centimeters higher than the Christ Redeemer statue in Rio de Janeiro. To reach the statue, visitors have to climb 2,000 steps up the hill, and on Sundays, visitors can climb to the arms of the statue for breathtaking views.
5 . Christ of the Abyss, Key Largo, Florida
Pulse Nigeria
Christ of the Abyss is a 2.6 meter submerged bronze statue of Jesus Christ in Florida and is just one of three created by the Italian artist Guido Galletti who designed it. It is held in place by a 9-ton concrete base and was submerged in 1965. It is a highlight for swimmers, scuba divers and the local glass-bottom boat tours.
Pulse Nigeria
Built in 1953, the Cristo Rey is a statue 26 meters tall in the Cerro de los Cristales in the village of Los Andes, west of the city of Cali, Valle del Cauca, Colombia. It is located on top of a large mountain in the city and only fit visitors can climb to the top to get a taste of the panoramic views it brings. Others will have to hire a cab if they desire to reach the top.
7. Monument to the Divine Savior of the World, El Salvador
Pulse Nigeria
Built in 1942, this monument has Jesus standing on Earth, which is on top of a tall concrete base. It is located in San Salvador City in El Salvador. It was damaged to some extent in an earthquake in 1986 but was repainted and restored in 2010.
8. Jesus de greatest, Imo state, Nigeria
Pulse Nigeria
Imo state in Nigeria is known for its grand gestures using statues. After a 43-year-old businessman, Obinna Onuoha, had a dream in 1997 to build a giant statue of Jesus, the 'tallest statue of Jesus in Africa' commenced construction in 2013. Unveiled three years later, the statue stands in St. Aloysius Catholic Church, Abajah village in Imo state. Made of white marble, the statue stands at 8.53 metres (28.0 ft) tall and weighs 40 tons. It is the tallest statue of Jesus in Africa and one of the tallest statues in Africa.
9. Christ of Vũng Tàu, Vietnam 
Pulse Nigeria
This huge statue of Jesus began construction in 1974 and was completed in 1993. It is 32 metres (105 ft) high and standing on a 4 metres (13 ft) high platform, making it a total of 36 metres (118 ft). The arms outstretched to a total of 18.3 metres (60 ft). One impressive thing is that it has an internal 133-step staircase allowing visitors to climb inside.
10. Christ the Redeemer of the Andes, Chile – Argentina border
Pulse Nigeria
A sign of peace, Christ the Redeemer is located right on the border of Chile and Argentina and was unveiled in 1904 to mark the peaceful resolution of a border dispute between the two countries.
JOIN OUR PULSE COMMUNITY!
Recommended articles
Inauguration fashion: 5 highlights from across Nigeria
Fancy Acholonu Nigerian-American model & entrepreneur launches new fragrance line, Simply Fancy
3 reasons you need to start wearing lingerie
9 foods that make your child smart
3 overnight tricks to flatten your bloated stomach
Who wore it better? Nengi Hampson's recreation, or the original outfit on Didi Stone?
Top 5 Nigerian chefs with the best Instagram content
itel celebrates Children's Day 2023 with over 1,000 children In Abuja
What kind of parents are millennials? 5 ways they differ from their own parents
This week's best celebrity pictures on Instagram
Orijin launches 'Deeply Rooted' campaign championing transformative power of Naija roots
5 things adults miss about Children's Day