Rating Enioluwa's 9 looks with viral red mschf boots
Eniola styled the red mschf boots in 9 ways. Here's our rating.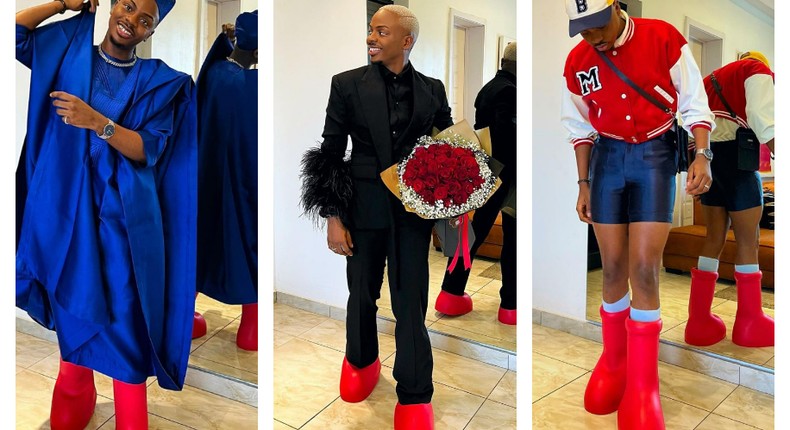 One of the trendiest outfits for celebrities and influencers is the viral oversized red boots by Mschf.
Influencer, Eniola styled the boots in nine ways and we will be breaking down these looks.
Look 1
The first look was a sort of date night look - he was holding red flowers. It was an all-black suit with feathers at the sleeves. I don't know about you, but I wouldn't want my date in that outfit, but it's a fun look I can see on the red carpet.
Look 2
Pulse Nigeria
Eni wore camo pants, a see-through shirt and a coat. Strangely, I don't hate the outfit; in fact, I like it. It is very Gen Z. I could see a celebrity wearing this on the red carpet.
Look 3
Pulse Nigeria
Spandex shorts, a varsity jacket, white socks and a baseball hat. I would have loved the look, I wanted to but, no, too much going on.
Look 4
Pulse Nigeria
This is my least favourite look. Was he wearing slacks? The outfit just felt like nightwear over a hoodie, very underwhelming.
Look 5
Pulse Nigeria
The agbada and the boots made sense together. Loved the colour contrast of the rich blue and bright red.
Look 6
Pulse Nigeria
He almost slayed the look, but he should have ditched the polo shirt and won a sheer or lighter shirt instead.
Look 7
Pulse Nigeria
Love the blue and red combination, he really has to stop tucking in the boots, the solution is wearing wide-legged trousers.
See Wisdom Kaye's styling of the same boots.
Look 8
Pulse Nigeria
Finally, wide-legged jeans pants, I liked this look.
Look 9
Pulse Nigeria
White and red is a good combination, but the tucked-in boots again almost worked.
These boots are difficult to style, not to mention that not everyone likes them, we give him an E for effort.
JOIN OUR PULSE COMMUNITY!
Recommended articles
From Waves to Weaves: 10×10 storms hair industry with a 9-day market activation in Lagos
This week's best celebrity pictures on Instagram
20 ways people experience unexpected orgasms
Everything you missed at the #TheMeistersExpression Concert in Ibadan
In this Ugandan tribe, the bride's aunt has s*x with the groom to test his sexual prowess
Skinny shaming: 5 things you should never say to a slim person
The importance of boundaries in relationships: Nurturing love and respect
Trace to set the African music scene ablaze with first Trace Awards & Festival in Kigali
Study shows men have been peeing wrong; they ought to sit and not stand
Denola Grey is one of the new faces of Fenty Beauty
How to survive the rising cost of petrol and transport in Nigeria
7 incredible health benefits of bitter kola