About Instagram credits; that constant struggle between the celeb & designer
Mercy Aigbe gets dragged to the cleaners by a struggling designer but then who really lost out?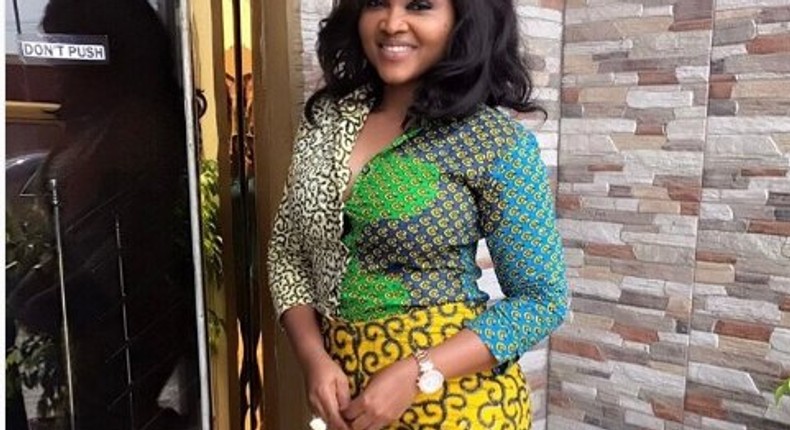 Credits on Instagram is everything major as it is especially with struggling fashion designers.
(I honestly don't think a successful designer- who has other things to worry about will be so bothered about getting credits online as far as her pieces are paid for; which is the smartest thing ever!)
Nollywood actress Mercy Aigbe is alll over social media over a shirt she reportedly got from a (struggling) designer she didn't 'credit' on Instagram and the latter has taken her to the cleaners and back and over again (screen grabs and all!); an unnecessary and extremely immature drama if you ask me.
Yes, it gets painful to feel taken for granted which the designer might have felt, maybe disappointed because she mentioned she was a fan and so on but things happen and where there's no legally binding contract especially in this neck of the woods people get away with things.
While there's no possibility that there might also be a miscommunication on the actress' part; think of a situation where the middleman simply hands over the piece to her casually mentioning the brand or not and the former didn't feel the need to tag (forget that she attempted to defend herself).
Instead of seeking rather 'hyped' validation why not sell instead? Horn your skills and get better and let people- the actual ones that would buy- find you because you are too good to be ignored, why go off so bitterly at the start of your business (looks like it). I seriously hope you haven't jinxed it.
Think of it this way, all this drama is already out, it's nestled already everywhere on the internet, it won't go away and it's just bad for you designer and here's another unfortunate situation for you, yes actress got the online 'bashing' but her work goes on because she's established (she's afterall an actress and a Nigerian- people forget and will watch and buy her movies) but you are here starting off a business and like that?
The only thing you did with this immaturity simply put is you 'told people to stay away from you because you (and friends/associates) can be extremely dramatic and over nothing! Note that most of these Instagram mentions don't usually translate to sale over here (sadly) except only if your goods are 'REALLY GOOD'.
Use social media to your advantage (and this goes for others really) showcase your best works, gain a clean reputation; by all means no drama, no shades, mind yours! One thing to take away/should take away from this is to GET BETTER, get so good you can't be ignored, let your work speak so much they fall over themselves to gain your attention or be affiliated with you and the brand.
It's no use crying over spilt milk that's if you've not ruined your brand image already with that pointless drama! Start again if you will, erase all the drama and I mean this literally.
JOIN OUR PULSE COMMUNITY!
Recommended articles
Probiotics: The key to a healthy gut and improved male well-being
Unlock your brain's potential with the right supplements
7 reasons women don't get wet even when aroused
6 important medical tests all women need and the right time for them
Ayra Starr is the Sub-Saharan spokesperson for international makeup brand, Maybelline
Limited Time Offer: Save 20% on every 500SQM at the Meadows by PropertyMart in Ibeju-Lekki
4 African countries are responsible for 70% of the chocolate in the world
2023 World Oral Health Day: Colgate partners NYSC for nationwide community outreach
Fashion and Style Trends in Nigeria: A cultural melting pot
How to stop 'catching feelings' and get over a crush
How to cope with the loneliness that comes with adulthood
Wiz kids: 5 Nigerian child geniuses and their amazing feats
Manchester United identify Portuguese goal-machine Goncalo Ramosas Osimhen alternative
Giannis Antetokounmpo outshines Jordan Nwora as Bucks set record against Pacers
NPFL Review: Rangers continue to flirt with relegation, 3SC vs Plateau produce another classic
Arsenal reach first Champions League semi-final in 9 years with victory over Bayern