Singer is smouldering on cover of Latina magazine
Singer, Demi Lovato is smouldering on the cover of Latina Magazine's June/July 2016 issue. In the magazine, she chats about her boyfriend, the presidential race and more.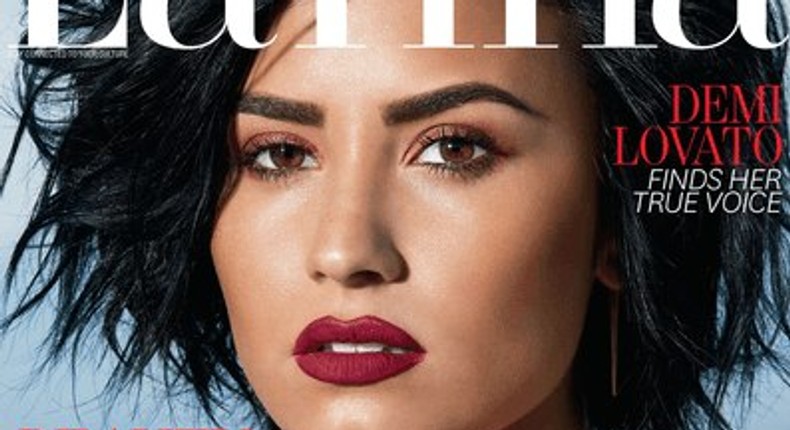 Here's what the talented entertainer had to say:
On boyfriend Wilmer Valderrama:
"When I dated white guys, it wasn't as passionate as my relationship with Wilmer. Maybe that's just Wilmer. But I do believe that Latin people are just more expressive, more passionate with their emotions. He's very manly, and he can be stubborn like Latino men can, but he's protective and he cares so much and loves so hard. I've been blessed enough to have him in my life, and not just as my man, but also my best friend."
On Kesha's fight with Dr. Luke:
"I thought it was extremely brave of a pop star in the industry to come out and talk about that. I do believe it's very f*cked up that he's not letting her go, aside from all of the other stuff. I think women artists shouldn't compete—we have to support each other."
"The reason 'I'm with her' is because out of everybody running, she is the most qualified and she will get shit done. I can hopefully help open people's eyes to how much racism is affecting our country and now infiltrating it in a sense where we might have an incredibly racist Republican candidate. It's terrifying to think that families can be, and sometimes are, separated on a daily basis."
Check out the full editorial and let us know what you think about it.
JOIN OUR PULSE COMMUNITY!
Recommended articles
For women: 4 foreplay tips to drive men wild
5 people share awful and sometimes funny things their bosses have said to them
Ramadan: Six facts about the holy month for non-muslims
These are 5 top signs of fake love in a relationship
5 interesting health benefits of Agbalumo (African star apple)
The best 5 cities in Nigeria
The oldest woman ever to be on a Vogue magazine cover is a Filipino tattoo artist
Why your body suffers when you don't have regular s*x
6 reasons your nipples hurt
5 celebs with face cards that never declines and their makeup techniques
Chicken vs Turkey: Here are 3 nutritional differences
Is less actually more? Five benefits of a more minimalist life
Manchester United identify Portuguese goal-machine Goncalo Ramosas Osimhen alternative
Giannis Antetokounmpo outshines Jordan Nwora as Bucks set record against Pacers
NPFL Review: Rangers continue to flirt with relegation, 3SC vs Plateau produce another classic
Arsenal reach first Champions League semi-final in 9 years with victory over Bayern