OPPO unveils new A78 with superior technological capabilities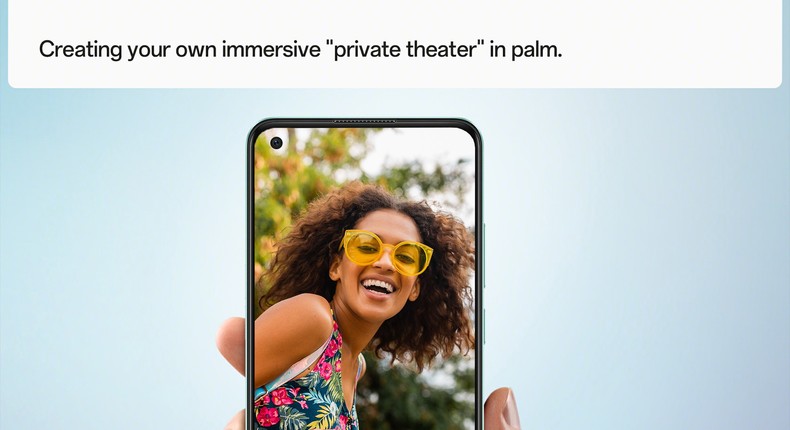 OPPO today announced the launch of the new OPPO A78 in Nigeria.
Featuring significant upgrades with its FHD+ AMOLED Display, Dual Stereo Speakers, lightning-fast 67W SUPERVOOCTM flash charge and long-lasting 5000mAh large battery, intelligent and secure ColorOS 13.1, and more.
The A78 is built to deliver seamless and smooth performance for up to four years. Enhancing this exceptional performance is a visually stunning Ultra-Slim Retro Design with an industry-first Diamond Matrix Design on the back cover, making the phone an absolute standout in style and functionality.
Lightning-fast and reliable charging with a longer-lasting battery
With the composition of the super-fast 67W SUPERVOOCTM Flash Charge and a large 5000mAh battery, the OPPO A78 offers one of the fastest flash charging speeds on any smartphone in its price range. The A78 can be fully charged in just 44 minutes. With this incredible charging speed, it's even possible to charge the phone to last an entire flight with a quick, last-minute charge before boarding a plane. When fully charged, the long-lasting 5,000mAh battery can provide 27.4 days of standby (flight mode) or 16.37 hours of YouTube video, so it can easily last an entire day of average use.
OPPO has also introduced a series of exclusive technologies designed to enhance charging safety and reliability on the A78. OPPO's Battery Health Engine helps to extend the A78's battery lifespan to as many as 1,600 charge and discharge cycles, which is enough to keep the battery working in a good condition for up to four years. Optimized All-Day Charging intelligently learns users' daily charging habits and adjusts the charging speed accordingly. For office workers who often leave their phones connected to a charger throughout the day, Optimized All-Day Charging can automatically stop charging the battery when it reaches 80% capacity and then resume charging to 100% just in time for the end of work. This reduces constant charging of the battery to improve safety and overall battery longevity. On top of this, 5-Layer Charging Protection returns to the A78 to improve end-to-end safety across the entire charging process.
Pulse Nigeria
A more immersive audio-visual experience
The OPPO A78 is the first OPPO A series phone to feature an FHD+ AMOLED screen that can be rarely seen in its price range. The 6.4" screen has a 90Hz refresh rate and up to 180Hz touch sampling rate to provide enhanced smoothness and responsiveness. With up to 600 nits' overall brightness, the screen delivers incredible detail even in direct sunlight, while the smart adaptive backlight helps provide the most comfortable visual experience in different environments to reduce visual fatigue from prolonged viewing. The display also includes the first In-Display Fingerprint Unlock on a smartphone at this price range, offering a better balance between aesthetic design and efficiency.
Alongside the fantastic visual experience, the A78 provides more immersive and crystal-clear surround sound through its Dual Stereo Speakers and Real HD Sound 3.0, delivering optimal sound adjusted for different scenarios such as music, video, and gaming. For users who like to turn things up a notch, Ultra Volume Mode can boost sound volume by as much as 200%, making it easier to hear music or the phone ringing in even the noisiest of places. When making voice calls, the earpiece volume can be further increased by 3dB without impacting audio quality, so users can clearly hear their conversations at all times.
In terms of camera, the A78 is equipped with a camera system including a 50MP main camera and a series of new features that make it easier than ever to capture stunning photos and videos. For example, Dual-View Video can be used to shoot from both the front and rear cameras simultaneously and combine the footage into a single frame, unlocking new perspectives in shooting creative vlogs.
Pulse Nigeria
Stay smooth for up to four years
The A78 is powered by the Snapdragon® 680 Mobile Platform, delivering powerful performance with optimized power consumption built for everyday tasks. The phone features an 8GB RAM + 128/256GB ROM configuration with up to 1TB of additional storage through the SD card slot. It also includes OPPO's RAM Expansion technology, which can be used to temporarily convert free ROM space into a maximum of 8GB of RAM to keep the phone running smoothly during heavy-load scenarios.
At the system level, OPPO's self-developed Dynamic Computing Engine uses parallel computing technology to optimize the scheduling and recovery of computing resources to boost overall speed and stability. On the A78, the Dynamic Computing Engine can increase app opening speeds by as much as 1.42%. It also helps to keep up to 19 apps running in the background at the same time without any noticeable lag.
Thanks to all these optimizations, the A78 provides silky-smooth performance for up to four years, ensuring users can enjoy a longer-lasting smooth experience compared with other smartphones at a similar price point.
Pulse Nigeria
An enhanced Ultra-slim Retro body with industry-first Diamond Matrix Design
The A78 is available in two fresh, trendy color finishes – Aqua Green and Mist Black. Inspired by water, the Aqua Green A78 uses a double-layer process to superimpose an industry-first Diamond Matrix Design atop a water green base layer. The result is a vibrant, energetic color that sparkles like diamonds floating on a delicate surface of jade water to create a uniquely exquisite appearance. Mist Black meanwhile adds a touch of yellow-green to a pure black color base to introduce a sense of dimensionality to the phone.
The A78 inherits the same iconic Ultra-Slim Retro Design as previous models in the OPPO A series with the introduction of several new upgrades. The 2.5D right-angled middle frame and smoothed edges give the phone an integrated sleek and lightweight appearance while also making it more comfortable to hold. Even with its large 5000mAh battery, the A78 continues the same slim and lightweight design of the Reno series, measuring as little as 7.93 mm in thickness and weighing only 180 g to make it the thinnest phone with a 5000mAh battery in its price range.
Pulse Nigeria
Alongside these design upgrades, the A78 also features enhanced quality and durability. The phone has been put through some of the most rigorous durability tests in OPPO's lab to make sure that it is ready to stand up to the challenges of everyday life. It is also rated IP54 waterproof, meaning it won't be phased by regular splashes and spills.
A smarter and more private ColorOS 13.1
ColorOS 13.1 on the A78 is designed for enhanced convenience and privacy. Among the new features in the latest ColorOS is Screen Translate, which uses Google Lens to translate the content of an entire screen with just one click from the sidebar. With support for intelligent translation between 105 languages, Screen Translate can even be used to translate image-based text. Auto Pixelate can automatically recognize and pixelate sensitive information like profile photos and names on chat screenshots with just one click.
Further to this, ColorOS 13.1 includes an updated Private Safe that has been upgraded with the Advanced Encryption Standard (AES) to keep private files encrypted and stored in a private directory with a higher level of security. 5-Grade Access Control has also been added to give users complete control over who can see their data and when.
OPPO A78 device is available for purchase at authorized retail stores across the country from ₦188,000. OPPO A series has developed a reputation over the years for offering great features at accessible price points and this Qualcomm CPU-powered device is no different.
Pulse Nigeria
JOIN OUR PULSE COMMUNITY!
Recommended articles
Raising a Toast to the true Orijinals: Orijin unveils new limited edition packs this festive season
8 sperm-killing foods that dads need to avoid!
Why reverse cowgirl is the world's most dangerous sex position
The male G-Spot, where it is and how to stimulate it
5 ways to spot a sex addict or know if you are one
Beyond the runway: Lush hair steals the spotlight at Lagos Fashion Week's 10th edition
Escudo Rojo introduces Luminoso Wine in spectacular launch event
Bikiya Graham-Douglas continues to promote African Arts & Culture with Beeta Arts Festival (BAF)
Spices, Stories and Surprises: Detailed look at vibrant African Food & Drinks Festival Abuja
Make this no-yeast bread with only 3 ingredients
What is a Jacob's ladder piercing? It's pretty extreme
3 ways to get rid of vaginal odour
Shelly-Ann Fraser-Pryce: Track legend signs mouthwatering deal with luxurious wristwatch brand
Sha'Carri Richardson: World's fastest woman reportedly bags $20,000,000 endorsement deal
She needs a break - Super Falcons coach explains Ashleigh Plumptre's absence from team
Sergio Ramos makes Champions League history 31 years after Daniel Amokachi
Thiago Silva recalls TB fright ahead of Chelsea debut