Why faux locs are undeniably attractive
Faux locs is the shortened form of dreadlocks and literally means fake locs.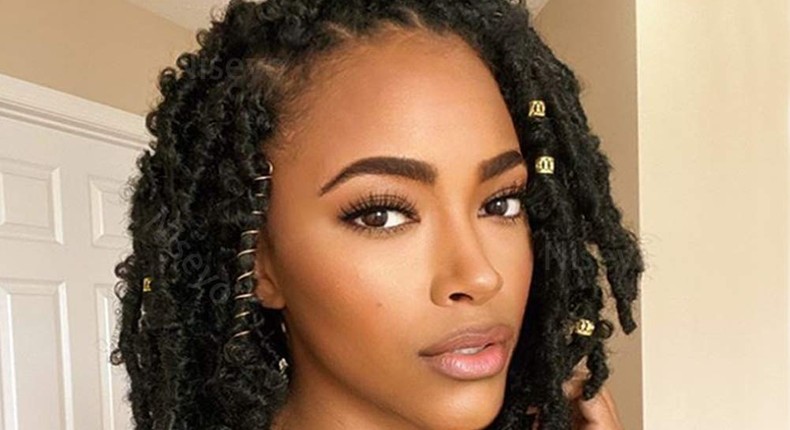 Although, some people can organically lock their hair and watch it grow around the extension, others use faux locs.
Locs are trendy because they are uber attractive. They make the wearer look like a Nubian goddess because of their deep African and Caribbean roots.
Locs are perfect for those grooming their natural hair because it is a protective hairstyle. They prevent your hair from damage and breakage caused by too much manipulation.
Locs are long-lasting because of the material used to make them, you would hardly notice that it is getting old. Even though they last a long time, do not neglect to oil and wash your hair while you have them on.
Long locs are undoubtedly sensual. African American celebrities wear it effortlessly, Chloe and Halle Bailey, Ciara and Zendaya are just a few celebrities who love to wear locs.
Locs are versatile to make, there isn't just one method to make it. There is the wrapping method, comb coils, palm rolling or the crochet method, it all depends on the whim of your hairdresser and the method you think fits.
Locs can be painless and less time-consuming, especially if you use the crochet method, the wrapping method can be painful.
There are also as many brands selling these faux locs as they are faux loc styles. So what faux locs style should you consider next;
Wool dreads
This is made from wool and it is wrapped around your already plaited hair.
Bohemian locs
Bohemian locs are ununiformed, messy-looking locs.
Pulse Nigeria
Butterfly locs
Butterfly locs are full unsmooth locs with loops in its body which is why it is called butterfly locs.
Pulse Nigeria
Distressed locs
Distressed locs are similar to butterfly locs, the only difference is the absence of loops.
The amazing thing about it is, you can try it in different lengths, short faux locs are just as pretty as long ones.
JOIN OUR PULSE COMMUNITY!
Recommended articles
Couple serves 'gari soaking' to guests at wedding reception (video)
Man from Benin balances 735 eggs on his head to enter Guinness World Records (video)
How to orgasm together, here are 5 tips for couples
Dating in Lagos: Looking for love but finding sex
'The editors didn't do their job' - Nikki Samonas reacts to her steamy sex scene with Jim Iyke
'God told me he created my transgender son in his image' - mother of Angel Maxine (WATCH)
"I'm very sorry mum & dad" – Ghanaian lady caught on camera 'serving' blowjob in nightclub
Do you know about Queen Luwoo, the first and only female Ooni of Ife?
Vaginal massage: Here's your ultimate guide and why it's good for your sex life