Why diet soda is more dangerous than regular soda
Diet soda has been marketed as a healthy choice, but it is more dangerous than people think.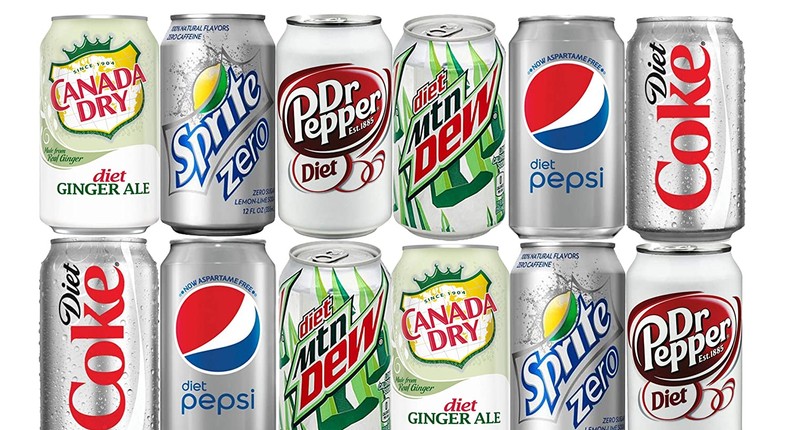 Diet sodas are widely used around the world, especially by those trying to cut back on calories or sugar.
There is a "diet" variant of almost every well-known sugar-sweetened beverage on the market. There is Diet Coke, Coke Zero, Pepsi Max, and Sprite Zero and many more.
Diet sodas were first created in the 1950s with diabetics in mind. However, they soon gained popularity among those seeking to shed weight or reduce their sugar intake.
Artificial sweeteners like aspartame, cyclamates, saccharin, acesulfame-k, or sucralose are used to sweeten diet soda in place of sugar. However, aspartame is hundreds of times sweeter than sugar.
Here are some dangers of drinking diet soda:
1. It possibly causes cancer
The artificial sweetener was labelled as a possibly carcinogen by the World Health Organization this year. Carcinogenic, probably carcinogenic, possibly carcinogenic and no classification are the four categories that make up the IARC body of the WHO's classification system. As a result, aspartame in diet soda is classified as having the second-lowest risk of cancer, according to the WHO.
2. It leads to diabetes
Despite having no calories, sugar, or fat, diet soda has been linked in numerous studies to the onset of type two diabetes.
One serving per day of an artificially sweetened beverage has been linked to an 8–13% increased risk of type 2 diabetes, according to research (22).
A 64,850-person study revealed that diet soda was linked to a 21% increased risk of type 2 diabetes.
3. It leads to weight gain
It would be natural to assume that diet soda could help with weight loss, as it often contains no calories but according to the study, the connection might not be true.
Diverse observational studies have established a connection between the consumption of artificial sweeteners and high amounts of diet soda, with an increased risk of obesity and metabolic syndrome.
Diet soda has been linked to an increase in appetite through increasing hunger hormones, changing sweet taste receptors, and eliciting dopamine reactions in the brain.
4. It leads to kidney disease
A higher risk of chronic kidney disease has been associated with diet soda consumption.
A recent study involving 15,368 women has revealed a significant link between weekly consumption of diet sodas and the risk of developing end-stage kidney disease.
People who drank more than seven glasses of diet soda per week had nearly twice the likelihood of developing renal disease compared to those who consumed less than one glass per week.
5. It causes osteoporosis in women
Diet and drinking soda are linked to a reduction in bone mineral density in women but not in men. Cola may hinder the normal absorption of calcium due to its phosphorus and caffeine content.
JOIN OUR PULSE COMMUNITY!
Recommended articles
5 things women put on that men find instantly attractive
5 bad habits to drop if you don't want to look older than your age
If you feel insecure about your boobs, read this
The Macallan exclusively launches Double Cask 30 Years Old in Abuja
How to turn down sexual advances from your partner
The Macallan Sherry Oak 25 & 30 YO unveiled in Nigeria
Delusion might be the solution: Study reveals negative thoughts are better suppressed
The legend behind why cassava makes us very sleepy
Why guests had to squeeze between 2 naked models to enter an art show
How to give your pork this popular South American drink flavour
Signs that you shouldn't fall in love because he's an Incel
World Cleanup Day 2023: Coca-Cola partners in pursuit of litter-free planet
Super Falcons' Michelle Alozie drops football hot take
Kane defends Harry 'One of the best defenders in history' Maguire, calls for end to scapegoating
Provedel: 4 goalkeepers who have scored in the Champions League including Vincent Enyeama
Andre Onana: Critics of the Manchester United goalkeeper are missing the bigger picture
100 not out: Lewandowski moves closer to Messi and Ronaldo with century of European goals
Is Victor Osimhen in for a troubled season under Rudi Garcia?
Pep Guardiola laughs off Man Utd's title challenge
Braga vs Napoli: Victor Osimhen aiming to break Obafemi Martins' 13-year-old UCL record
Victor Boniface girlfriend: 8 Interesting things to know about Rikke Hermine