Best 5 yoga poses for stiff muscles
Yoga is a 5000 year old Indian body of knowledge, it is an exercise that deals with harmonising the body with the mind.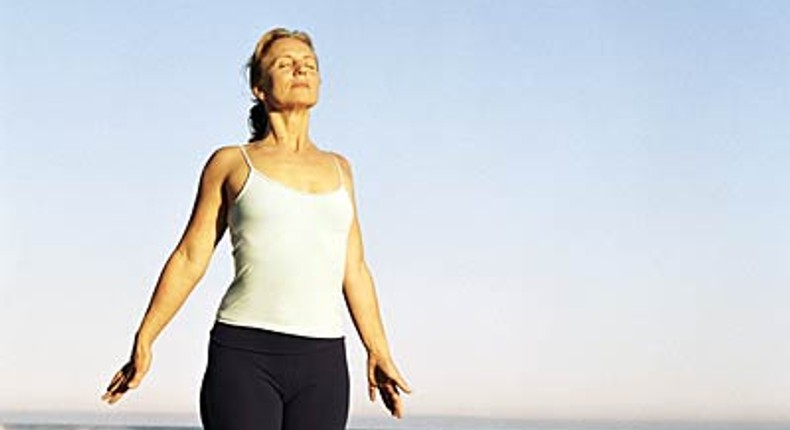 Genetics, age and gender are some of the factors that contribute to a not flexible body.
Yoga is a 5000 year old Indian body of knowledge, it is an exercise that deals with harmonising the body with the mind.
The first thing that comes to mind about yoga is flexibility, and many people avoid yoga because they're not flexible but they are the very ones who should be practicing yoga.
For every exercise and yoga technique remember to maintain a smooth and even breath throughout the poses and don't hold any pose longer than you're physically able.
Ensure you check with your doctor before taking up any exercise routine, if you have medical issues.
You can increase the length and deepness of each pose with practice.
One sign that you held a pose for too long is that you don't have enough energy to come out of the position with grace and integrity.
Mountain Pose or "Tadasana": This pose seems so simple, but it is the basic template for all the other postures. It's a welcoming way to begin connecting with the breath and beginning a yoga practice.How to do it: Stand tall with your feet together, perhaps with your big toes touching, eyes closed. If you're stiff, separate your feet slightly. Let your arms rest at your sides, with fingers together.Modification: If standing is too much of a challenge, lay on your back with the soles of your feet pressed up against a wall. You'll feel like you're standing on the floor, but your lower back will get a slight stretch.
Legs-Up-the-Wall Pose or "Viparita Karani": 5-8 minutes of laying in this cooling pose makes you feel like a brand new person. It also improves circulation.How to do it: Lie on your back and walk your legs up a flat wall. Your legs should be straight and the end of your back should meet the wall. If needed, place a pillow under your lower back for added support.Sometimes when you're new to this position you can experience tingling in your legs. If you feel that, ride your legs down the wall, pull your knees to your chest and feel a stretch, then you can stretch your feet back up the wall. Modification: With your knees close to your chest, open the legs so the knees go out in opposite directions. The soles of your feet should touch. This stretches the inner thighs and groin.
Child's Pose or "Balasana": This incredibly basic move is a resting pose you can stay in for up to a few minutes.How to do it: Start with your knees and tops of your feet on the floor with the feet together and touching. With your knees apart, rest your belly and chest between the legs. Place your head on the floor, and stretch the arms out in front of you.Modification: If your head doesn't reach the floor you can use a block or pillow to rest it on.
Shavasana: Think doing nothing is easy? For many of us, especially those who haven't tried yoga before, the concept of doing nothing is actually very challenging. This pose is both calming and grounding, and you can use it to cool down.How to do it: In this pose, close the eyes and attempt to just relax the body while lying flat on your back. Lie with your legs about hip-width apart and rest the arms at about a 45 degree angle to the torso, palms facing up. Allow your limbs to completely relax.Trainer tip: If you need more space for the lower back, you can place a folded blanket under the knees, which will help to lengthen the lower back. If you're feeling stressed, placing blankets over the pelvis can help relax the body and the mind.
Thread the Needle: This pose gets its name because it looks like you're taking your arms through the eye of a needle. Carter loves teaching this pose to beginners and it's great for tighter students. The back is supported, and for extra neck support you can put a pillow behind the neck.How to do it: Lie on your back and bring your knees up so they form a 90 degree angle with the knees pointing toward your head. Cross your right ankle over the left thigh. Clasp the hands behind your left knee and pull the left leg toward you. This will stretch the right buttocks and the left hip. Then, repeat on the other side.
JOIN OUR PULSE COMMUNITY!
Recommended articles
5 outfits for 5 days of work inspired by Liquorose
#BigBelleFitKillPerson campaign highlights the dangers of obesity
This week's best celebrity pictures on Instagram
Vin Hair Factory - The best Vietnamese hair factory
Top 5 healthy Igbo meals
7 self-care activities for the weekend
5 young women who embody Y2K and alte fashion
Anticipate! Xiaomi's Redmi Note 12 series will be launching in Nigeria on March 28
How to make this Botswanian meal that was only eaten by men
We need the skincare routines of these 5 male celebrities ASAP
Adidas cut ties with Beyonce's Ivy Park due to low sales and creative differences
5 different tribes that celebrate New yam festivals in Nigeria
Victor Osimhen: Where should the Super Eagles striker go this summer?
Peseiro chasing Rohr's feat as the Super Eagles resume campaign
Nigerian sensation Gift Orban wanted by AC Milan and Napoli
"Present crop of quartermilers are not challenging me enough to retire" - Patience George
Serie A: Udinese renew 'cornerstone' Isaac Success contract
Nigeria to play New Zealand and Haiti in April
PSV fan bags 40-year stadium ban after attack on Sevilla's goalkeeper
Saudi GP: Max Verstappen unhappy after finishing second to teammate Sergio Perez for the first time in 7 years
Super Eagles News: NFF denies sacking coaches, explains Finidi, Shorunmu absence