Bizarre hacks that work wonders for the skin!
From using socks to apply foundation for matte finish, dabbing antiperspirant on face and more bizarre beauty trends, take a look at these ones (use only at your discretion)!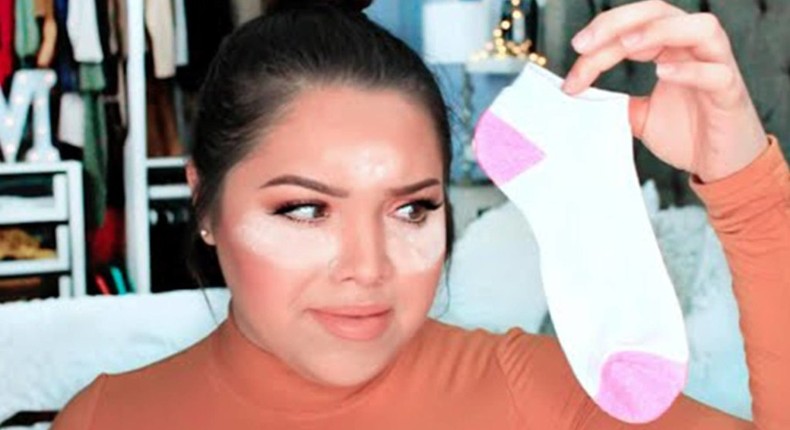 There are numerous beauty hacks with some crossing the lines into weird/bizarre but they work!
From using tapes for precision when applying liners, dabbing on translucent powder over lipstick for a matte finish amongst others. Check out six more bizarre beauty tips to try:
1. Mix cinnamon with olive oil , then scrub on the lips for fuller lips
2. Swipe a stick of antiperspirant/deodorant over the face, preferably before applying foundation for a perfect matt finish as well as to reduce sweat!
3. Use fresh lime under your arms to smell fresh all day
4. Apply foundation with socks- roll socks up into a ball, tighten and use it to buff in your foundation for a seamless finish.
5. Mix water and baking soda to form a paste and apply under eyes to cover up eyebags and dark circles!
6. Contour, draw eyeliner with precision/perfectly using tape
Catch a tutorial on how to use socks to apply foundation above.
JOIN OUR PULSE COMMUNITY!
Recommended articles
This week's best celebrity pictures on Instagram
For women: 4 foreplay tips to drive men wild
5 people share awful and sometimes funny things their bosses have said to them
Ramadan: Six facts about the holy month for non-muslims
These are 5 top signs of fake love in a relationship
5 interesting health benefits of Agbalumo (African star apple)
The best 5 cities in Nigeria
The oldest woman ever to be on a Vogue magazine cover is a Filipino tattoo artist
Why your body suffers when you don't have regular s*x
6 reasons your nipples hurt
5 celebs with face cards that never declines and their makeup techniques
Chicken vs Turkey: Here are 3 nutritional differences
Manchester United identify Portuguese goal-machine Goncalo Ramosas Osimhen alternative
Giannis Antetokounmpo outshines Jordan Nwora as Bucks set record against Pacers
NPFL Review: Rangers continue to flirt with relegation, 3SC vs Plateau produce another classic
Arsenal reach first Champions League semi-final in 9 years with victory over Bayern