4 makeup products that age when used incorrectly
These makeup products make people age more than attractive and it's usually because of the way they are applied!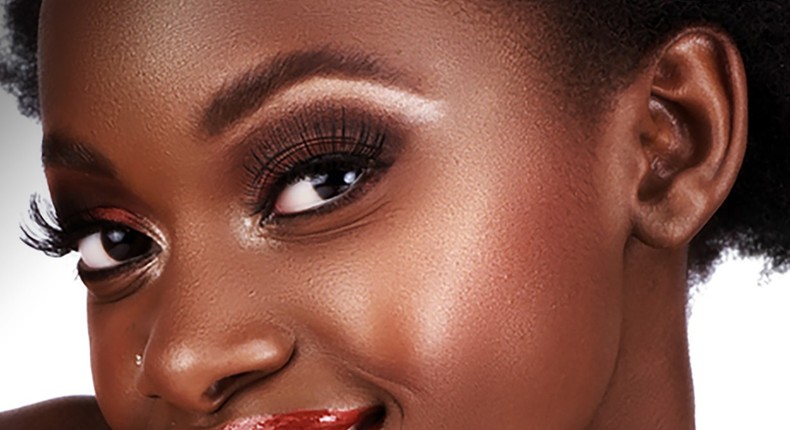 Most times ignorantly applying makeup products form reasons ladies look way older than they really are instead of improving their appearances or making them more beautiful. These products should be used minimally to avoid looking funny:
Powder is a beauty product that has been abused. Powders are not meant to be used all over the face but to mattify/sparingly around the t-zone where it gets oily. Applying powder all over the face for instance causes it to settle into fine lines emphasizing blemishes that age.
Blush is a tricky makeup product that should be avoided when its application hasn't been perfected. Blushes are meant to be worn lightly around certain area of the cheek and according to individual facial feature and when this is 'abused' it comes off tacky, loud and add more years instantly.
Going crazy applying blush ages all the time.
Black mascara ages the eyes usually because they emphasize shadows especially when they are used on the lower lashes. By all means avoid going crazy with the black mascara on the lower lashes, at the very worst, gently brush out the lower lashes without layering on the black colour.
Black eyebrow pencils are no, no! Never used black eyebrow pencils to define the brows, apart from the fact that they look weird they add years to your age leaving you look like someone who woke up lost in the modern world.
At the very worst, to achieve a deeper brown for the brows, mix a black and brown brow pencil to achieve an intense definition.
JOIN OUR PULSE COMMUNITY!
Recommended articles
3 reasons relationships that start in December may not last
A Night of Queens, an all-female lineup concert celebrating Nigeria's musical powerhouses
DIY Recipe: How to make African drop doughnuts
One Wellness Centre hosts exclusive brunch and tour event
5 things every young man in a relationship should know about women
Here's why you jerk when sleeping
5 tips to stop drinking alcohol
The truth about feminine wash and perfumes
Chivas Palace: Celebrating the blend of success
7 things your belly button says about your health
Some common causes of coarse palms and how to soften them
Christmas traditions from our childhood that should come back