5 foods that boosts your sperm count and semen volume
Here is a list of a few foods that can help you in this endeavor.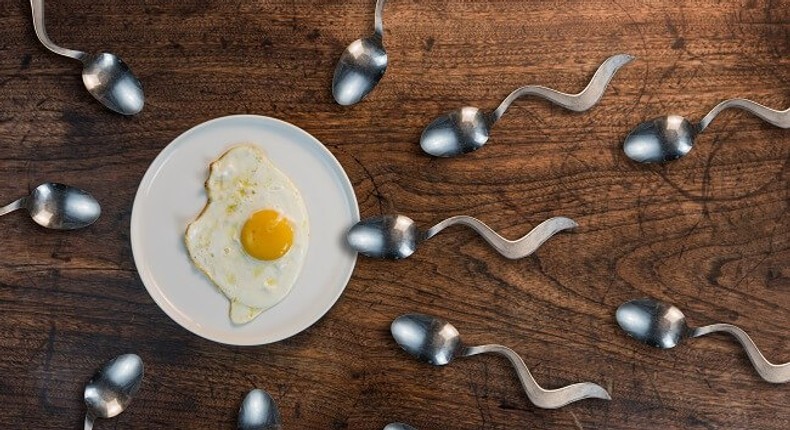 Infertility in men is usually the result of a low sperm count.
According to the World Health Organization, a sperm count of over 15 million per milliliter is considered healthy, and a count below that is abnormal.
While infertility is not always treatable, it can sometimes be improved with a healthy diet, supplements, and other lifestyle strategies.
This article lists some of the foods that have been associated with improved fertility in men by boosting sperm count and semen volume.
1. Garlic
Garlic is over the years have been associated with sperm boosting.Among its many properties are vitamin B6 and selenium, both of which play roles in healthy sperm production. Taken by many for its blood cleansing abilities, garlic prevents buildup in arteries and allows for better blood flow to your testicles.
2.Bananas
Banana is super rich in vitamins which help your body produce healthier sperm, as well as increase your sperm productivity. It also contains some natural anti-inflammatory enzymes which also boosts sperm count and volume.
3. Eggs
Eggs are considered a great option to increase sperm count, as well as improve their motility. High in vitamin E and full of protein, eating eggs protect sperm cells from the free radicals that can decrease your count.
4. Dark Chocolate
Dark chocolate is often associated with lust filled rendezvous. Strawberries dipped in chocolate next to a glass of champagne on a bedside table greet many a guest during their honeymoon.
5. Broccoli
Broccoli is one of the acclaimed green vegetable full of folic acid Folic acid, also known as vitamin B9, is already known to help women conceive and is now becoming more recognized as important in male fertility.
JOIN OUR PULSE COMMUNITY!
Recommended articles
Davido and Chioma spotted together for the first time since rumoured breakup
Fed Poly Bauchi sacks 2 lecturers for alleged sexual harassment
10 countries where prostitution is legal
'Fela Kuti was so hard'- Rap mogul Jay Z on why he included Fela's record in the soundtrack of new Netflix movie 'The Harder They Fall'
Why do single women find married men attractive for relationships?
Ghanaian artiste commits suicide after 'friend' said 'kill yourself' on his post
7 things every woman wants to hear during sex
Ever heard about the massacred souls that haunt Iva Valley in Enugu?
Socialite Cubana Chief Priest accuses BBNaija's Maria of 'stealing' his sister's husband