SportyBet: Kanu Nwankwo becomes brand ambassador
Africa's leading sports betting company, SportyBet.com has announced the appointment of world football icon Kanu Nwankwo (OON) as its new Brand Ambassador.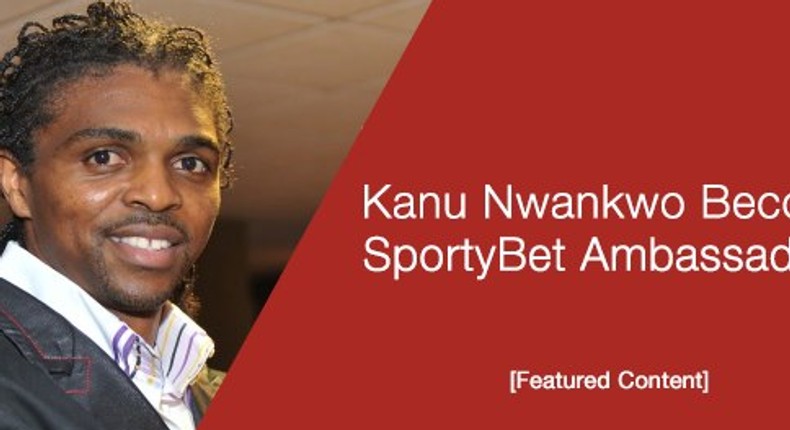 With the official announcement of a 10-year exclusive partnership, Kanu becomes the new face of SportyBet.com.
The former Super Eagles captain will feature in SportyBet.com adverts, make special guest appearances at SportyBet.com events, and consult with the SportyBet marketing team to offer a wide range of exciting Kanu-branded promotions and prizes that will reward SportyBet's customers.
When asked to explain the choice of Kanu, affectionately known as Papilo, the Marketing Manager of SportyBet Nigeria, Mr Michael Okonkwo said that it was an easy decision as there is no one else in the world whose image more epitomises sporting success in Africa.
Mr Okonkwo remarked "It was the dream of every sports betting operator in Africa to be represented by the legend that is Kanu Nwankwo – we are blessed and honoured that he has deemed SportyBet.com as the only brand that is worthy of such an association."
Mr Okonkwo continued "Kanu Nwankwo has inspired millions across Africa not just as a football icon, who won the Premier League, FA Cup, Champions League, UEFA Cup and an Olympic Gold Medal, but as a role model, who overcame all odds to undergo heart surgery and continue playing football at the highest level before founding the Kanu Heart Foundation, which helps young African children who suffer from heart defects"
Kanu enthusiastically responded "I am very happy to support and promote SportyBet.com, as it is a brand that can be trusted. Playing with SportyBet.com is the ultimate experience for all football fans that adds even more excitement to the beautiful game."
SportyBet.com offers a franchise/agent scheme empowering small businesses to run shops under the SportyBet.com brand – to apply, please call 08181988888, 08097458925 or 07036518229.
This is a feature by SportyBet.
JOIN OUR PULSE COMMUNITY!
Recommended articles
Lai Mohammed appointed managing partner of international lobbying firm
Masturbation may increase a male primate's chances of impregnating a female - Study
Tanzania could become the top investment destination for Australia
DRC and Angola set aside a 50-year oil block dispute to become joint holders
All you need to know about the sex competition in Sweden
Portable Zazu announces the arrival of sixth child with Yoruba actress
Veteran Nollywood actor Adewale Adeyemo is dead
Naira marginally rises against dollar in 24 hours of Tinubu's presidency
'There was a point...I was seeing the stage upside down' - Hilda Baci