Cult gang strikes again in Ikorodu, kills parents, their 2 children
The attackers reportedly smashed the heads of their victims, Mr. and Mrs. Adejare, and two of their children, aged five and one.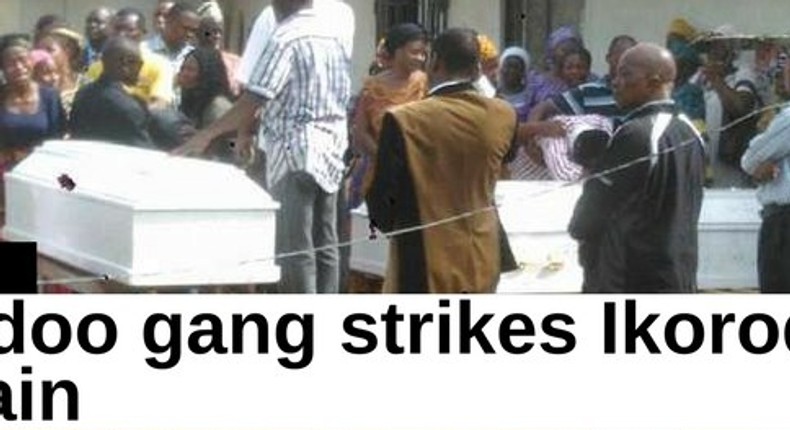 The notorious ritual cult,
In the early hours of Sunday, July 30, the cultists reportedly killed a family of four, a few weeks after relative peace in the Ikorodu environs.
According to Punch, the victims, Mr. and Mrs. Adejare, and two of their children were killed in Oke Ota community, Ibeshe.
Their third child is said to be in a coma at the Ikorodu General Hospital.
The deceased children - aged five and one - were identified as Siyin and Ajoke.
It was gathered that after gaining entry into the Adejares' apartment through their window, the attackers smashed the victims' heads with a stone and left the area unnoticed.
Punch cited a resident who said church members of the deceased found their lifeless bodies.
He said, "They had a special programme in their church today (Sunday). The members decided to check on them because they did not come to the church. They found the whole family in a pool of blood and raised the alarm. One of the three children was still breathing. He was rushed to the general hospital.
"There are burglar-proof bars on the windows in the house, except in the kitchen. They came through the kitchen. They tore the net and entered the house.
"We seem to have relaxed in securing the community because the attack subsided for some time. Even the police patrol has reduced."
Reacting to the incident, a community leader said the police are distant from the main area where the Badoo cultists operate.
He said, "We were happy that things were getting better before this incident. There is one little girl among them receiving treatment at a hospital. Her head was smashed.
"We only hear sirens of the police patrol from the main road. They don't usually come into the inner parts of the community, where the Badoo members operate."
The Lagos State police spokesperson, ASP Olarinde Famous-Cole,  however, said the Badoo cult was not behind the latest attack.
Famous-Cole said the family's residence is not accessible to vehicles.
He said, "The house is just a room and parlour with one open window and no visible form of security. A family of five were attacked. Three died on the spot, one died while receiving treatment at a hospital and the last member is alive and responding to treatment.
"No visible trace of violence or clues linked to the cult was found. No stone was found at the scene. A case of murder is being investigated by police detectives, which doesn't fit in the modus operandi of the cult.
JOIN OUR PULSE COMMUNITY!
Recommended articles
5 outfits for 5 days of work inspired by Regina Daniels
Cement price will hit ₦9k due to FG's plan to introduce concrete roads — Manufacturers
BREAKING: Supreme Court building engulfed in flames
Whitemoney's team responds to allegations that they sold his votes
Fireboy pays tribute to Mohbad at his Trace Live concert
4 highlights from Thursday's pool party on 'BBNaija All Stars'
Africa's food insecurity to be non-existent in the next 5 years - AfDB
Meet the 6 finalists on 'BBNaija All Stars'
How to make 'masa' or rice cakes, a Nigerian Hausa delicacy