Ycee does not make a big splash on "First Wave" EP
"First Wave" EP isn't the instant-classic debut he might have hoped for, but a few parts of it deliver on his promise, and offers hints at where he might go from here.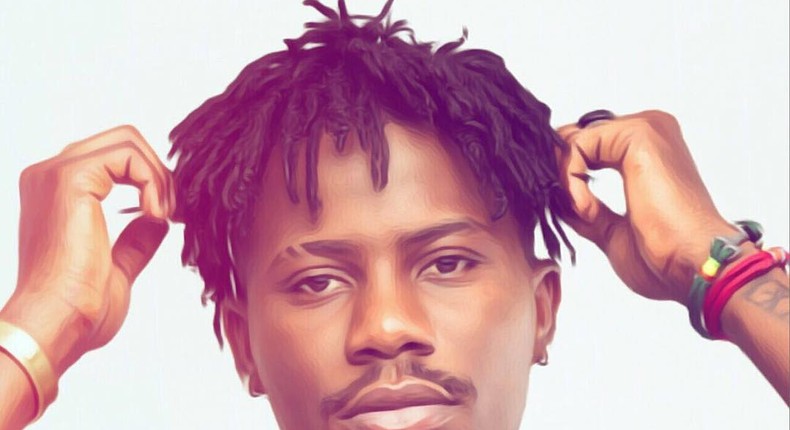 Extended Play - First WaveArtiste - YceeRecord Label - Sony Music Entertainment/Tinny Entertainment (2017)Duration- 29 minutes
"I'm so wavy wavy, saying fuck you baby, I'm squad deep with the tear chief…" The mood is all braggadocio as Ycee opens his debut project "First Wave."
Ycee has always thought that he has enough time on his hands, and that's why he's taken a lot of it to release his first project. The FESTAC boy first announced himself in mainstream Nigerian music in 2015 with 'Condo', a collaboration with Patoranking that made industry heads leave their seats to check out who the new kid is. And while savvy eyes were still fixed on him, he brought in the public on his act with 'Jagaban'. This was in 2015.
Today, it's 2017, and a lot of things have happened before Ycee dropped an EP. Donald Trump is boss, Niger Delta Avengers are a movement, Mr Eazi is a star, and Buhari has become Nigeria's President. That's quite a lot of space for an emerging artist to have a project out. And what has he dropped? An EP. Not a full length album brimming with hits and killer bars. No. He dropped an EP! An EP!
But he is honest in the title. This is his "First Wave", and he takes it seriously. Opener 'Wavy' is an exercise in boastfulness. "And I'm so sorry for the wait, and the delay, one more thing I need to say; Jagaban is what they call me, ain't just a wave, my gee it's a fucking tsunami." That's Ycee, taking his art too seriously and prepping everyone for something big.
Except that this it's not that serious. On this project, braggadocio switches to love, to hustle, to turn up, to romance and all the other expressions that can be woven into music. "I might not kill nobody…" newcomer Calibrii offers a decent hook on 'Kill nobody', but the declaration of harmless intent is offset by veiled threats and complemented by riot drumming. On 'Link up', a synth-foundation provides much of the magic, as Reekado Banks sets up another syrupy jam with a hook. This is easily the best infectious song on the project. And it has already been released as a single.
But things go downhill from there. Maleek Berry's inclusion on 'Juice' creates a flat record, which provides a great diversion from the energy that had earlier been dissipated. And by the time Ycee pins down the end of the song with 'Too much juice, too much sauce', you are tempted to actually spray some ketchup on it to add a layer of honesty to the claims.
'Bubbly' with Falz was crafted to be a thumping club number. And although there is hard work in creating the hollow dark beat, there's a lack of cohesion and connectivity. It does reward multiple listens, but that depends on the level of patience that resides in the listener.
You shouldn't mistake Ycee's reliance on pop numbers as a lack of a mushy center. However, he is at his best when he isn't displaying it. Ycee was made to be explosive and loud. Not crooning alongside Seyi Shay about on 'Need to know'. The record drags, lingers and takes away from the project. "N.O.U.N" with its Trap-influence is a filler at best.
It's easy to assess Ycee as a huge artist based on the success of his singles. But as career milestones are judged, he is yet to have a full length project. It's taken him longer than expected to get to this point, but it's still only the end of the beginning; "First Wave" EP isn't the instant-classic debut he might have hoped for, but a few parts of it deliver on his promise, and offers hints at where he might go from here.
1-Dull2-Boring2.5-Average3-Worth Checking Out3.5-Hot4-Smoking Hot4.5-Amazing5-Perfection
JOIN OUR PULSE COMMUNITY!
Recommended articles
Seun Kuti addresses assault claim, denies beating wife
It's time the AMVCA evolves past public voting
Toyin Abraham advises President Tinubu to avoid mistakes of predecessors
What to expect from Kunle Afolayan's new series, 'Anikulapo: Rise of the Spectre'
Go behind the scenes of 'Hijack 93: The Mad Men & The Aircraft'
Nigerian Idol S8: How to vote for your favourite contestants on the show
9 Nollywood titles coming out this June
Mercy Chinwo celebrates husband's birthday, calls him special gift from God
Rema's 'Calm Down' reaches new peak on Billboard Hot 100, closes in on African record