All the details at the Afrobeats Reggae Jam Rock 2019 with Stefflon Don
The show felt like a perfect mix of eating rotten beans while nursing multiple bee stings.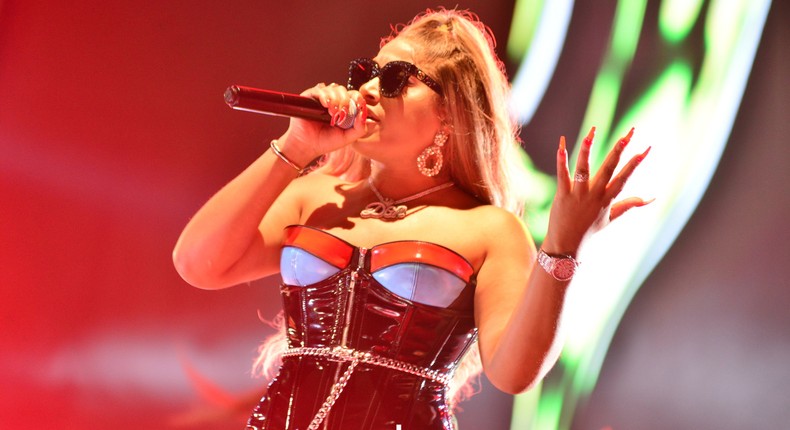 There's a problem when anticipation to turn up to a British superstar becomes stale as the hour passes.
It gets worse when excellent performances from opening acts - potential antidote to reduce your growing pain become expensive. It felt like a live depiction of the hook on 'Pop' by Alpha Ojini. The only difference that as the day broke, everything nor just burst, it all festered.
You know there's a problem when even CDQ bores the audience. You know there's 'Yawa' when a twerking woman couldn't move loins. Even worse, bland upcoming artists drain the last of whatever energy you have left. The next issue is that whoever selected those acts should rethink his job. The organizers were terrible and they soiled Stefflon Don's brand in Nigeria.
The only thing that person did right was have CKay, MOJO, Ajebutter and Blaqbonez on the roster. But even the timing of those performances were terrible. One of the upcoming acts is a 'Nigerian in diaspora' called, Knytro. He was energetic, but he forgot lines to the second song he performed and then told the audience that, "I just wrote that song last week, I can't remember the lines..."
Ladies and Gentlemen, this happened till 3 am in the morning for a show people got to at 8 pm. Whatever the MCees were doing with their revolving failure at hype hurt souls in gods of MCeeing.
Half the Detty December shows are trash anyways, but when people call a show 'beyond reckoning,' let's rethink that show. Everything was a false start - even the chicken on the small chops was half cooked while Orijin soared to N500.
The show was truly Jam Rock - Yes, a Jam Rock of impeccable failure of showmanship and organization that runs on a Ferrari engine fueled by speedballing. If there was ever a time to stop something, it's now. Someone should kill the notion that Stefflon Don has to perform in Nigeria.
She doesn't need to. As talented as she is, she's not at that level yet.The organizers should have known better and so should Don's team. If Stefflon Don is going to put her name on anything, she should ensure its quality. Yes, good money can't be turned down. But of what use is good money that hurts a brand beyond reckoning.
Time-wasting in Nigerian showbiz
The time wasting is the weirdest thing about Nigerian shows. If it is about capitalism which helps stall owners make healthy returns on fares they paid for those stalls, I get it. It's probably the reason the organizers didn't put a time on its tickets - to them, a strategy. But then, make the show fun pending the headliner's appearance.
Most people came to watch a great show, not eat and drink their salaries away. It was like scamming the audience. When you call people out to your show, they're excitement. They come out of trust. You betray that trust when you mislead them before giving them a bad show.
Don't open people's brains with the promise of excitement and then fill it with borrowed white sands from hell in form of opening acts while scrubbing those brains with a wisdom toothbrush - performance from those acts.
When you delay the reasons why people left their homes, you sap their energy. You also build expectation that you might never satisfy. This makes it harder to understand why Nigerian artists or artists who perform in Nigeria start their shows late.
Pulse Nigeria
When Don finally made her way on to the stage at 3:11 am in the morning, Nigerians didn't know most of her songs. Her impressive stage craft and stage presence wasn't met with deserved excitement.
Planning
Ordinarily, Afrobeats Reggae Jam Rock 2019 had great potential. It had the scenery, it had the style and it had the location on lock. What it failed at what the substance itself - throw a good show.
As usual, the essence of 'VIP Tickets' was lost. Why make people buy tickets for N7,000 if they will get nothing? Why did you fill the opening acts with obscure talent? Why hire the most inane and incapable set of MCees? Why did your main MCee kill every major big of excitement the show conjured up?
Why was Candy on stage? For that show to be great, it should have started at 5 pm and ended at 10 pm with a decked roster brimming with talent. It's fine to give the obscure talent some spotlight, but that spotlight shouldn't be at the expense of your own show.
It was a fine idea to try stir the 'dancehall pot' of Nigerian music. But that pot has no fire burning under it. In 2019, the scene is not vibrant and it has no identity. Yeah, some stars are associated with the sound. But forget the dead patois, they're doing lamba like everybody else.
Pulse Nigeria
The only time the music had any semblance of beauty was when DJ Neptune got on the wheels. But then, the show was so repulsive, he barely lasted 10 minutes on the wheels. This show was not just terrible, it was a mockery of planning, showmanship and vision. 
Rating: 3/10
JOIN OUR PULSE COMMUNITY!
Recommended articles
Editi Effiong's 'The Black Book' ranks number 1 globally on Netflix
Iyabo Ojo urges Nigerians to be patient for Mohbad's autopsy results
Ilebaye's ordeal forces others to limit alcohol intake on 'BBNaija All Stars'
Portable joins LuckyBet as brand ambassador, harmonising sports and entertainment
Mohbad records 6 entries on top 10 of TurnTable Top 100
Portable pays homage to Mohbad in new single 'Alimi'
'A Weekend To Forget' opens with ₦9.7 million gross at Nigerian box office
'The Black Book' is number 1 on Netflix in 12 countries
A lot of Nigerians are rapists and rape apologists - Comedian Princess
Manchester United senior players beg Sancho to apologise to Ten Hag
Ukrainian club copy Nigeria's Super Eagles jersey
Victor Osimhen dodges fine for substitution bust up
Mikel Obi: Super Eagles legend branded 'fine boy no pimple' in Dubai
Give us Mourinho! Chelsea fans beg for 'Special One' after latest defeat
Check out Cristiano Ronaldo's amazing car collection reportedly worth over a staggering N20 BILLION
Anthony Joshua and Burna Boy: Nigerian-born boxer and African giant team up for Boss at Milan Fashion Week
How Nigerians can vote for Osimhen to win FIFA Best Player Award ahead of Messi
I want to 'teach' after football - Lionel Messi opens up on retirement plan