"Rumour Has It" comes off as an adaptation with deary scenes
Two episodes into the show and "Rumour has it" has you confused and deciding if your data is worth a 21 minute story that could comfortably fit its message into a five-minute series, without some of its extraneous scenes.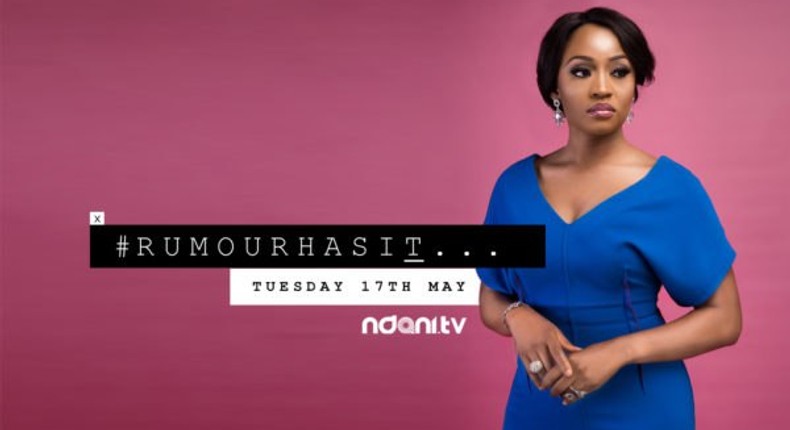 There is so much wrong with the new Ndani TV web series
Let's start with the fact that though undefined it is a badly written script.
The way the story is set up, the understanding of its supposed dramatic situation, dragged on for nine episodes what could have ended in a single episode.
Whatever intrigue and plot twists that "Rumour has it" set  out to dish, is ruined by its weighed down script and acting skills.
The web series stars Uru Eke as a popular and successful celebrity blogger who finds herself at the center of a scandal. Her husband of barely two years, whom she has been in love with since she was 18,  gets his side chick pregnant. The news leaks on the internet and she finds out about it at the same time as the whole world - probably reminds you of a story we all know.
Well, the supposed twist in the series is the fact that her personal assistant Ranti is the snitch dishing out juicy details of her life to a rival blogger, Sylvia - A twist that didn't come off as a surprise and triggered no bewildering moment.
The series doesn't come with fantastic acting skills. While you would not be wrong to describe the acting as average, it probably would be wrong not to applaud the emotional scene with Obi and her mother in episode eight. From David's confrontation with Wole to Ranti's 'Banana Island' conversation with Sylvia, the eighth episode can be described as the best in terms of acting, directing and conversations.
Who else wished for a crossover episode featuring Obi's mother and Ngozi Nwosu from "Skinny Girl in Transit."
Anne Iche (Before 30) who plays Seyi on show is without doubt a talented actress, and she brought life to her character. Blossom Chukwujekwu was seen in his least flattering role and performance as David - The side guy we all think is in love with Obi. A predictable plot I hope isn't explored in the future.
Nobody will look at Bayo Alawiye as  Wole and not think 'oh, he looks like the kind of guy who feels drowned by his powerful wife.'' or "he really does come off as a guy who feeds off his wife's low esteem, and gets a side chick to make him feel better and 'look up to him.' So we probably forgive him for delivering an amateur performance.
The dreary scenes? The first season of "Rumour has it" comes with lots of boring and repetitive scenes. Six minutes for a scene off a 15-minute show? That's a lot of data. some of the episodes had a particular scene take up eight minutes. The scenes were made up of prolonged and unnecessary discussions, especially between Obi and her friends Jennifer (Toni Tones) and Seyi.
Considering the unnecessary scenes from the series, "Rumour has it" came with boring conversations and dialogues not exactly engaging. But we would applaud Jennifer's speech on women in abusive relationships, which seems to be a trending and sensitive issue in the world. "You don't have to suffer and work so hard to be treated well by your husband. You are a queen, and you deserve to be treated well," she said.
The ending of "Rumour Has It" season one is so cliche. We could do without Wole returning to beg Obi. That was so Nollywood in the 90s and early 2000. I just didn't expect that a web series like "Rumour Has It" would go that direction.
Some things just didn't make sense. Does Wole know Ranti? He visits Obi on a regular basis, so was he not able to recognize her as his wife's assistant during her visits to his baby mama in his home? There was a scene where he walked into her while leaving Obi's office, were they meeting for the first time? Was he a part of the snitch gang? Did nothing seem fishy to him.
Two episodes into the show and "Rumour has it" has you confused and deciding if your data is worth a 21-minute story that could comfortably fit its message into a five-minute series without some of its extraneous scenes.
It could get better in its second season. But then we still have months to wait and decide if "Rumour Has it" suddenly becomes magnificent. Or if it would be Nigeria's "Empire," - an overrated web series that has more following than a late night presidential speech.
JOIN OUR PULSE COMMUNITY!
Recommended articles
Seun Kuti addresses assault claim, denies beating wife
It's time the AMVCA evolves past public voting
Toyin Abraham advises President Tinubu to avoid mistakes of predecessors
What to expect from Kunle Afolayan's new series, 'Anikulapo: Rise of the Spectre'
Go behind the scenes of 'Hijack 93: The Mad Men & The Aircraft'
Nigerian Idol S8: How to vote for your favourite contestants on the show
9 Nollywood titles coming out this June
Mercy Chinwo celebrates husband's birthday, calls him special gift from God
Rema's 'Calm Down' reaches new peak on Billboard Hot 100, closes in on African record