"Mr and Mrs: Chapter 2" suffers in comparison with its prequel
Unavoidably, "Mr and Mrs: Chapter 2"will be compared to its predecessor, and in all honesty, it simply can't win.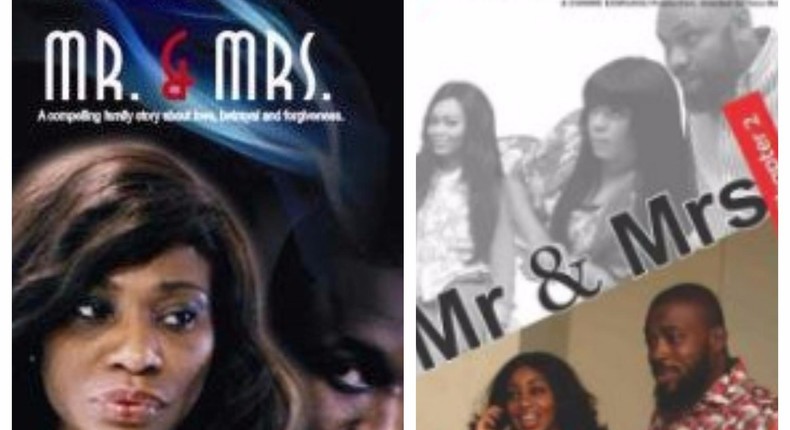 It is a sequel to the 2012 Nigerian romantic drama film written and produced by Chinwe Egwuagu and directed by Ikechukwu Onyeka, which starred Nse Ikpe Etim, Joseph Benjamin, Barbara Soky, Thelma Okodua and Paul Apel.
The second movie in the series made its debut on Friday, April 21, 2017 without enough publicity on the part of the producers, who are probably relying on the success of the first movie to sell the new movie.
"Mr and Mrs: Chapter 2" stars Rita Dominic, Akin Lewis, Tana Adelana, Chidi Mokeme, Yaw, Munachi Abi and was directed by Teco Benson.
The movie tells the story of a couple, Sharon and Kobi, and their pursuit to keep their marriage intact.
Unavoidably, this film will be compared to its predecessor, and in all honesty, it simply can't win. However, while the new movie isn't half the movie its predecessor is, it finds a way to succeed on its own terms.
With a beautiful cast, the sequel preaches the importance of family and creating a balance between work and family.
In "Mr and Mrs: Chapter 2," Kobi loses his job after his father's crisis with EFCC costs him his money and businesses. When Kobi and the kids start to depend soley on the income of his working class wife, Sharon, he starts to feel inadequate and gets sensitive at every given opportunity.
He finally orders his wife to quit her job just so that she can have 'time for him, the kids, their family and house chores.'
He threatens her with the case of Linda, who we met in the prequel. Linda is a well-paid banker who almost loses her husband to their maid because of her busy schedule and unavailability.
This sequel subtly tries on its part to duplicate the original's mood and story; a controlling husband, a wife who has to make a decision to choose between family and work, and a meddling mother-in-law. This time around, there are kids in the picture; teenage kids who don't get enough attention from their busy parents.
Unlike the first movie which focuses more on a particular couple, Susan and Kenneth Abbah, 'Mr and Mrs: Chapter 2' has three couples who we are expected to follow their stories. The movie would have been perfect with just one couple.
There's Zola and her boyfriend - Zola's character is portrayed as a woman who has been in a particular relationship for so many years without any sort of direction and commitment on the part of her fiance, Timi. 
There's Kobi's father, Senator Dede, who divorces his wife and son's mother for a younger woman. His divorced wife is bitter and fights to get back her husband.
While it's a good thing that the movie doesn't put viewers through the popular school of thought that says that 'every young girl married to an older man is interested in his money,'  these supporting characters still  lack dimension and substance.
The movie is so fast-paced with numerous unnecessary scenes. Example, there are scenes with inessential conversations between Sharon and Zola. There are also lots of scenes that don't last long enough to be impactful on the movie as a whole. These scenes happen in seconds and you find yourself asking 'what just happened now?'
As educating as the story is, it's shocking that the filmmakers didn't do more with the talent they had on hand. Here we were, hoping they would take advantage of Lewis, Dominic and Mokeme, and allow them to reach their potential together in one film, rather than having them rescue a movie.
The movie takes an awfully long time to end and delivers a fumbling resolution. While everyone gets a happy ending, a lot is left unresolved.
"Mr and Mrs: Chapter 2" draws viewers into the theme of homosexuality and drug abuse, but fails to explore these issues. Kobi and Sharon's kids are victims of these sensitive issues, but not enough attention is paid to their stories.
It's a bit of fluff, but despite its flaws, it manages to get by on few humorous scenes and entertaining cast.
JOIN OUR PULSE COMMUNITY!
Recommended articles
'When It Blooms' is the long-awaited manifestation of Nonso Amadi's abilities
5 classic Nigerian shows that kept us glued to our TVs
7 Nollywood movies that scream childhood nostalgia, according to ChatGPT
Ireti Doyle, Bucci Franklin to star in new Africa Magic series
Here is your first look at 'The Wheel of Time' season 2
Deola Art Alade wins first AMVCA for 'The Real Housewives of Lagos'
Ebuka Obi-Uchendu mourns BBNaija ex-housemate, Joseph Ada
Everything we know so far about Anthill Studio's fantasy movie, 'Mikolo'
Elvis Chucks lands 3rd AMVCA win with 'Jewel'