"Isoken" aptly and humorously depicts the 'horror' of being single in Nigeria [Pulse Movie Review]
The "horror" and pressure that comes with being a 34-year-old single woman in Nigeria is aptly depicted in Jade Osiberu's "Isoken".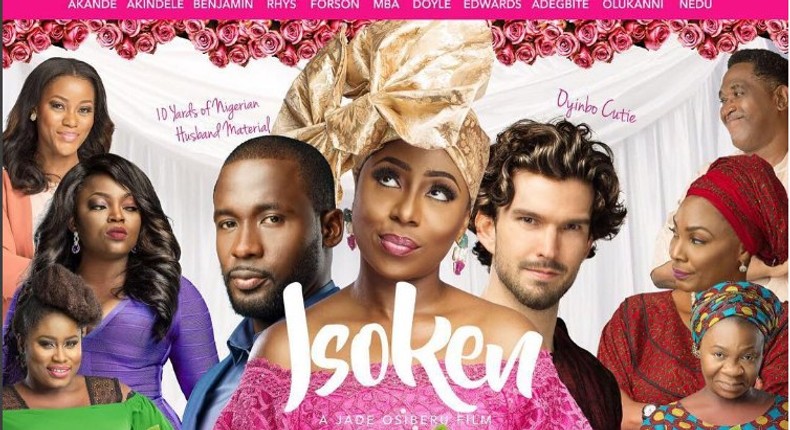 In her debut feature movie,
Osiberu revisits a familiar plot in this easy-going and pleasant comedy movie, "Isoken," which features Patrick Doyle, Joseph Benjamin, Tina Mba, Funke Akindele, Lydia Forson, Ayoola, Bolanle Olukanni, Marc Rhys, Abimbola Craig, Damilola Attoh, Tina Mba, Akah Nnani among others.
The movie follows Isoken (Dakore Akande), a 34-year-old successful but single woman, who is under a lot of pressure from her mother (Tina Mba) to get married, especially, as her two younger sisters are already married.
After a string of failed matchmaking, Isoken's mother finally succeeds with Osaze (Joseph Benjamin), who is also from Edo State, successful, handsome and from a good family.
In an unexpected series of embarrassing events, Isoken meets Kevin (Marc Rhys) an English photographer, and begins a beautiful friendship with him.
She finds herself faced with choosing from two men from different cultural backgrounds, with unique attractive attributes.
In a society where an unmarried woman, despite her accomplishments, doesn't command as much respect as her married counterparts, "Isoken" comes in handy. '
She is constantly reminded by her dramatic mother that a degree, MBA or PhD won't get her a man or kids.
Isoken is a character some men and most women can relate with. Her travails, sacrifices and story is familiar.
The movie is funny - not in a rolling-on-the-floor kind of way, but in the knowing smile and chuckle kind of way. In the 'I know a mother or aunt like this' way. In the 'I have been there' kind of way.
The laughs are accompanied by insights into friendship, love, societal pressure, self-confidence, courage and stereotypes.
The friendship between Agnes (Funke Akindele), Isoken, Joke (Damilola Attoh) and Kukua (Lydia Forson) is a believable interpretation of how friends interact.
They bicker and politely trade insults, advice and comfort each other, and expose their guarded feelings which the society won't even let them share in public. For example, Agnes wants a man in her life - a rich and handsome man.
"Isoken" is a movie that allows its female leads to be bold, human, smart, sexy, hilarious and loveable. Their dialogue and conversations, even when they seem a tad long, is alive with humour and wit.
The cast of "Isoken" is great fun to watch, each getting his or her own moment to shine and pass a message.
Tina Mba puts her heart in her role as Isoken's mother,and the audience is left with no choice but to return the favour as they follow her on her hilarious but realistic interpretation of a typical Nigerian mother.
The movie allows Funke Akindele as Agnes to shine in a role she knows how to do best. She is genuine as that friend in a clique, who humorously but bluntly always dishes out the 'truth.'
Akande aptly delivers as the titular character Isoken, representing and chronicling the emotional travails, societal and family pressure faced by single ladies.
Marc Rhysis lovable as 'Oyinbo' Kevin, dishing out his lines like an expert, winning hearts with his friendship and stolen moments with Isoken, and serving truths like 'you're a very beautiful woman and will find love in your own time.'
Joseph Benjamin is convincing and familiar as Osaze, a successful man who is ready for marriage and is in search of a like-mind to settle down with.
The love triangle between Isoken and her men is appealing enough to generate genuine warmth and laughs. You would be left wishing the triangle is further explored, at least, for the sake of more drama.
If you want a multicultural couple to make you laugh and teach you a little about friendship, confidence and courage, you will find that in the relationship between Isoken and Kevin.
The colourful representation of the Benin culture, familiar locations like the popular Balogun market, colourful and high-end costumes, make-up styling and the top notch production values all come together to create a visually exciting picture.
From friendship, love, relationships, family, culture, courage, self confidence and racism, "Isoken" explores a lot of topical issues. Maybe not in-depth, but enough to kick off conversations.
This movie can be classified as a chick flick, but it's one that can and should be enjoyed by everyone.
"Isoken" opens in cinemas on June 16, 2017.
JOIN OUR PULSE COMMUNITY!
Recommended articles
Cardi B to cover cost of funeral for victims of deadly fire incident in New York
Wizkid, Fireboy, Tiwa Savage nominated for NAACP awards
Grammys rescheduled for April 3 in Las Vegas
Fashion icon and former Vogue Editor-at-large, André Leon Talley dies at 73
Top Nollywood actors of the year [Pulse Picks 2021]
Davido goes 'crazy', intensifies battle with cousin over governorship ambition
BBNaija's Ka3na says her marriage is over
Fireboy DML, Wizkid, & Tems receive nods at the NAACP Image awards
Seyi Shay is engaged