"93 Days" - a Nigerian tale of sacrifice and heroism
A stirring depiction of how the deadly Ebola virus was contained in Lagos.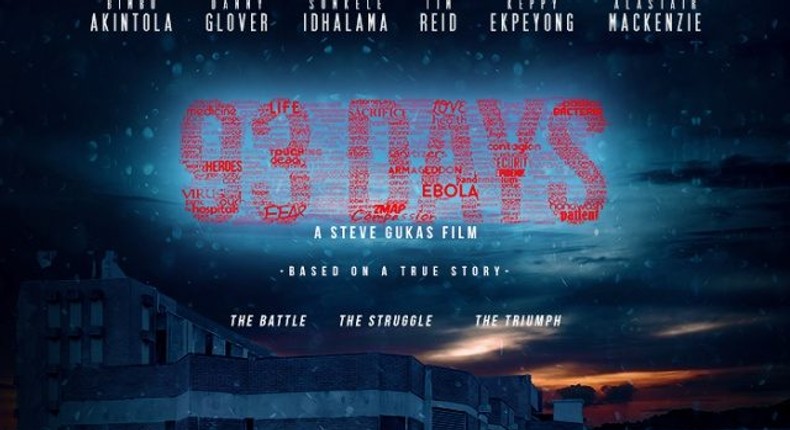 Cast: Bimbo Akintola, Keppy Ekpeyong Bassey, Gideon Okeke, Somkhele Idhalama, Bimbo Manuel, Danny Glover and Tim Reid.
'Ebola' - a virus that instilled fear in grown men, women and a whole nation.
"93 Days" is a historic gripping documentation of the deadly disease starting from the day the day the Ebola virus came into Nigeria to the day the country was declared Ebola-free.
After watching two hours of the movie with my eyes welled up with tears, my mind immediately went to what could have been if this plague was not quickly diagnosed - it would have changed everything about Lagos and our lives as we know it. I am thankful for the sacrifices of the late Dr Ameyo Adadevoh and all who played a part in curbing what would have been a national disaster.
We all know that the virus was successfully contained in Lagos but we don't know most of what happened behind the scenes? All we know is from information shared in the news. The film provides an even deeper insight into this and the actions of a team of professional well-trained Nigerians who held up their Hippocratic Oath and how it changed their lives.
The movie director Steve Gukas tells this story through the eyes of those who first came in contact with the virus.
Bimbo Akintola plays Dr Ameyo Adadevoh the Doctor who uncovered the sneaky virus. Adadevoh is a leading physician at First Consultant Hospital in Obalende. As a dedicated professional, Adadevoh pays attention to the details surrounding patient Zero from Liberia who she suspects could possibly be carrying the virus. She come against all obstacles that suggest it's not Ebola and ignores the threats she gets for refusing to release the patient. It is to Akintola's amazing credit, talent and seeing as it's a true story that we immediately connect with Adadevoh, her selflessness and want to wish her back to life.
"93 Days" also stars Keppy Ekpeyong Bassey as Patrick Sawyer, Gideon Okeke, Somkhele Idhalama, Bimbo Manuel and veteran Hollywood actors, Danny Glover and Tim Reid, who play out moments who never would have imagined actually happened.
As I watched the film, I found I fell in love with Dr Ada Igonoh played by Somkele Idhalama. Igonoh is that ray of hope in the movie that reassures one that all battles can be conquered. Idhalama gives such a compelling performance, I found myself asking "where has Somkele been hiding all this time?" Her interpretation of Dr Igonoh is worth a Best Supporting Actress award.
The movie producers (Bolanle Austen-Peters, Dotun Olakunri and Gukas) pay a lot of attention to detail, not just with the story but also the locations based in Lagos. Locations such as the First Consultant Hospital where the index case was admitted and the actual quarantine unit in Yaba where the Ebola patients were held in real life was used. The director and director of photography do an amazing job of giving us a visual overview of Lagos.
Watching the conceivable scenes in the movie, from cast selection, location, lightening, make-up, costuming and the stirring soundtrack, it's no wonder N400 Million was spent to ensure a high quality film was produced.
"93 Days", a well researched documentary is a redefining moment of Nigerian cinema. We always talk about telling our own stories first and not letting others so it for us - now we've done it!
Soldiers do not have to be on the war field fighting to save one's country. Activists do not have to to protest and write letters to bring about social change. Heroic acts come from knowledge, dedication and selflessness.
"93 Days" is a story of sacrifice and patriotism. A must watch for every Nigerian. It is a movie we will be sharing for generations to come.
This is a first look review. No spoilers here. Go watch it in the cinemas from September 16, 2016.
JOIN OUR PULSE COMMUNITY!
Recommended articles
It's been years of you ripping me —  Mr Real accuses D'banj
Ayoba and Boomplay announce cross-platform partnership
Some A-list artists will go hungry this December - Shallipopi's Official Dj
Wale Ojo & Genoveva Umeh on method acting, Nollywood & Amazon Prime's 'Breath of Life'
South-South rap star Dr. Barz excites on new single 'Dosa'
Spotify documents the resurgence of African gospel music
Rapper Kodak Black bursted for cocaine possession again, this time in Florida
Seyi Vibez shows artistic evolution on 'NAHAMciaga' EP [Review]
I converted to Islam out of love for my husband - Mercy Aigbe