The audience of Nollywood has grown just as the Yoruba arm of the industry keeps waxing stronger with new films.
In recent time, Yoruba movie producers and filmmakers have resorted to releasing their movies on dedicated YouTube channels aside DVD releases.
ALSO READ: Liz Anjorin releases 'Owo Naira Bet' one year after premiere
To cater for the yearnings of the audience of the Yoruba movie industry, some YouTubes  channels have dedicated their platforms to streaming and showing only Yoruba movies.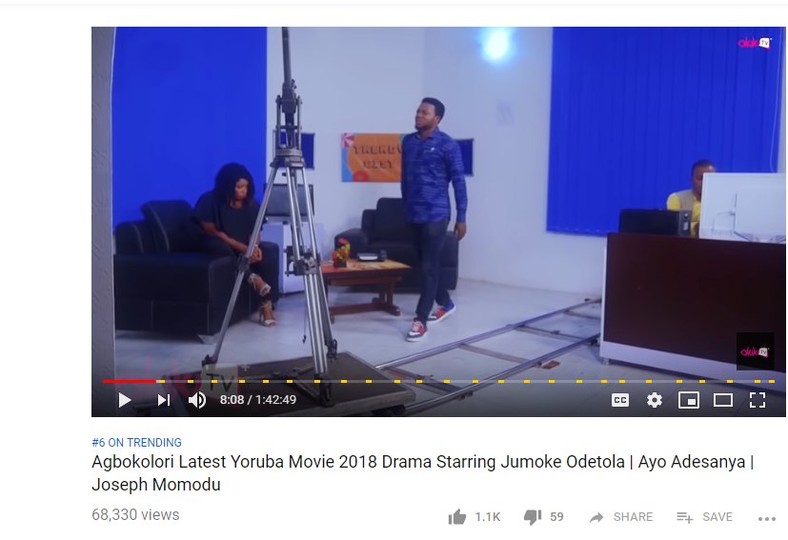 Yorubahood
The YouTube channel called Yorubahood is one of the leading platforms where only Yoruba movies are streamed and shown.
The platform uploads a minimum of 10 movies in one week since the kicked off operations on September 28, 2013.
Yorubahood has a total of 83,357,385 views.
Apata TV
On this list, Apata TV ranks second. After the YouTube channel kicked off its operations on September 30, 2015, it has remained one of the leading platforms that shows purely and only Yoruba movies.
With a total of 61,332,136 views, the platforms uploads a minimum of 15 movies every week.
Yoruba Plus
Yoruba Plus is another platform that has some of the trending movies on YouTube.
The channel joined YouTube on May 9, 2016 and has garnered over 31,300,876 views in the last two years.
Libra TV
Libra TV started as a YouTube channel on Aug 30, 2015 and has within three years had over 13,764,617 views.
With a minimum of 10 movies upload in one week, the YouTube channel is one of the favourite channel for audience of the Yoruba movies.
OkikiTV
OkikiTV is the YouTube channel associated with production outfit, Okiki Film and Music entertainment.
The channel kicked off operations on May 29, 2016 and is reputable for premiering some of the popular Yoruba movies in 2017 and 2018.
With over 6,122,323 views, Okiki TV was the platform where Liz Anjorin's new movie, 'Owo Naira Bet' started vieiwng.