When will Chris Brown finally become a man?
Chris Brown's career has been dogged by controversies but truth be told he is the cause of most of them.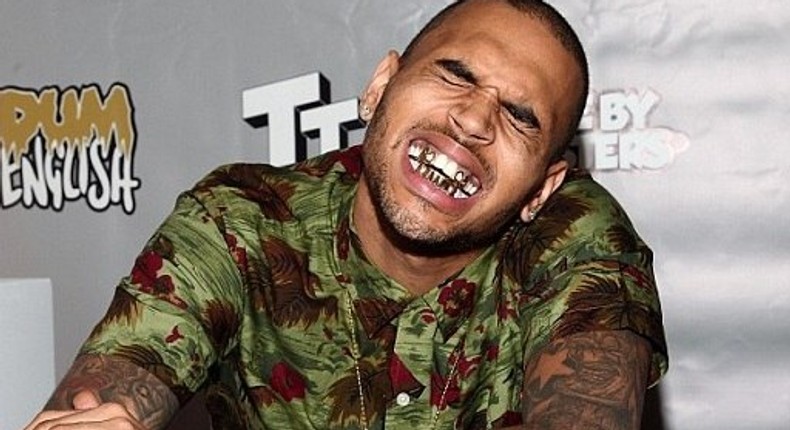 On Friday, March 11, 2016 Chris Brown slammed his ex-girlfriend
"I wish u the most successful career ever, but I promise you this, once this 'TALENT' you have starts to simmer, so will everyone else including [Manager] Jacob [York], all of your famous friends know u how? How? How? How? How? .. Ok. So to end this petty game that's gonna allow u to book more club appearances and 'MOVIES' that go straight to DVD I'll leave you this [heart emoji]!" wrote the singer.
Karreuche Tran wasted no time in replying her troublesome ex. "You're calling me a bitch yet you're screaming my name in a song about getting back together?" she wrote. "CAN ALL THIS PETTY S--T STOP. IT IS SO UNNECESSARY. You have a beautiful daughter and so much to live for. LIVE YOUR LIFE and be positive. I am so over the drama! I just wanna work and be happy and take care of my family. Every f--king day it's something new!!! And all you f--ks get your life and laughs from this s--t show.. I am MUHF--KIN' tied!!"
At this point even the staunchest Chris Brown is tired of the pop star's antics. It seems whenever his life is getting peaceful he somehow manages to mess things up. After a brief period of calmness in his life Chris Brown has started stirring things up again.
On March 6, 2016 Chris Brown dissed his own fans after they criticized his rather expensive clothing line Black Pyramid. "So, some of these so-called fans are complaining about $70 shirts, $90 shirts. What the fuck you be talking bout when you say you buy 10 to 15 album? How much is that bitch?" he says in an Instagram video.
Now why will Chris Brown go and do something as stupid as dissing his fans? Chris Brown loves putting his foot in his mouth and it seems he isn't going to stop anytime soon.
Some of his fans will tell you that he is a young man and there is too much pressure on him from his haters and the media. This could be true but there comes a time when a man must take responsibility for his actions. It is high time for Chris Brown to man up.
No one feels pity for him anymore that's because he has blown all the chances he had. Chris Brown is extremely talented but he seems interested in stirring trouble instead of having a great career.
Of course he has had a wonderful career considering what happened on that fateful day in 2009. His career could be a whole lot better if he stays away from trouble and bad press.
His tantrums are childish and unexpected from a man. It is high time Chris Brown puts his house in order or by the time he is 35 he will be completely washed up.
There are no more excuses for Chris Brown. It's time he mans up.
JOIN OUR PULSE COMMUNITY!
Recommended articles
RoRo drops new single titled 'Run Away'
He dared me, the rest is history- Yoruba actor, Ogogo narrates fight with fan
Eniola Badmus disables comment section of her post after sharing photo of Bola Tinubu and wife
Top 10 albums released in the first half of 2022 [Pulse Picks]
Future Sounds Vol.13 featuring Show Some Moe, Musta4a, Bils, Bigfootinyourface and more
Kida Kudz and Mr. Dutch team up for thrilling EP 'World Citizens'
CKay's 'Love Nwantiti' breaks record in France
"I was a one time mechanic", says Khaid as he narrates how Sydney Talker discovered him
Nigerian gospel sensation Ada Ehi drops new single