5 Nigerian celebrities who once contemplated suicide
Below are 5 Nigerian celebrities who have at one time or the other been pushed by depression into contemplating suicide.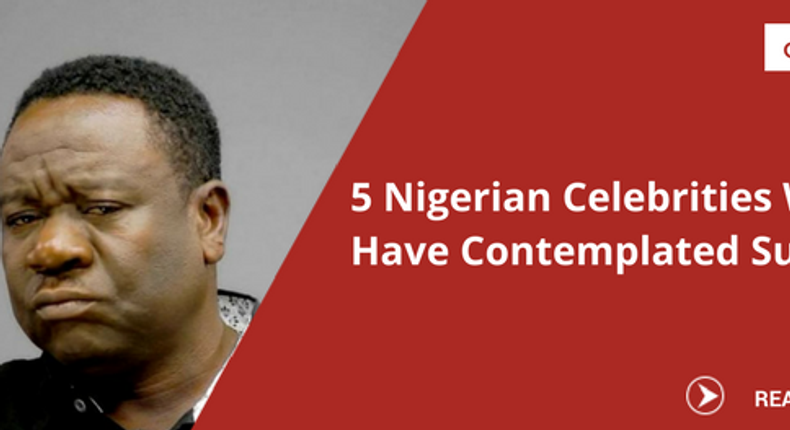 Nigeria is currently experiencing a high suicidal rate and our Nigerian celebrities are not left out.
Some risk factors include mental disorders such as depression, bipolar disorder, schizophrenia, personality disorders or substance misuse.
Media personality, Toke Makinwa, in her new book "On Becoming" reveals she tried committing suicide after her marriage hit the rocks.
According to her, "I was sitting in the bedroom one day. There was a bottle of Dettol in the bathroom and a thought came, very strong, "Just drink it and die. What's the point? The whole world is laughing at you right now. Just end it."
Nigerian comedian Julius Agwu recently opened up on his terrifying brain tumour experience.
Julius said when he realised he had three tumours in his brain, he contemplated killing himself.
"I started looking for my property documents to give to my wife. One day when they were not home, I almost committed suicide," Julius stated in an interview with Inspaya.
Mr Ibu, in an interview with the Punch once disclosed that he was once broke and thought about taking his life.
Ibu recalled he was kicked out by a friend he was squatting with and did not eat for three days.
"I remember December 18, 1997, a friend of mine who I squatted with called me in the morning and told me that he would be going home for Christmas and he did not want anyone to be in his room.
I assured him that no one would come to his place but he said he wanted me out of the room.
Out of anger, that my friend went into the house, brought out all my things and threw them outside, then he told me to leave his house, he locked his door and left.
"From where I was seated, I was looking at the well. I thought to myself, 'is it not better to end my life by jumping into the well so that when people return in the evening and they need water, they would discover my body and my friend would know that he was the reason I committed suicide?'
"I went to the well and as I opened the lid and prepared to jump inside, the image of my mother's face flashed through my mind. I quickly closed the well and began to wonder how my mother knew that I wanted to kill myself. My mother was still alive at the time; she was about 80 years old.
I went back and leaned by the wall. A neighbour, Francis, was playing a song by Michael Bolton titled 'When I am back on my Feet Again.' The song gave me hope and I decided to stay alive."
Nollywood actress Adunni Ade has also contemplated suicide before.
The mum of two in an interview revealed she was so depressed when she left the father of her children that she contemplated suicide.
She said, "I think the major thing that got me through was the fear that somebody else would raise my children if I sat in that relationship, that was the scariest thing for me, that my kids would see somebody else as their mother. Depression is no joke.
A lot of people in this country, Nigeria, don't want to admit that depression is an illness. People don't know the extent to which it affects the mind.
A lot of people know this; in the past, I have tried to commit suicide because it was just too much, just too much for me but I guess God loves me enough to still keep me here."
Tee Billz was reported to have attempted committing suicide on Thursday, April 28, 2016, at the Ikoyi-Lekki bridge in Lagos.
Tee Billz had accused his wife of infidelity, neglect, and his mother-in-law of using witchcraft on him. He insinuated he was going to commit suicide in a series of posts on Instagram and made it seem as though she pushed him and frustrated his life to an extent he could take it no more.
JOIN OUR PULSE COMMUNITY!
Recommended articles
BBN's Hermes brags about numerous sexual encounters with women
Martell Cognac announces extension of Davido partnership with an Exclusive Blend bottle release
Legend thrills attendees at Johnny Drille's 'Based On Believe' concert!
Toke Makinwa recounts devastation at ex-husband's infidelity
Moet Abebe tearfully discloses reasons behind her failed engagement
Nigerian Idol kicks off breathtaking eighth season
Kizz Daniel hints at separation from fiancée
Guchi releases exciting new two single-pack 'All Over You & Mon Bébé'
CKay drops new single 'Nwayi'