Ministry to look into sexual assault allegations in the school
Some directors from the ministry were in the school on Saturday, March 20, to verify a pupil's claim that she was sexually molested by her teacher.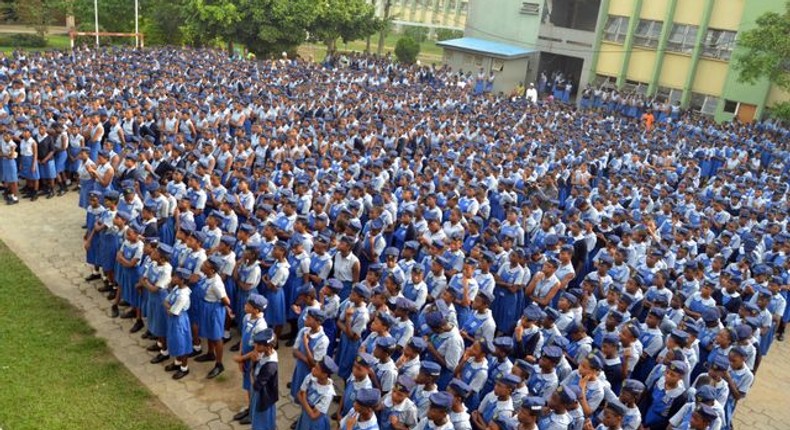 The teacher, Mr Olaseni Oshifala was reportedly accused by a student's parent of molesting her (the student). The parent also alleged that the school authorities are aware of of Oshifala's misconduct but continually cover up his actions.
Some directors from the ministry  were in the school on Saturday, March 20, to verify the JSS2 student, Chinenye Okoye's claim that she was sexually molested. The Nation reports.
The School Based Management Committee (SBMC) met yesterday, March 21, with the ministry's officials on the matter.
The old girls of Queens College, from 1956 till date, also met in the School Hall on the matter. They urged the public not to draw conclusions until their investigation is complete.
A senior member of teaching staff, who did not give his name, told The Nation that there were inconsistencies in Chinenye's claim of sexual molestation.
He said contrary to her claim, Osifala teaches Biology to senior secondary pupils and not Integrated Science/Basic Science at the junior level.
The source claimed that Oshifala does not live in the school and could not have been on the premises late at night as claimed by his accuser.
He also refuted claims that new security guards employed by the school were harassing students.
The source, who refuted the story via his Whatsapp account, described it as the work of a mischief maker.
He said: "Six reasons why the news about Oshii might be bad belle and half-cooked mischief.
"Oshii does not live on the compound; he does not teach integrated science or basic science; he has no business being in the boarding house around the time mentioned except there is emergency; D. Lami Amodu – PQC could not have left such a sensitive matter uninvestigated; the new security guards had not been engaged as at December when the last Parent Teachers Association (PTA) meeting was held; there has not been any report that the new security guards are harassing the girls.
"I am not a solicitor for Oshi but the facts as presented by the 'Mrs Chinyere' (the pupil's mother)are far from the truth."
JOIN OUR PULSE COMMUNITY!
Recommended articles
5 outfits for 5 days of work inspired by Regina Daniels
Cement price will hit ₦9k due to FG's plan to introduce concrete roads — Manufacturers
BREAKING: Supreme Court building engulfed in flames
Whitemoney's team responds to allegations that they sold his votes
Fireboy pays tribute to Mohbad during his Trace Live concert
Africa's food insecurity to be non-existent in the next 5 years - AfDB
Meet the 6 finalists on 'BBNaija All Stars'
How to make 'masa' or rice cakes, a Nigerian Hausa delicacy
Venita, Soma and Angel get evicted from Big Brother Naija All Stars