'There is a conspiracy to kill all non-Muslims in Nigeria', CAN claims
The General Secretary of the Christian Association of Nigeria (CAN), Rev. Musa Asake, has revealed his opinion on the incessant killing of non-Muslims.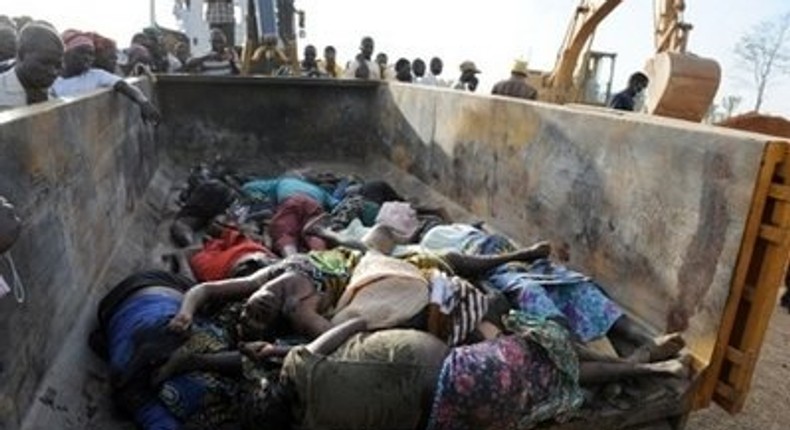 Killing in the name of religion is nothing new.
However, things seem to be getting worse, rather than better, especially in Nigeria.
According to the General Secretary of the Christian Association of Nigeria (CAN), Rev. Musa Asake, this could be because there is a conspiracy to kill all non-Muslims.
In an interview with Bayo Akinloye of Punch, the reverend said the incessant killing of non-Muslims prove that the Buhari-led administration is not concerned with the increasing loss of Christian life.
"From the way I see things happening, there is a grand plan to wipe out Christians in this country but by the grace of God it will not come to pass. That is why I am saying if the government is not going to protect us, then we have no choice but to protect ourselves. We will not continue to fold our hands and accept being killed for no reason. These killings are going on as usual and we have got to a point to say 'enough is enough.' Everybody has to defend themselves", he said.
"I don't why this is happening; we have security agencies in Nigeria. But when a Christian is killed, they (Muslims) either say it's due to blasphemy or they don't give a reason at all. After the killings, we are often told some people were arrested – that's the best we hear. And, after the arrest, nothing happens again. As Christians we're going through a difficult time. Therefore, my reaction to the killing of the RCCG's pastor is that it was an ugly incident. It ought not to have happened. There's never been a situation where a Christian will go and kill somebody for no reason but Christians are being killed Muslims – let me say by extremists; because not all Muslims are involved. Then, we are also faced with Fulani herdsmen who are killing people and wiping out villages as if we don't have a government in the country. It is a very sad situation", he added.
What do you think about this claim?
JOIN OUR PULSE COMMUNITY!
Recommended articles
Here are the 5 worst cities to live in Africa, according to Economist Intelligence Unit report
10 African countries with the largest foreign exchange reserves
Bolton's new 'Jay-Jay Okocha' wants to represent Nigeria ahead of England
Beatrice and Boma face off in new BBNaija Reunion teaser
Travel & Tourism: Here are the top 10 most developed countries in Sub-Saharan Africa
Peter Obi: How many parties could a man join in his lifetime? – Sowore
Ireti Doyle recounts how Adesua Etomi stepped in when her daughter was bullied in school
Why is the dollar shortage crisis in Africa getting worse by the day?
BREAKING: Abba Kyari escapes murder in Kuje prison