7 interesting things you may not know about this church
Discover some fascinating facts about one of the most loved churches in the country.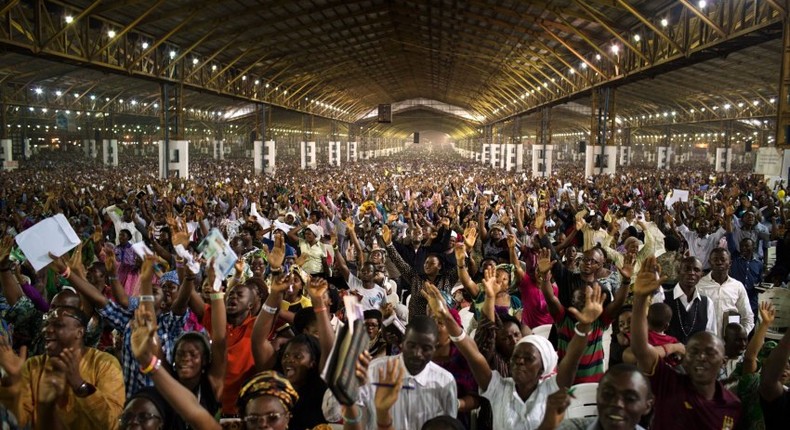 The Redeemed Christian Church of God (RCCG) is definitely one of the popular churches in Nigeria.
It is so popular that people joke that every street in the country has at least one RCCG branch. This is actually one of Pastor Enoch A. Adeboye's visions, which is to have a RCCG within five minutes of every home worldwide.
With this kind of popularity, it is easy to think that we all know everything about this church. But, this is so not true as I am about to show you.
Here are 7 interesting things you may not know about RCCG.
1. The Church isn't founded by Pastor Adeboye: It is truly surprising how many people think that the church was founded by Adeboye. The truth is that RCCG was started by  Rev. Josiah Akindayomi in 1952.
2. The founder trained to be a herbalist: Years before the birth of RCCG, the founder was on his way to becoming a herbalist. Originally named Ogunribido (meaning Ogun has a place to stay), the founder was born into a home with Ogun worshippers for parents. As he grew, he decided to become a herbalist. With this plan in mind, he got his training from a traditional doctor.
But, his plans changed when he started attending the Anglican Church in his village in Ondo State. There, he became converted. Upon conversion, he dropped his name and replaced it with Josiah. He also abandoned his grandfather's name Akindolie, replacing it with Akindayomi(his father's name).
3. RCCG was born with the help of the Holy Spirit: After abandoning his plans to be a herbalist, Josiah went in search of the spiritual. This took him to CMS, then Cherubim and Seraphim Church. It was there that he had heard the Holy Spirit for the first time. This voice told him to be a prophet. As most do, he initially resisted.
He finally gave into God's call in 1940. His ministry began as he became a full-time C&S prophet. As a prophet, he prayed a lot and performed many miracles. This gained him some popularity in Ife and Lagos.
4. The church had a lot of names before what we know it as today: As Josiah's ministry grew, he started to hold Bible study and prayer sessions in his house. In 1947, this was called  Daily Prayer Band. This group, though under C&S, attracted people who weren't members of the church. This caused rumours to spread that he was starting his own church.
Eventually, the group became known as Egbe Ogo Oluwa (Glory of God Society). In time, their numbers grew to the point that they needed a bigger place to meet. A member of the group donated his property and cemented the rumours that he was starting his own church. This led to the expulsion of Josiah and his group by the elders of C&S in 1952. Thus, what we now know as RCCG was born.
From Egbe Ogo Oluwa, it became Ijo Ogo Oluwa (God's glory Church), then Ijo Irapada (the Redeemed Church).  At some point, the name was changed to The Redeemed Apostolic Church. This got him into some trouble with the Apostolic church.
The name, RCCG, came to Josiah in a dream. In the dream, he saw the words 'Ijo Irapada ti Olorun'. He wrote it and showed it to Mr Olonade, who was an educated member of the church. He translated the words to 'The Redeemed Christian Church of God' and this is how RCCG became the name that we all know now.
5. The Holy Spirit worked wonders in the early days of the church: According to Vanguard, the accounts from RCCG members in the 50's and 60's have a lot to do with the Holy Spirit. During the interview, one person said that people cried a lot.
The person said, "The Holy Spirit moved in the early days of RCCG so much we usually wept during service after hearing the word. This is because you could see yourself as a filthy person before the Lord. We were known as 'IJO ELEKUN'—THE WEEPING CHURCH. If a member came to RCCG with two or more wives, the Holy Spirit who knows our last days will counsel the fellow on marriage restitution. We thank God for the move of the Holy Spirit today. However, the Holy Spirit will do more if we please God in all ways and if we increase brotherly love and care".
Another said, "The Holy Spirit chose Rev. Josiah Akindayomi, took him out of the miry clay, stepped his feet on the rock to stay, put the word first in his mouth to preach and taught him restitution. And above all, told him about his successor, then Dr Enoch Adejare Adeboye shortly before he joined the church."
6. A lot of people fought to become Josiah's successor: People in line to be Josiah's successor included Pastor J.B. Kappo from Badagry, Pastor Igbe-koyi, and Papa Abiona. In spite of these options, Josiah relied on the Holy Spirit who told him that Dr. Adeboye, a senior lecturer in Mathematics in the University of Lagos, UNILAG and University of Ilorin, UNILORIN, would take over.
An elder said: "Pa Akindayomi was quoted as saying; 'Omowe haun haun, lo ma gba ise lowo wa"— meaning 'my successor is a complete intellectual with sound education'. The members, therefore, start-ed picking on every new member with sound education as the likely next general overseer. Like Jesse in the Bible, they were all wrong.
To avert distractions, Pa Akinda-yomi told them that his successor would be as tall as he was, and they both require same tailor's measurement.
"The day our Daddy G.O entered into the church for the first time in 1973, by the inspiration of the Holy Spirit, Pa Akindayomi announced to the congregation that his successor has joined the church that day. He visited Daddy G.O that same day for follow up as RCCG is known for".
7. Adeboye did not want to be the G.O: Like his predecessor, Adeboye resisted. Adeboye, who was a young lecturer at the time, was reluctant to take over the leadership of the church. He became an ordained pastor in 1975 but still resisted.
Upon the death of Pa Akindayomi's in 1980, he finally obeyed and became the RCCG G.O. This appointment was legalised with the reading of a sealed pronouncement from the church's founder. At the time of his predecessor's death, there were only 39 parishes in South-west Nigeria.
In 2015, this number grew to over 20,000 parishes worldwide. Now, the church has Bible Colleges, Schools, a University, a TV station, many publications and the Redemption Camp, which is a city in itself.
RCCG was born in 1952 in one part of the country. Now, the Church is across the nation and beyond.
It is also located in Cote D'Ivoire, Ghana, Zambia, England, Germany, and the United States.
JOIN OUR PULSE COMMUNITY!
Recommended articles
Rick Ross declares interest in Ayra Starr
See the ambitious Sh1.4 trillion ($10 billion) project the president of Kenya is involved in
Nigerians express concern over immediate implementation of subsidy removal
Europe is aiming to replace Chinese commercial connections with African ones
Top 10 African cities where it is cheap to get food
Veteran Nollywood actor Adewale Adeyemo is dead
Naira marginally rises against dollar in 24 hours of Tinubu's presidency
'There was a point...I was seeing the stage upside down' - Hilda Baci
Beautiful Nubia, Tosin Ashafa, others pay tribute to OAU alumnus Abass Oyeyemi