Catholic leader doesn't want you to disturb him
The Pontiff is all over the news for an interesting sign on the door of his Vatican apartment.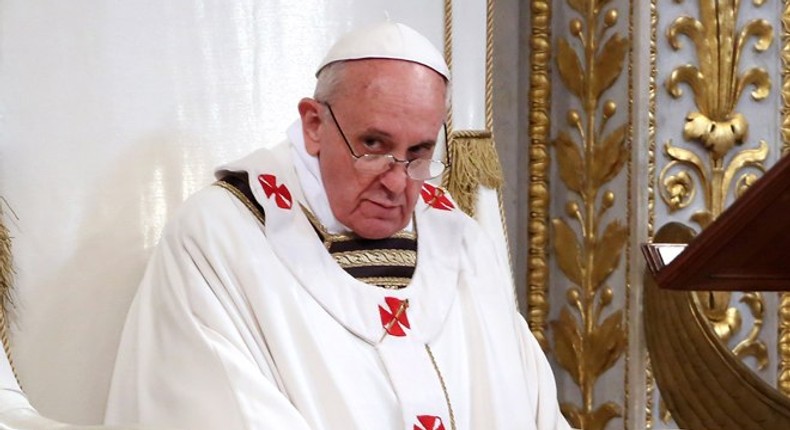 Pope Francis has hung an unusual sign on the door of his living quarters.
This sign, which is written in Latin, bans all whiners from entering his Vatican apartment (Casa Santa Marta.)
It reads: "Complaining Not Allowed" (in Italian, Vietato Lamentarsi), Crux reports.
The smaller print tells people why they need to stop complaining. Apparently, complaining has negative effects on one's health and could lead to a "victim complex."
According to the sign, "sanctions will be doubled" for anyone guilty of complaining in the presence of children
The sign reads: "Offenders are subject to a syndrome of victimhood that reduces their sense of humour and capacity to solve problems."
"To become the best of yourself, you must focus on your own potential and not on your limits. So stop complaining and act to change your life for the better."
The sign was made by Salvo Noé, an Italian psychologist and psychotherapist.
He gave it to the pontiff after an audience with him on June 14, 2017.
The funny notice could not have come at a better time as the Vatican has had to deal with a lot of bad news in recent times.
Speaking at a press conference, he said, "I am looking forward finally to having my day in court. I am innocent of these charges.
"They are false. The whole idea of sexual abuse is abhorrent to me."
This new month (July), the Vatican is dealing with two former officials that have been accused of misusing children's hospital funds.
The former officials, Giuseppe Profiti and Massimo Spina, will face a Vatican tribunal on July 18th.
With incidents like this, it makes sense that he would not want any disturbance, right?
JOIN OUR PULSE COMMUNITY!
Recommended articles
South Korea eyes one of Nigeria's precious minerals
List of African countries and how much of their salaries they spend on iPhones
4 highlights from Thursday's pool party on 'BBNaija All Stars'
Top 10 African countries with the highest food inflation rates
Despite $3 billion bailout, Ghana has essentially gone bankrupt
Ghana is looking to supply Nigeria with its electricity needs following power grid shutdown
Burna Boy's South Africa concert has been cancelled, here's why
Africa's food insecurity to be non-existent in the next 5 years - AfDB
Tinubu approves salary increase for Federal Tertiary Institutions