The Lord is your shepherd but you must face the music
According to Evans' wife, he reads "Psalm 23 a lot". Unfortunately, this isn't going to stop him from facing the consequences of his actions.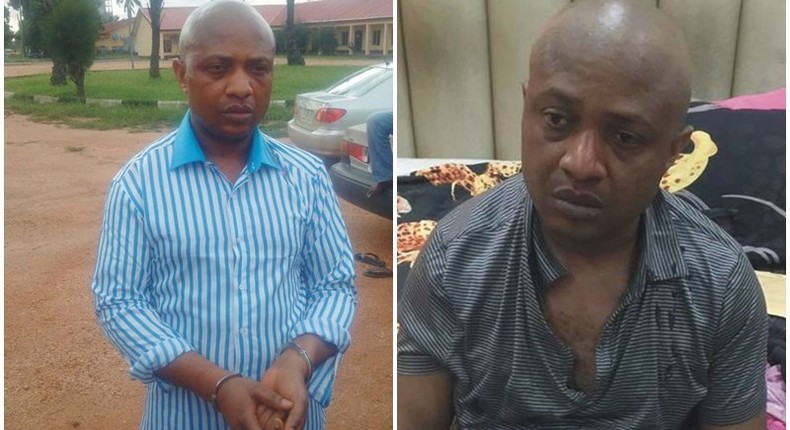 The story of Chukwudi Dumeme Onuamadike aka Evans has become
From how the Police captured the dreaded kingpin to the property he has acquired from his scandalous business to how his kinsmen disowned him and to how his father, mother, wife and kids got into the disgraceful picture, almost everything has been revealed about Evans except his relationship with God or gods.
The story of notorious armed robbers in Nigeria is always almost incomplete without mentioning the name of one Babalawo or a dibia who gave them spiritual support. In fact, Nollywood has helped to concretise and internalise the belief that behind a notorious kidnapper or armed robber, there is a dibia.
This provides the background for many to think that a man like Evans, who perfected the art or act of armed robbery and kidnapping operations would rather have a dibia that gave him charms and amulets to aid his horrible business than endear himself to a church for spiritual supports.
Interestingly, none of the shocking revelations and confessions has associated him with a church or any dibia. Evans does not seem to need the service of a Babalawo to track the movement of his victims neither does he need the service of prayer warriors to elude the police. He is too ingenious to need one.
However, the evil genius has a shepherd he prayed to every day. The same God Evans' victims called upon to protect them every day from kidnappers and armed robbers is his Shepherd.
Religion is a serious issue in Nigeria and Evans might truly be more prayerful than his victims. According to his wife, Evans is religious. (He is just a criminal)
Religion is ostensibly the weakness of many of us. If you want to canonise a criminal in Nigeria, wear him a religious robe and the narrative would change. (But the narrative of Evans might not change)
Appealing to this national fault, Precious Evans, the kidnap kingpin's wife told the nation that her husband is a prayer warrior as he used to read Psalm 23 every time he led the family in morning devotion. Precious believes a man who chants psalm23 every morning cannot be so vicious to make a living from armed robbery and abduction. She, therefore, concluded that her husband, Evans must be under a spell to have committed the heinous crimes that have come to blacklist his family name.
The prayers in Psalm 23 is sufficient for one to seek protection from the plots of kidnappers. This is the same verse the kidnap kingpin reads not to perpetuate his crimes but to seek God's protection for himself and his family.
When your enemy reads the same verse you read for protection, God would surely have to take a side. It is like the proverbial cockroach and chicken that went to the same Babalawo for protection and sustenance respectively. The cockroach gets a protection charm from chickens and the chicken gets a sustenance charm to feed on roaches.
Obviously, Evans was not reading the psalm with the same intent every other people read it, because his psalm 23 did not restoreth his sole neither did it leadeth him in the path of righteousness.
Before the police "rescued" him from the underworld, there was no reason for Evan to fear any evil because he is the evil other criminal commits. He has mastered the art of the most terrible means of livelihood. Evans is the valley of the shadow of death in his Psalm 23. Anyone who walks through it would disappear like smoke. Only millions of dollars could make such a person reappear again.
Evans kidnaps unsuspecting Nigerians at will and named his price as he likes. He takes delight in getting the ransom paid in dollars because he has the lives of his victims between his index finger and a gun trigger.
What was a source of joy for the billionaire kidnapper and his family was a cause of sadness and anxiety for his victims and their families? He has reaped millions of Dollars and has acquired properties from his atrocities. He has enjoyed life to the lease and he must taste the other sides of it.
While Evans thinks the Lord was on his side, the shepherd answered the prayers of his (Evans') victims and delivered the vicious man to the Police to pay for his many crimes.
The billionaire kidnapper has surely come to the end of the road. His case is still under investigation and according to Lagos state law, his offence is punishable by death if one of his victims had died in his custody. If he is lucky, he would be sentenced to life imprisonment.
Evan has enjoyed the positive sides of life but now that the gate of a maximum prison has been thrown open for him, his penchant for Psalm 23 would increase. He would have to read it every minute with the hope that God would somehow get him out of prison just like one of his victims miraculously escaped from his den.
That is the dream of many criminals in prisons but in this case, the dream is just a dream.
In the prison, he would have a new shepherd. Guess who the shepherd would be if Evans has to spend the rest of his miserable life in prison. The warders!
JOIN OUR PULSE COMMUNITY!
Recommended articles
Lai Mohammed appointed managing partner of international lobbying firm
Masturbation may increase a male primate's chances of impregnating a female - Study
Tanzania could become the top investment destination for Australia
DRC and Angola set aside a 50-year oil block dispute to become joint holders
All you need to know about the sex competition in Sweden
Portable Zazu announces the arrival of sixth child with Yoruba actress
Veteran Nollywood actor Adewale Adeyemo is dead
Naira marginally rises against dollar in 24 hours of Tinubu's presidency
Beautiful Nubia, Tosin Ashafa, others pay tribute to OAU alumnus Abass Oyeyemi