Meet courageous Muslim running for Governor in Trump's America
El-Sayed has been dubbed the 'new Obama' for daring to contest for the governorship in an anti-Muslim country. If he wins, he becomes America's first Muslim governor.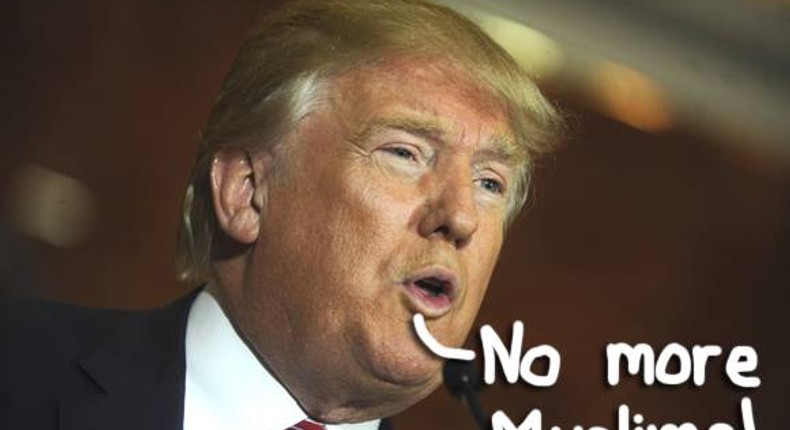 America is currently being led by President Donald Trump.
Throughout his campaign and his seven month-old presidency, he has proved time and time again that he is not Muslim friendly.
Dr Abdul El-Sayed is attempting to make U.S history in the face of these huge obstacles.
World Religion News reports that the son of Egyptian Muslim immigrants is running for the office of Governor of Michigan state.
El-Sayed quit his position as the executive director of the Detroit Health Department to declare his intention to run for the governorship.
According to The Guardian, he is currently on his the campaign trail, although he is a year away from the primary.
On the trail, he gives a stump speech, which is a standard campaign speech. He starts with his personal story, about being the son of an Egyptian immigrant in an interesting family.
He does this because people are different. According to him, "these people come from fundamentally different walks of life, they have known different realities. But, they see a common future. And that's because it's a common future they have built together.
"I learned about a society that was founded on an ideal that my father invested in back in 1978 when he came here, one that told him, 'We hold these truths to be self-evident, that all people are created equal."
Eventually, he moves to the US Constitution and other important subjects like tax policy or infrastructure development.
This tactic has not stopped people from focusing on his religion. In fact, there are rumours that the 32-year-old intends to introduce the sharia law to the US once he becomes the first Muslim governor in America.
These rumours caused Guardian correspondent, Drew Philp, to ask him the following questions.
"Are you the spear tip of a vast Muslim conspiracy to bring Sharia law to the US?" "No," he said.
"Are you a front for the Muslim brotherhood to pervert American politics towards terrorism?" "No" was his response.
"Were you handpicked by George Soros to lead a vast liberal takeover of the government?" "No. I've never met George Soros," he replied.
He recently came face to face with a question on his views on Sharia law in Adrian, Michigan.
El-Sayed responded with this, "I believe in a separation of church and state," making reference to the fact that John F. Kennedy's election as the first Catholic president changed  American politics.
He continued with this, "I can tell you that my ability to practice my faith in person, in my own home, when I choose to, where I'm allowed to, because of freedoms in this country have everything to do with that separation of church and state.
"If I am going to want to be able to put my face on the ground 34 times a day like I do because I'm Muslim, I want to make sure no one can take that right away from me. And I will not take that right away from anyone else."
This response earned him a huge round of applause and a standing ovation in a room that was filled with a lot of white Christians.
After the event, the man who asked the Sharia question was asked if he thought the candidate would bring Sharia law to the US.
"No. I don't," was his reply.
El-Sayed's charisma, speeches and huge turnouts have been likened to that of the former president, Barack Obama.
In fact, one woman, Tamanika Terry Seward, at a campaign event said: "I think the last time I sat there and gave that kind of smirk is when I first heard Obama in Chicago when he was running for senator."
So far, it looks like he actually stands a chance of winning the Democratic primary in 2018.
Through individual donations, in what can only be described as Bernie Sanders style, he has succeeded in raising over $1m and capturing the hearts of the people in the process.
After hearing El-Sayed speak at a Democratic event in Oakland County, one woman said: "You just won my heart. All you have to do is drive around and talk like you did today, and you will win this state."
He also has the support of his father, an occasional imam, and his step-grandparents, who are white.
In an interview with The Guardian, the father said: "Are we scared for him? If he goes out and fights injustice, even if he gives his life for that, as long as he's trying to do the right thing and fight injustice and bring justice to somebody's life — we're all going to die one day. To die for a cause is better than to die in your bed."
This same sentiment was echoed by his stepmother, who said she chooses to focus on the possibilities rather the danger, his pregnant wife, Sara and campaign manager Max Glass.
In her words, "He won't do it alone, but he can change politics. I think he's already doing it. He goes up north and sits down with people that look like his grandpa, and they don't know that. But then they have this conversation, and this is the first Muslim person they've ever met.
"People are seeing someone for the first time, they're not seeing a cartoon, they're seeing a real person."
Sara, who is six months along, said, "I think making a bold statement, when a lot of people feel like you should be afraid … can be inspiring.
"I think it's easy and comfortable to sit on the sidelines, to worry or to completely just turn off what's going on in the world. If you can make a difference, I do think it's a responsibility."
The campaign manager added that "The electorate [in Michigan] doesn't know what it wants, but it wants something different. I wouldn't have taken this race if I didn't think we could win."
On his part, El-Sayed says he is "running for the future of my child."
Like Obama, his message is one of hope and the American dream, that change even in politics is possible.
In his words, "No matter the outcome. We will have won if we can change politics."
JOIN OUR PULSE COMMUNITY!
Recommended articles
Top 10 African countries producing Palm Oil
Top 10 African cities with the highest population growth from 2022 to 2023
Top 10 happiest countries in Africa in 2023
In just 2 years, Tanzania has grown the value of its investments to $8.6 billion
5 foods that make menstrual pain worse
The UK and Kenya have entered a partnership estimated to be worth $10 billion
BREAKING: UK court finds Ekweremadu, wife guilty of organ trafficking
Davido reportedly spends over ₦300 million on new Lamborghini
African countries with the cheapest household electricity prices