'Food prices continue to soar high in Abuja, Nasarawa' - Traders laments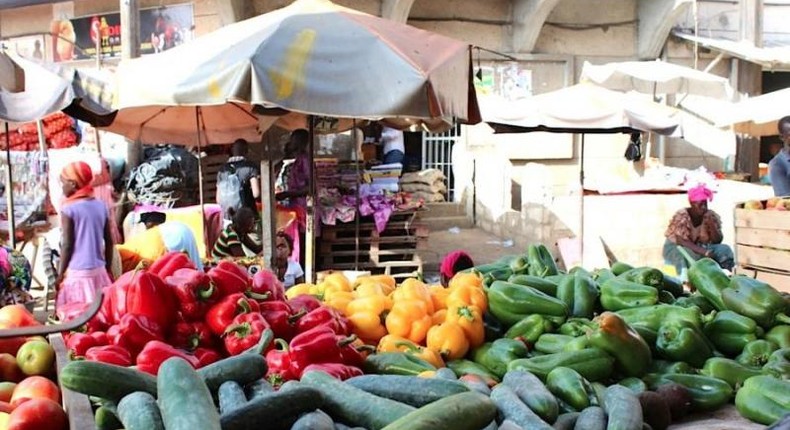 Market traders are frustrated because of the increase in food prices in Abuja and Nasarawa.
Prices of staple food have continued to increase in Abuja and Nasarawa State, the News Agency of Nigeria (NAN) reports.
A market survey conducted by the News Agency of Nigeria (NAN) on Tuesday, July 2023 revealed that residents are frustrated due to the increase in prices of staple food items in Abuja and environs.
Mr Daniel Chukwuekezie, the Chairman of Garri sellers in Masaka market, Nasarawa state, said a bag of yellow Garri which sold for N8, 000 now is selling for ₦22,000, while white Garri that was sold for ₦7,000 is now sold for ₦17,000.
Chukwuekezie attributed the increase in food prices to the cost of transportation, which he said had affected his purchasing power. Mr Ezekiel Okpa, another trader in Masaka market, said a bag of beans previously sold for ₦27, 000 was now being sold for ₦49, 000.
Okpa said a bag of Nigerian Rice previously sold for between ₦15,000 and ₦20,000 is presently sold for ₦35,000, while a bag of foreign Rice that was sold for ₦30,000 now goes for ₦44,000.
A trader in Nyanya market, Joy Peter said that a 25 litres of palm oil that was sold for ₦7, 000 was currently being sold for ₦24,000 while 25 litres of groundnut oil that was sold for ₦12,000 is now sold ₦32,000.
She said that four litres of palm is sold for ₦7, 200 as against ₦3,200 while four litres of groundnut oil is sold for between ₦5,500 to ₦10,000 depending on the product. Grace Ukpong said palm oil that was sold for ₦10, 000 is no being sold for ₦25, 000 while groundnut oil that was sold for ₦15, 500 now goes for ₦32, 000, depending on the product.
Ukpong said that it was always frustrating whenever she goes to the market to restock her shop, because of the astronomical rise in prices of food. Mr Abubakar Musa, a rice seller at Mararaba market, Nasarawa state said the price for foreign rice and local rice had increased, forcing most people to opt for local rice.
Musa said that a mudu of foreign rice goes for ₦1, 500, while the local rice goes for N900 as against ₦1,000 and ₦600 as at February. Mrs Janet Ibrahim, who sells maize at Aso Pada market, Nasarawa state, said that the price of maize per mudu was now ₦400 as against its former price of ₦150.
She said that a bag of maize now goes for ₦25, 000 as against ₦15, 000 and ₦10, 000 respectively as at few months ago. Ibrahim attributed the increase in prices to the onset of the planting and rainy season. Mr Kaminu Abubarka at Aso Pada Market, said cost of rice and beans are increasing everyday due to the season.
"As at two weeks ago, I sold beans at ₦700 but this week, I sold it for ₦750 because the rains were not encouraging," she said.
Mrs Motun Makinde-Ola, a trader at the Mararaba Orange market, said prices of food items skyrocketed in the last two weeks because of the crisis in parts of the country.
"Widespread insecurity in northern and eastern Nigeria has compelled major suppliers of food items to the southern part of the country, particularly the south-western axis, to suspend supplies," she said.
JOIN OUR PULSE COMMUNITY!
Recommended articles
South Korea eyes one of Nigeria's precious minerals
Elumelu applauded by distinguished leaders for youth empowerment in Africa
AU's 2063 agenda at risk due to cybercrime
Burna Boy's South Africa concert has been cancelled, here's why
AfDB, Google partner to advance digital transformation in Africa
Top 10 African countries with the highest food inflation rates
List of African countries and how much of their salaries they spend on iPhones
Do you know what leads to aircraft fuel dumping in the sky? Here is why
Ghana is looking to supply Nigeria with its electricity needs following power grid shutdown
Super Falcons' Michelle Alozie drops football hot take
Kane defends Harry 'One of the best defenders in history' Maguire, calls for end to scapegoating
Provedel: 4 goalkeepers who have scored in the Champions League including Vincent Enyeama
Andre Onana: Critics of the Manchester United goalkeeper are missing the bigger picture
100 not out: Lewandowski moves closer to Messi and Ronaldo with century of European goals
Is Victor Osimhen in for a troubled season under Rudi Garcia?
Pep Guardiola laughs off Man Utd's title challenge
Braga vs Napoli: Victor Osimhen aiming to break Obafemi Martins' 13-year-old UCL record
Victor Boniface girlfriend: 8 Interesting things to know about Rikke Hermine