FBRA, Lagos Govt host 'Trash Talk' summit to treat packaging waste pollution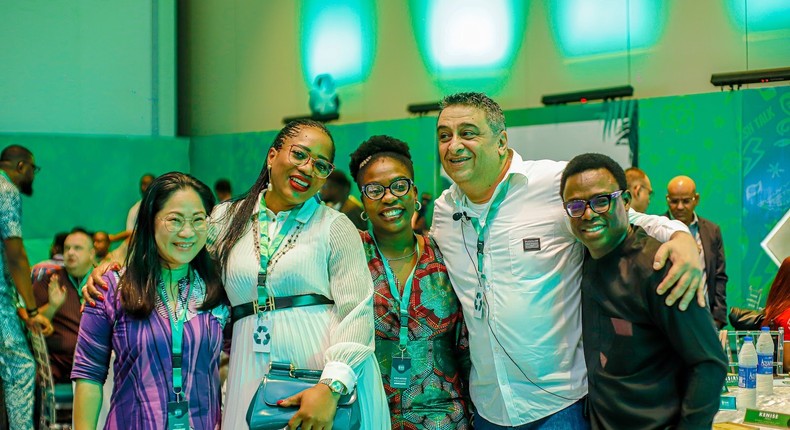 Joint alliance seeks to catalyze private-sector alignment on creating a cleaner Lagos
The Food and Beverage Recycling Alliance (FBRA) partnered with the Lagos State Government to deliver the 'Trash Talk' summit, addressing packaging waste pollution in Lagos State.
Hosted at the Lagos Marriott Hotel Ikeja from Friday, September 8 to Saturday, September 9, the 'Trash Talk' workshop engaged stakeholders across the packaging and bottling industries, government agencies, and the recycling alliance to enforce a collective responsibility for packaging waste pollution in the state, by reviewing Lagos' current recycling position and defining next steps to promote a cleaner Lagos.
Under the theme "Beating Packaging Waste Pollution in Lagos By 2025," the summit featured a range of educational sessions and speaking engagements led by representatives from the private and public sectors, such as Ziad Maalouf (Chairman, FBRA); Mr. Babatunde Irukera (Executive Vice Chairman of the Federal Competition and Consumer Protection Commission (FCCPC)); Dr. Dolapo Fasawe (GM, LASEPA); and Clem Ugorji (Africa Regional Lead, GPAP).
During the event, participants established that public-private participation, alongside proper investment and policy incentives, were critical foundations in pushing adoption and compliance with recycling standards, across the industry.
Key points from the workshop highlighted that producers, corporate users, and consumers, all play a pivotal role in shifting Nigeria's recycling and waste management culture. To catalyze change and ensure the success of a cleaner Lagos, FBRA charged the private sector to push the needle on their sustainability practices and align on industry frameworks around waste management.
"Partnering with the government for this recycling workshop is a testament to our shared commitment to a sustainable future with reduced packaging waste pollution." said FBRA's Chairman, Ziad Maalouf. "We are truly excited about the opportunity to collaborate, learn, and continuously inspire change together within the state of Lagos, and Nigeria as a whole. Our goal to beat packaging waste pollution in Lagos by 2025 is one that resonates with our stakeholders and partners. As a collective, we believe our enthusiasm can be spun into action, as we pave the way for a greener, cleaner, and more eco-conscious Nigeria."
As the largest metropolitan city in Nigeria, Lagos State produces, consumes and disposes a significant amount of packaging waste every day - reporting an estimated 13,000 metric tonnes of municipal waste. Through government-partnered initiatives like Trash Talk, the alliance aims to effectively facilitate cross-sector progress and further consensus on a circular economy, as well as the National Environmental Standards and Regulations Enforcement Agency's (NESREA) operational guidelines for extended producer responsibility.
"'Keep Lagos Clean' has been a consistent mantra for our organization across the years, and our efforts to promote a community around environmental responsibility in Lagos align deeply with the vision and dedication of our esteemed partners at FBRA." says Dr. Dolapo Fasawe, GM at LASEPA. "The Lagos State Government is working with the FBRA to encourage private-sector participation in packaging waste management within Lagos. In order to mirror the progress made in countries like Indonesia and Rwanda on waste management, we co-facilitated the Trash Talk workshop to further uncover our collective roles in facilitating our sustainable development, and address the barriers that hinder the adoption of recycling practices amongst communities."
Commenting further on the goals of the Trash Talk Workshop, Executive Vice Chairman of the Federal Competition and Consumer Protection Commission (FCCPC), Mr Babatunde Irukera, noted that, "Sustainability is the most important conversation there is today globally, and it's about whether this world will be habitable for us over a period of time. There's a need for concerted action amongst all stakeholders whose businesses affect the environment in one way or another - this includes regulators, government, civil society, financers, the private sector, and all others."
Participating organizations include the Food and Beverage Recycling Agency (FBRA), Bank of Industry, UNIDO, Sevenup Bottling Co, Lagos State Environmental Protection Agency (LASEPA), Lagos Business School, National Environmental Standards and Regulations Enforcement Agency (NESREA), Central Bank of Nigeria, World Bank, Zenith Bank, , Nestle, Nigerian Bottling Company (NBC), Nigerian Breweries, Nigeria National Plastic Action Partnership (NPAP), ATUNLO, Lagos Recyclers Association, Reswaye, We Cyclers, Insight Redefini, Dow Chemicals, Frigo Glass, Indorama, Prima, Marble Capital, SRADev, AFBTE, Chi, Coca Cola Nigeria, Mondelez, Tolaram Group, Alef, Alkem, Insight Publicis, Flex Films Africa, Lafarge, Poly Smart, Sonnex, PWC, FCCPC, Federal Ministry of Environment, , Lagos State Parks and Gardens (LASPARK), Lagos State Waste Management Authority (LAWMA), Quadrant MSL, Embassy of Netherlands, Embassy of Taiwan, ACEN, GPAP, USAID and the academia.
Since 2012, members of the FBRA have set ambitious goals to address packaging waste pollution and other pressing issues around environmental stewardship. By actively participating in FBRA and other industry initiatives, members aim to lead by example and inspire collaborative action for a sustainable future.
The Food and Beverage Recycling Alliance (FBRA) is a non-profit industry collaboration platform set up in 2018 by a Memorandum of Understanding with the objective to galvanise responsible players in the food and beverage industry to support and scale up post-consumer waste collection, buyback schemes and recycling programmes. The Alliance is poised to implement exemplary programmes, which will help preserve our environment, ignite innovation, create jobs and entrepreneurial opportunities for repurposing of packaging waste.
As the Industry Coalition for the Food and Beverage Sector, the Packaging Producer Responsibility Organisation to implement the Extended Producer Responsibility in Nigeria, the Alliance has membership drawn from responsible and forward-thinking companies, including Nigerian Bottling Company Plc, Nigerian Breweries Plc, Seven-Up Bottling Company Limited, Nestle Nigeria Plc, Guinness Nigeria Plc, Intercontinental Distillers Limited, International Breweries Limited, Tulip Cocoa, Prima Caps and Preforms, DOW Chemicals, Tetra Pak West Africa, The LaCasera Company Plc, Engee PET Manufacturing Company Limited, Omnik Limited, UAC Foods Limited, Unilever Nigeria Plc, Perfetti Van Melle, CHI Limited, Indorama Eleme Petrochemicals Limited, Promasidor Nigeria Limited, Beta Glass Plc/Frigoglass Industries Nigeria Limited, Kellogg Tolaram Plc, CWAY Limited, Dufil Plc, FrieslandCampina WAMCO, PolySmart Group, Cadbury Nigeria Plc, Zard Group and British American Tobacco. For more information contact info@fbranigeria.ng. www.fbranigeria.ng.
Pulse Nigeria
Pulse Nigeria
Pulse Nigeria
JOIN OUR PULSE COMMUNITY!
Recommended articles
Nigerian Creative Industry is waking up with launch of the African Creators Summit
Top 5 largest economies in East Africa ranked
Nigerian poultry farmers blame CBN's Naira policy for industry's ₦200bn loss
Glitz, Glamour as LUCA Visage celebrate 10 years of SCAVOLINI in Nigeria
Best New Online Casino Nz With Real Money - Top paying online casinos NZ 2023
FG's ₦250 billion intervention in gas industry fails to improve production
Exploring the popularity of Mobile gaming in Australian online casinos
African Development Bank reviews Africa's economic forecast for 2023, 2024
Elon Musk just used very foul language to tell X advertisers to go away
Shelly-Ann Fraser-Pryce: Track legend signs mouthwatering deal with luxurious wristwatch brand
Sha'Carri Richardson: World's fastest woman reportedly bags $20,000,000 endorsement deal
She needs a break - Super Falcons coach explains Ashleigh Plumptre's absence from team
Sergio Ramos makes Champions League history 31 years after Daniel Amokachi
Thiago Silva recalls TB fright ahead of Chelsea debut