Ex-minister says EFCC is trying to arrest him on politically motivated charges
Former minister of aviation, Femi Fani-Kayode made the claim via a statement released on Thursday, October 20.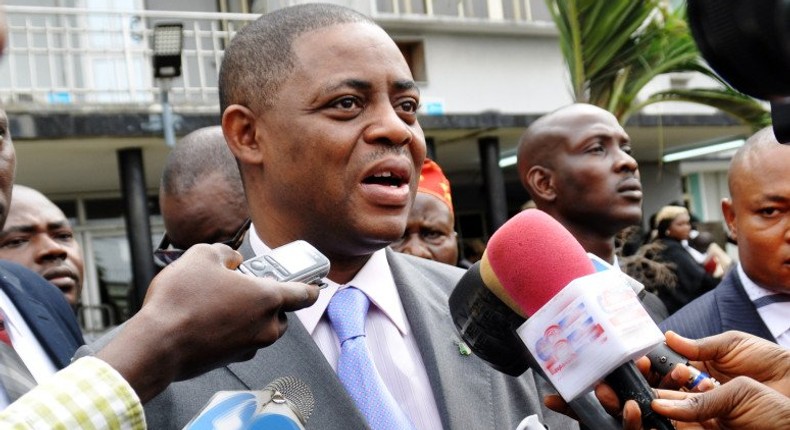 Former minister of aviation,
He made the claim via a statement released on Thursday, October 20. The statement reads in part:
"I have been reliably informed by my sources within the Economic and Financial Crimes Commission (EFCC) that they are planning to re-arrest and detain me for as long as possible once again even though I have been granted bail by the Federal High Court in Lagos. Fresh charges were filed against me by the EFCC at the Federal High Court in Abuja on July 7th."
"The allegations border on a baseless allegation and false claim that I received twenty six million naira from the NSA's office in 2014. These are politically-motivated charges and there is no truth in or substance to them whatsoever.
"Because of that the matter is now seized of the court yet the EFCC are still planning to arrest me probably at the premises of the Federal High Court in Lagos after I appear there on Friday 21st October to attend my trial on the trumped up and, again, politically-motivated charges concerning the presidential campaign funds.
"If they do not arrest me then they will arrest me and seek to detain me for as long as possible soon after that. Whichever way they will come and I am ready for them. I am not running.  The truth is that the EFCC are a ready, willing and able tool in the hands of the hawks and hardliners in the Buhari administration and they are apparently acting on orders.
"They are desperate to keep me out of circulation and off the streets and I have been reliably informed that they were ordered to ensure that that is the case by the Presidency. They are also eager to arrest and detain my wife and my 8 month old son just to hurt and spite me even though they have done absolutely NOTHING wrong.
"The more evil they do to me, the more the coals of fire will pour on their heads. Also the more the President will continue to fail woefully and have all manner of strange and inexplicable problems. Wickedness and wicked men never last. No matter what they do to me that is my consolation. They are bullies and cowards and they have no shame.
"My only crime is that I have spoken the bitter truth to power and I am very proud of that. That is what God created me to do. It is my calling and I stand by every word that I have ever said about this President and this evil, corrupt and inept government.
"This government is vicious, vengeful, inept and toxic and so is their willing tool the EFCC.  As I am in their cells and subjected to their barbaric torture and wicked and inhuman treatment for another period of time I shall continue to pray for Nigeria."
Fani-Kayode was initially arrested in May after being accused of money laundering by the EFCC.
He was released in July after spending more than two months in detention.
JOIN OUR PULSE COMMUNITY!
Recommended articles
FG sponsored only 422 delegates to COP-28 in Dubai — Presidency
Alex Otti charges physically-challenged persons in Abia to resist discrimination
Police narrate how suspected cultists buried ex-community chairman alive in Rivers
NSCDC boss urges security operatives to shun inter-agency rivalry
Federal Government resumes trial of suspected Boko Haram members
FCT Area Councils, others share ₦4.96bn statutory allocation for October
APC Chieftain criticises Tinubu's appointment of Wike as FCT Minister
FG settles ₦52m fines, compensation for 399 inmates in Kaduna
Kano NCS generates ₦6.9bn revenue in November
Shelly-Ann Fraser-Pryce: Track legend signs mouthwatering deal with luxurious wristwatch brand
Sha'Carri Richardson: World's fastest woman reportedly bags $20,000,000 endorsement deal
She needs a break - Super Falcons coach explains Ashleigh Plumptre's absence from team
Sergio Ramos makes Champions League history 31 years after Daniel Amokachi
Thiago Silva recalls TB fright ahead of Chelsea debut